Lemay Community Center moving forward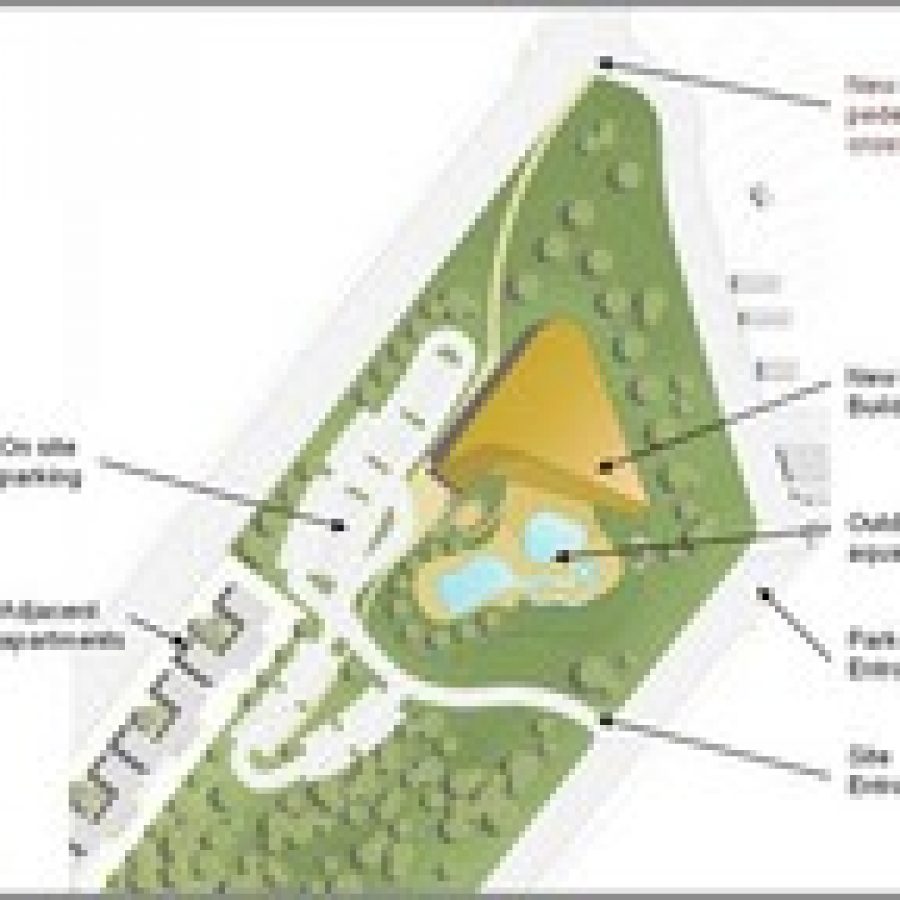 County Executive Charlie A. Dooley, along with St. Louis County Port Authority, this week announced a major step forward in the addition of a new $12 million Community Center and Aquatic Park in Lemay.
Planning has been under way with extensive input from residents, according to a news release. Design will begin immediately with construction to kick off early next year.
"I'm excited to get this moving, because it is going to provide so much enjoyment to residents of all ages in south county," Dooley stated in the release. "We spent a lot of time in this process listening to citizens and what we heard over and over again is that a community and aquatic center is tops on their list. This will be a great addition to the neighborhood."
Dooley envisions the center as a focal point of the Lemay neighborhood. Perched atop the most visible corner of Jefferson Barracks Park, at Kingston and Broadway, the center will have a multi-generational appeal, the release stated.
Residents helped choose the amenities and the design through a two-year planning process that included residents' surveys and town-hall meetings.
"It's been a long time coming and I think that the people in Lemay are going to be really proud of this and happy about it," Ben Kelly, a resident and member of the Lemay Community Center Advisory Committee, stated in the release.
As part of the lease and development agreement between Pinnacle Entertainment and the Port Authority, Pinnacle provided $5 million to the Port Authority for construction of a community and aquatic center in Lemay. The center will cost $12 million to construct with additional funding allocated for future site costs and furnishings.
Funding includes $5 million from River City Casino, a $475,000 federal allocation toward the design of the center and $8 million to $10 million in county bonds issued to be paid by the Port Authority through revenue generated by lease payments from River City Casino.
A total of $12 million is allocated for construction, with additional costs anticipated for design fees, furnishings, site costs and reserves, the release stated.
"We could not have done this without the great partnership we have with River City Casino. They are committed to helping us every step of the way and they continue to be outstanding neighbors in Lemay. Thanks very much to Neil Walkoff, executive vice president of regional operations at Pinnacle Entertainment, which includes River City Casino in South St. Louis County," Dooley stated.
A scale model of the Lemay Community and Aquatic Center will be officially unveiled at a town-hall meeting at 6:30 p.m. May 16 at Hancock Place Elementary School, 9101 S. Broadway.
At that time, Dooley and his leadership team from the Economic Council will walk through the construction time line and the specifics of the design concept.
"It's a big investment in the community. I think citizens will be very excited when they get a chance to look at the drawings and the models of the site," Sheila Sweeney, Port Authority chair, stated in the release. "At the Port Authority, we know how important this project is to the residents."
"We have had a lot of input from the residents and I think this plan delivers on exactly what they want. The county executive made it clear to us that getting a community and aquatic center built in Lemay was one of his top priorities. The whole team will be excited to see dirt moving on this project next spring," Denny Coleman, Economic Council president and CEO, stated in the release.