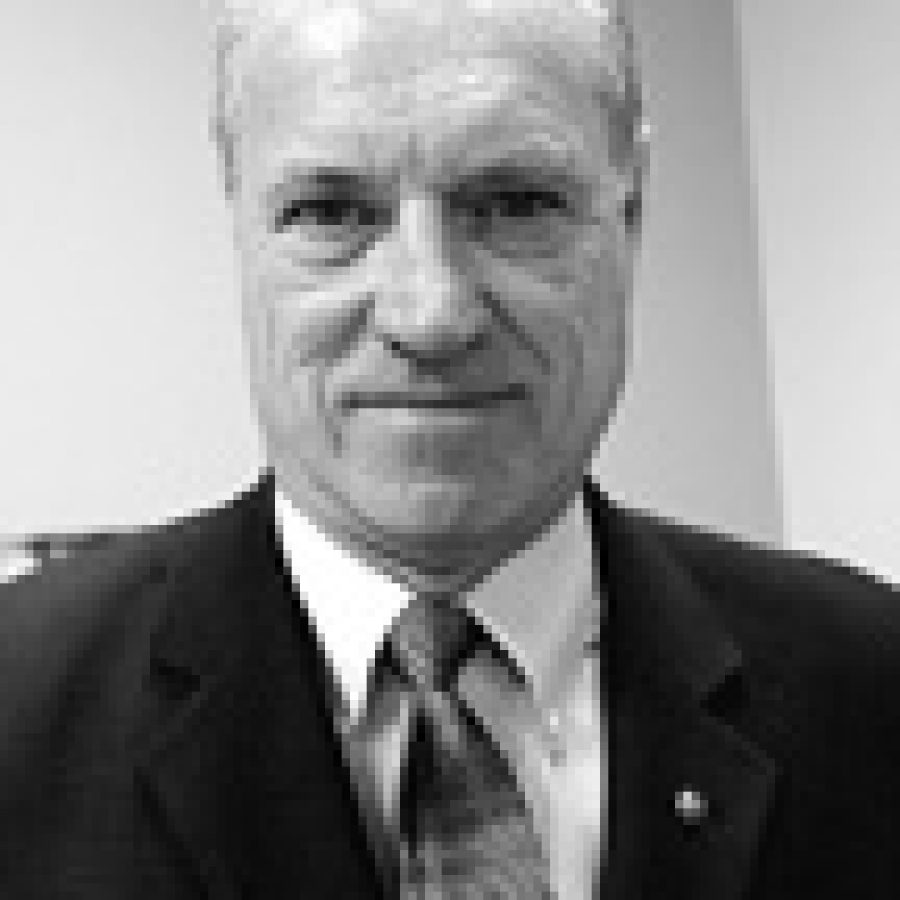 A leadership summit planned today — April 3 — to discuss the Mehlville School District's financial situation has been postponed after Superintendent Terry Noble was hospitalized over the weekend, according to Board of Education President Tom Diehl.
Noble was hospitalized for an intestinal problem, likely related to a hernia. At press time, it was undetermined how long Noble would be out of the office. In the interim, Deputy Superintendent Eric Knost will oversee the district's operations.
The leadership summit has been rescheduled from 9 to 10:30 a.m. Saturday, April 19, in the Mehlville Senior High School library, 3200 Lemay Ferry Road.
At the summit, the district's financial situation will be reviewed and administrators will respond to questions. As first reported by the Call, financial projections indicate the school district's operating-fund balance will dip below the state-required 3-percent minimum by the end of the 2009-2010 school year. Noble previously told the Call that he was taken aback by the new projection for the 2009-2010 school year as it differed significantly from a previous projection that the district would have an operating-fund balance of 5.75 percent on June 30, 2010.
Projections for the current school year and for the 2008-2009 school year remain on target. For the current school year, an operating-fund balance of 9.58 percent is projected — greater than the 7.86-percent operating-fund balance anticipated when the 2007-2008 budget was unanimously adopted last June by the Board of Education.
The projections indicate the operating-fund balance will be 4.95 percent at the end of the 2008-2009 school year.
However, one scenario for 2009-2010 indicates the balance could drop to 0.92 percent and a more recent scenario indicates a 0.02-percent balance. Under state law, a school district is required to maintain a 3-percent balance in its operating fund — a combination of the general fund and the teachers' fund — or be considered a "distressed" district.
Noble has attributed the change in fund-balance projections to a variety of factors, including a downward trend in the economy, increased health-insurance costs, a decline in housing values resulting in reduced revenue to the district and a mandated hike in retirement rates to be funded by the district.
During a 5.5-hour emergency closed session last week, the Board of Education voted 4-3 to demote Chief Financial Officer Brett Bell. The board's March 25 action returns Bell to his previous position as director of accounting along with a roughly $19,000 pay cut. Bell was paid $106,000 as chief financial officer; he now will make $86,804. Bell, a longtime Mehlville employee, was named interim chief financial officer in August 2006 and later named CFO.
Board Secretary Mike Ocello's motion to demote Bell was seconded by board Vice President Karl Frank Jr. Besides Ocello and Frank, Diehl and board member Venki Palamand voted to approve the motion. Opposed were board members Cindy Christopher, Larry Felton and Ken Leach.
Under the 2007-2008 budget recommended by interim Superintendent Jerry Chambers and adopted by the board, employees received 6-percent salary increases, and Noble believes that the amount of those raises and the way the increases were funded exacerbated the district's financial situation.
In a March 7 e-mail sent to board members, Noble wrote, "… The board obviously received some poor advice last June when the administration recommended raises with one-time funds. When the district decided to use one-time funds — fund balances — to pay for recurring expenses — salary increases for this year — I expected there would be trouble ahead …"
When the board voted unanimously in April 2007 to approve 6-percent raises for the district's teachers, Bell provided spreadsheets depicting summaries of the 2007-2008, 2008-2009 and 2009-2010 budgets and their projected operating-fund balances. At that meeting, Frank made the motion to approve the 6-percent raises for teachers and his motion was seconded by Diehl.
"While the motion was pending, Mr. Ocello asked for the impact of the proposals on future budgets … He (Bell) projected in his minimum balance analyses, which combined general and special funds but excluded food service, activities and athletics, 7.71 percent for 2007-2008 with an anticipated balance over the 3-percent minimum of $3,899,626; 5.16 percent for 2008-2009 with an anticipated balance over the 3-percent minimum of $1,786,577; and 5.84 percent for 2009-2010 with an anticipated balance over the 3-percent minimum of $2,347,422," according to the approved minutes of the board's April 19, 2007, meeting.
"Mr. Ken Leach asked for assurance that approval of the 2007-2008 proposals will not place future budgets in jeopardy. Mr. Bell responded that the district will not be financially distressed," the minutes stated.
Diehl told the Call, "In spite of thorough questioning by the Mehlville School District Board of Education last spring, there was a misrepresentation of budget projections for FY (fiscal year) 2009-'10, not for this current year, or the upcoming school year, but the following year. Unfortunately, the interim superintendent, who is no longer with the district, presented the board and community with inaccurate budget projections for 2009-'10.
"When Mr. Noble presented us with the revised projections, we moved quickly to address the problem, first verifying the new figures, and then conducting an investigation into how we were presented with incorrect data when making the decision on salaries last April. As part of the review process of this situation, the board has made the decision to demote CFO Brent Bell to his previous position for his role in presenting those projections," Diehl added.
But Chambers took exception to Diehl's comments.
"As superintendent, I never presented financial information to the board. Videotapes will show that financial information was always presented by the chief financial officer. That's well-documented and it's available on videotape from the district," he said. "I also was hired as the interim superintendent for 550 hours. That averaged about 10 hours per week and oftentimes it was common for Dr. Knost to act as superintendent. Dr. Knost spent many hours with Brent Bell in devising budget projections for the coming years.
"At the April 2007 board meeting when the salary proposal was presented, the board spent in excess of 30 minutes questioning Brent Bell about the revenue and expenditures of the district. The board was particularly interested in the effects on our operating balance and our reserves. Again, it is well-documented and available on videotape," Chambers continued. "Never did I try to take over the job of chief financial officer. It was my job to review the figures presented by the finance office and present those in the board packet along with other information from Central Office. Those reports were always given by the chief financial officer, which is usually the case in larger districts such as Mehlville.
"The real issue is where the district goes from here. All of us have known for some time that salaries are at the bottom when compared to other districts in St. Louis County. The board made a good-faith effort with the information presented to address those issues to try to at least keep up with surrounding districts. After the debate and questions, the board voted 7-0 to approve the proposal. I think that speaks for itself," he said.
Diehl said he believes the board took quick action.
"We wasted no time in telling the public about this situation because we owe it to the residents of our district to be totally honest, whether the news is good or bad. I believe it is important at all times to discuss the status of our district in a factual manner as adults," he said.
On Friday, Noble said the board's action to demote Bell and the now-postponed leadership summit are steps district officials are taking to "restore confidence in our business office and our administration and board in terms of how we manage the finances of the district. So the action was taken for that purpose and I thought it was immediate."
Furthermore, Noble said he his taking direct responsibility for the district's finances as there are no plans to hire a new chief financial officer.
"My job now is to restructure our administrative staff to ensure that we avoid future problems of this nature and I promised the board that I would accept direct accountability for the finances and accounting system in this district in the future," he said. "… We're talking about reassigning some duties. We have a couple of openings in our staffing — not direct administratively, but where we can do some shifting of responsibilities and we don't have anything firm yet to present to the board …"
Noble said he retains confidence in Bell.
"I have a lot of confidence in Mr. Bell," Noble said. "He has a 10-year track record. There's no doubt he made a mistake. He acknowledges that, but he is a person of integrity and I have confidence in him or else he wouldn't be here today. But I do believe he acknowledges that he made a mistake in his response at that time, but again, if I didn't have confidence in his integrity in that position, I would not ask the board to make sure we still have him here. He's a valuable member of our team as far as I'm concerned."
Noble said district officials have been receiving some "positive feedback" from residents, "thanking us for being open and forthright and proactive in our approach. And I appreciate that people would take the time to tell us that. I know there's others who just may be looking at us under an aura of suspicion … but I think the public has an absolute right to expect credibility from us, honesty, forthrightness, all those things. That's absolutely what they should expect.
"That's what they deserve and as long as I'm here, we're going to have that no matter what. And when I say 'as long as I'm here,' I feel like I'm just joining a lot of other really outstanding people who have labored in this district for years, and I'm proud to be counted as one of them."