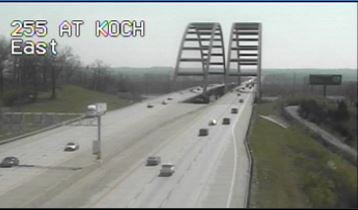 All lanes of the Jefferson Barracks Bridge were reopened around 9:30 p.m. Tuesday night, following a 10-hour shutdown caused traffic backups around south county during rush hour.
The Missouri Department of Transportation shut down the two left lanes on the outgoing side of the JB Bridge to Illinois on Interstate 255 North for emergency repairs around noon Tuesday.
Crews finished repairs to the bridge joint, the part of the bridge that expands and contracts due to temperature changes, late last night, a MoDOT spokesman said.
The closures caused massive traffic jams on 255 that extended onto Interstate 270 and roads that lead into the interstates, including South Lindbergh Boulevard, Lemay Ferry Road and Tesson Ferry Road.