Lake invites public to help 'design Lindbergh's future'
"Another View" by Lindbergh Superintendent Tony Lake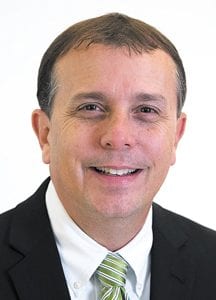 Lindbergh Schools has quickly become a special place for me and my family to call home.
When I applied for the position of superintendent, I knew I was coming to a district that values excellence in education. What I did not fully understand at the time was how many immensely talented and invested students, teachers, administrators, support staff, families, business partners and community members make up this dedicated, caring and amazing "Lindbergh family."
One of my first goals as superintendent has been to visit with as many community members as possible. This has been a valuable way for me to discover what our community values as we all work together to provide an excellent educational experience for every child.
I look forward to hearing from you, too. Please make plans to attend a communitywide Listening and Learning presentation at 6:30 p.m., Wednesday, Sept. 26, in the Lindbergh Schools Auditorium, 5000 S. Lindbergh Blvd. This program will provide an opportunity to learn more about my professional background, most recently as chief operations officer for Blue Valley School District in Overland Park, Kan. I will also share my vision for the future of education in Lindbergh Schools. Following the presentation, everyone in attendance will receive an online survey to share feedback with me as well.
Over the past few months, I have met with hundreds of parents, teachers, students, support staff and district residents. Our Board of Education has assembled four advisory committees to gain valuable feedback from patrons with expertise in finance, curriculum, student life and technology. We are also beginning exciting work to develop a five-year strategic plan.
Our job as educators is to ensure that all students experience success. To create a meaningful experience for every student, we must define what that success looks like for the most mobile generation ever: Generation Z. McCrindle research group projects that members of Generations Y and Z will make up 64 percent of the workforce by the year 2025.
These Gen Z students are walking through the front doors of our schools today, and we have the exciting job of preparing them for jobs that don't even exist yet.
Working together as a community, I am confident we can create a student-centered, future-ready experience for the next generation of students.
Have a great school year!