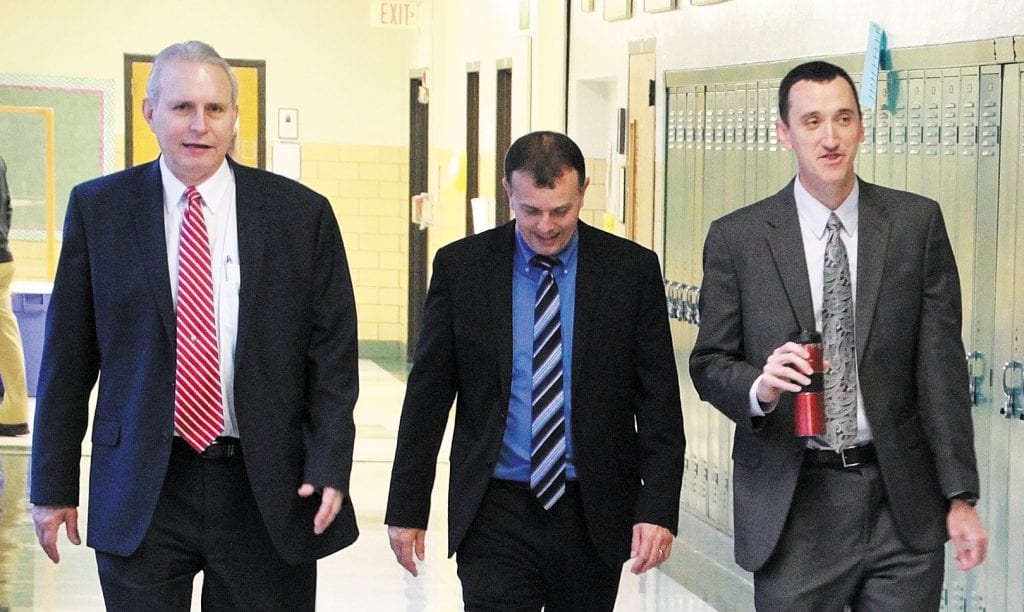 By Gloria Lloyd
News Editor
glorialloyd@callnewspapers.com
Lindbergh Schools gets its sixth superintendent in its history this week as Tony Lake takes over from longtime Superintendent Jim Simpson.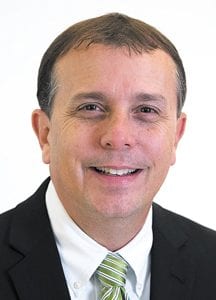 Lake officially became Lindbergh superintendent July 1. As he takes office, he's started a "Lindbergh Listening and Learning Tour" in which he is making appearances at a variety of civic organizations and inviting participants to take an online survey on Lindbergh.
The new superintendent is asking residents what they don't want to change, what they want to change, what they think the school district does best and even one word that they think best sums up Lindbergh. The results of that last question will go into a large word cloud on the first wall visitors will see when they walk into Lindbergh Central Office.
Lake will compile the results and present it to the Board of Education in the fall.
"It's been a whirlwind few months for me and my family, but I just can't tell you how honored and proud I am to be standing before you as your next superintendent of schools at Lindbergh," Lake said at the Crestwood-Sunset Hills Kiwanis Club last week. "And you know, what I've learned over the last six months is this is a really special place. I knew it was a great place, but I didn't realize how special it was – people have been so friendly, willing to help, and I'm just excited to do great things for kids so I'm just honored and privileged to be standing with you today."
The idea of the Listening and Learning Tour is not an original one, but it's a way to better learn the community, Lake noted.
"As a good educator, you former educators know we steal from the best of everybody," Lake said.
One of the attendees at the June 29 Kiwanis Club meeting was board member Mike Tsichlis, who was part of the unanimous vote to hire Lake in January.
"As one of the seven people that hired him to this position, I can say for myself and I believe also for the board, we were looking for new leadership for the district, and you look for certain things that tend to pop out, stand out," Tsichlis said. "In Tony's case, those things are and I think you can begin to see that here today, he is an innovator and he is an engager. He's an innovator in the sense that he's very forward thinking. He's looking to the future, what do our kids need, what sorts of knowledge, skills? He's open to new ideas.
"Another thing that you saw here today is an engager. He engages the community, he is going to be reaching out to the whole community, and the board is very pleased with that as well. We as a board represent the community, but we're also hopeful that now with Tony's leadership, we can bring the community into a larger conversation on issues, policies and so forth."
The son of a retired school superintendent, Lake most recently served as the chief operations officer of the Blue Valley School District in Overland Park, Kansas.
He started his career with four years in Missouri at a small district near Kansas City, then Kirksville.
He started in Kansas at Shawnee Mission School District for 12 years, where he feels he really established himself as an educator.
He was a social-studies teacher, head basketball coach, assistant principal and principal in the same high school in a large district. Then he headed to Blue Valley to serve as a principal there.
Lake showed the Kiwanis Club photos of his family, his wife and two daughters.
He and his wife, Jennifer, have been married for 26 years and have spent more time apart in the last six months than in the past quarter-century, he said. They met in college at John Brown University, where he played basketball and she played volleyball.
"She's my best friend," Lake said.
Lake is an Indiana native, but his wife has lived in Overland Park nearly her entire life. But she is "so excited" to uproot herself to move to Lindbergh, Lake said.
The couple's two daughters, Makenzie and Taylor, are also having busy years.
Makenzie just graduated from Blue Valley West High School, which is why Lake hasn't yet bought a house in Lindbergh. When he took the position in Lindbergh, he promised Makenzie a normal end to high school. So the Lakes just put their Kansas house on the market.
"We knew by doing it that late it might make our first 12 months crazier, but we knew that by doing it that way she could walk out of her house she grew up in and go off to college," Lake said. "And we felt that was important for her."
This fall, Makenzie will head to Missouri Valley College in Marshall, where she will play volleyball and study to be a nurse. She already has her certified nursing assistant, or CNA, certification.
Lake's older daughter Taylor is going to be a senior in college at Harding University in Arkansas, where she plays volleyball.
Taylor is getting married in December to her high-school sweetheart, Parker.
"So we're planning a wedding, planning a move, starting a new job," Lake said. "We can't just do things normal. So that's my family."
Lake was Taylor and Parker's high-school principal at that time, and he said, "If I could have hand-picked a kid to date my daughter, it would have been him."
Simpson said it's a gift for an incoming superintendent to be able to take a year to learn a district without having to make any changes, and it's a gift that his predecessor Jim Sandfort allowed him to have too.
"Dr. Lake has a really good honeymoon," Simpson said. "I had a good honeymoon. My first year I didn't change anything in Lindbergh, I just learned what Lindbergh was.
"I knew that Lindbergh was different than the places I'd been before. I didn't understand the culture, and it's a Dutch/German-based culture and that's new to me, and I need to figure out what that is.
"Jim Sandfort gave me a great year for a honeymoon because I didn't have to change anything, he gave me a solid-as-a-rock district and I just sponged it up, learned about it, and Dr. Lake has the same thing.
"Sometimes you get a job and you have to do a lot of heavy lifting right out of the gate because the patient's critical — Lindbergh is the opposite of that.
"For Dr. Lake, take your year and really learn Lindbergh. It's a gift to get a honeymoon year to really learn a district without having to make immediate changes. So that's good for him, it was great for me. There's no financial things, no academic things, no construction."