King is looking forward to new year; she hopes to improve her total game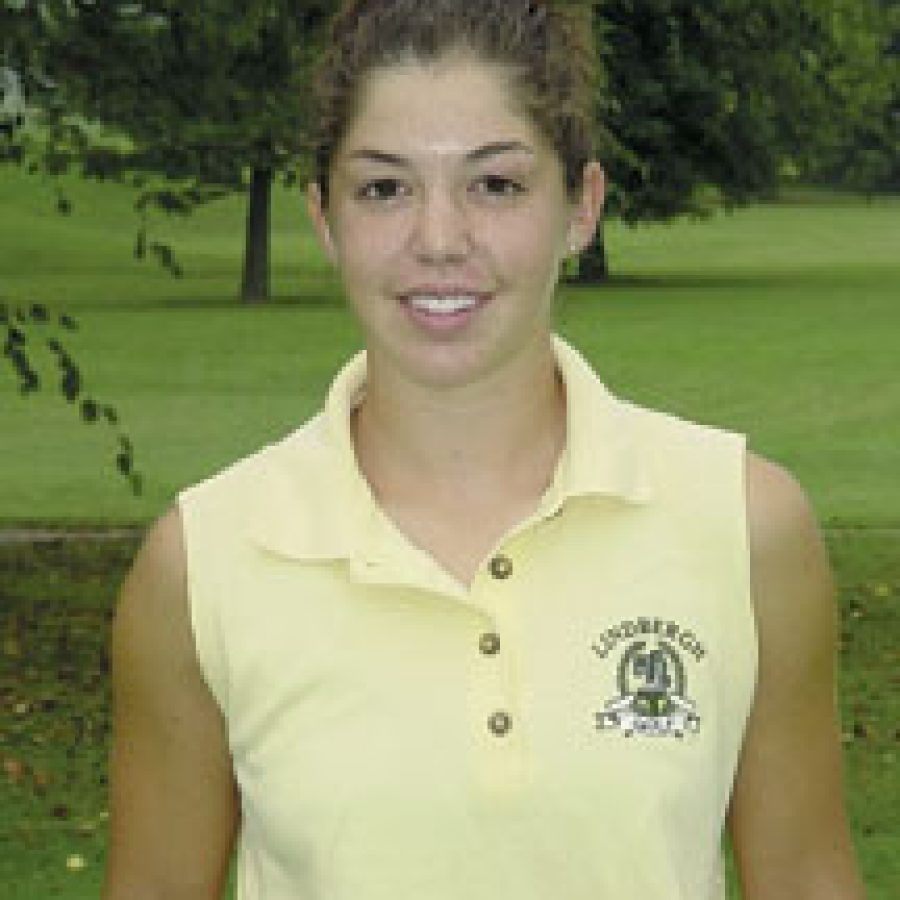 By STEPHEN GLOVER
For the Call
The senior year in high school can be one of the most memorable experiences for most students and Kristin King is looking to take full advantage of the opportunity.
King, a senior at Lindbergh High School, returns to the girls' golf team as the captain and top returning player for the 2003 season.
Not only will she look to guide Lind-bergh to another Suburban West Confer-ence championship, but she'll also look to improve on her 67th finish overall at the 2002 Class 2 State Championships.
"I expect her to do very well this year," head coach Mike Tyler told the Call. "She's worked really hard in the off-season and she's such a leader both on and off the course. I think that her leadership abilities will actually help her in her own game."
Over the past summer, King has spent a good amount of her time on the golf course as she works on improving her game for the 2003 campaign. At a Gate-way Junior PGA event this past July at the Prairies golf course in Cahokia, Ill., King took runners-up honors with a 14-over 86
That's not too shabby when considering that King just picked up the game of golf during the summer before her freshman year at Lindbergh.
"I feel like I've improved a lot over the summer, especially in my short game," King said. "Last year I was probably a seven handicap and this year I hope to drop that to about a five and maybe break into the high 30s."
One of the aspects of King's game that's really impressed Tyler is her composure and ability to manage her game better than the Flyers' head coach has ever seen in a high school player.
"Kristin's able to manage her game better than anyone I've seen in a long time," Tyler said. "She stays focused and has a good handle on course management and is really a student of the game."
At the state championships last season, King along with the other members of the Flyers' golf team struggled on the first day of play due to poor weather conditions.
She shot a 105 on day one but came back on the second day of play with a 102 for a combined score of 207.
"Last year at state, the first day was really nerve wracking because of the terrible conditions and eventually got rained out," King said. "The weather got into everyone's head and our team didn't do very well."
Besides playing golf, King has also been a member of Lindbergh's varsity basketball team for the past four years. As the team's guard, King helped the Flyers to a record of 17-10 overall and a runner-up finish in the district tournament. She averaged 1.6 points and 0.9 rebounds a game last season while recording 42 assists and 17 steals.
But there's much more to Kristin King than just sports. The daughter of David and Cindy King is a Sunday school teacher at South Telegraph Christian Church and is a member of the National Honor Society. King also excels in the classroom and is a member of the Plat-inum Renaissance at Lindbergh.
The Platinum Renaissance recognizes students who maintain a grade-point average above 4.0; King carries a 4.3 grade-point average.
"Grades are really important in my family," King explained. "So I really try hard to keep my GPA up."
Upon graduating from Lindbergh this coming June, King is looking to play beyond the high school level.
She's currently interested in attending Southern Illinois University-Edwardsville or Rock-hurst University in Kansas City where she plans on studying elementary education.
"I just hope to enjoy my senior year and play as good as I can," King said. "It's going to be kind of a rough year as a team considering we're kind of young. It will be a learning experience for everyone and I think we're going to have a lot of fun."