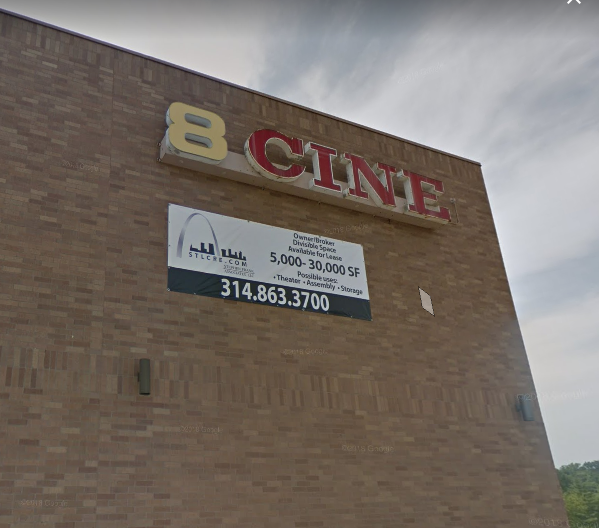 Photo courtesy of Google Maps.
The Keller Plaza 8 Cine, the "dollar theater" that was a fixture of many south countians' childhoods, closed suddenly Wednesday.
The eight-screen theater was located next to the St. Louis County Government Center South and Sam's Club at 4572 Lemay Ferry Road in Oakville, near South County Center.
The theater posted on its Facebook page Wednesday afternoon, "I'm sad to announce that today is the last day we will be open. We will be showing movies tonight if you want to stop in!"
The last movies shown at the theater were the 9:40 p.m. showings of "Crazy Rich Asians" and "A Simple Favor," but with the last-minute notice they didn't draw a big audience.
The theater said through a Facebook message, "The landlord has the rent too high. We couldn't afford it anymore."
As to whether the theater might reopen at some point in the future, the theater said, "We're hoping!"
A "For Sale" sign on the building said, "Divisible space available for lease. Possible uses: Theater, Assembly, Storage."
The movie theater was owned by Earlann Theaters. Tickets were $4 or $3 for matinees. In recent years, the carpet had been ripped up and the lobby and hallway were bare concrete.
The theater building itself is owned by PPM/Keller Plaza LLC,  which acquired the plaza from Phillips Edison & Co. for a reported $3.7 million in 2015. The plaza is anchored by the theater and also includes a Jack in the Box, Firestone and Jiffy Lube along with the buildings used for the south county satellite office of St. Louis County government.
In south county Facebook groups, residents speculated that the $5 Tuesdays deal at Ronnie's 20 Marcus Cinema had doomed the Keller 8, which had thrived when it was once owned by Wehrenberg Theatres.
On the theater's farewell Facebook post, Jessa Michelle wrote, "I wrote a paper in grade school about how Keller Plaza was better than Ronnie's. This is so sad."
The user-generated content at the Cinema Treasures website at cinematreasures.org contributed by Charles Van Bibber says that the Keller opened as a Wehrenberg theater, the Keller 8 Cine, on March 23, 1988, with seating for 2,586 patrons. It was nearly a twin to Wehrenberg's Kenrick 8 Cine.
At that time, the Keller had competition from four other theaters.
"The Keller really only did a big business when they played a blockbuster," Van Bibber wrote. "Also a high dollar lease prevented Wehrenberg from making a large profit from the theatre."
The Keller closed in November 2000 when Wehrenberg pulled out. But after a few months of it being closed, it reopened as a "bargain house" by Sensible Cinemas.
At one point, the theater had sold out on weekends and done brisk business through the week too, Van Bibber said.
One commenter on that site wrote in 2016, "This was the nicest SoCo theater back in the day."