Sunset Hills City Administrator Eric Sterman, left, and City Attorney Robert E. Jones during a meeting of the Board of Aldermen in 2017. Photo by Gloria Lloyd.
Sunset Hills City Prosecutor and City Attorney Robert E. Jones came under criticism by a former alderman for his dual city roles at the Dec. 11 Sunset Hills Board of Aldermen meeting.
During public comment at the board meeting, former Ward 1 Alderman Frank Hardy questioned the legality of Jones serving as both the city's prosecutor and the city's attorney.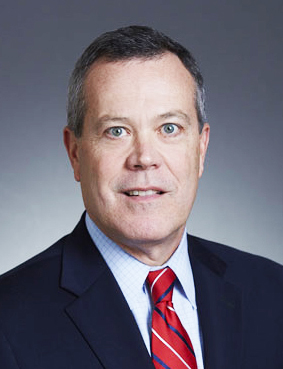 "How does that work, Bob?" said Hardy.
"Well, it's very common to have a law department. The city of St. Louis has it, St. Louis County has it and the circuit attorney's office and the St. Louis county counselor's office. They serve the whole function," said Jones.
Mayor Pat Fribis noted that there might be an effort by the Missouri Legislature this year to pass a law that would prohibit the same person serving as both city attorney and city prosecutor. A similar bill was passed last year by legislators but was not signed by then-Gov. Eric Greitens.
Hardy questioned Jones on what he would do should such a law be put into effect — if Jones would prefer to be prosecutor or attorney.
"That's a hypothetical that I'm not prepared to answer tonight," said Jones.