JB Blast's 20th annual fireworks display is tonight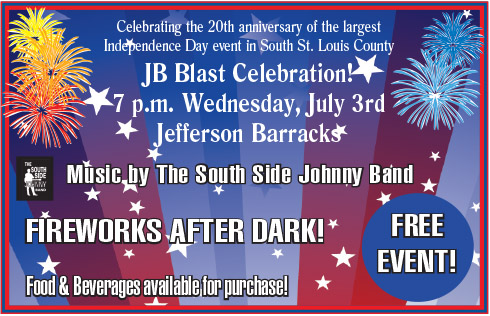 The JB Blast, south St. Louis County's biggest Fourth of July celebration, is returning to Jefferson Barracks Park this year for its 20th year.
The JB Blast is sponsored by St. Louis County Executive Same Page, County Council Presiding Officer Ernie Trakas, St. Louis County Police, St. Louis County Parks and numerous business partners.
This family friendly event starts at 7 p.m. Wednesday, July 3, at the Amphitheater in Jefferson Barracks Park, 533 Bagby Road, at the intersection of South Broadway and Kingston Drive.
The Blast will feature a concert from 7 to 9 p.m. by The South Side Johnny Band, with fireworks to follow. Admission and parking are free. There will be food available for purchase from a variety of food trucks.
Blankets, picnic baskets and coolers are permitted.
For more information, visit www.stlouisco.com/parks or call 314-615-4386.