Interest in baking artisan bread on the rise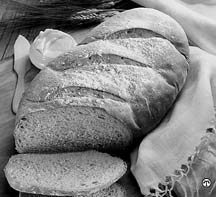 Thanks to a handmade, one-of-a-kind bread that's as beautiful to the eye as it is to the palate, the wonderful aroma of bread baking in the kitchen is being enjoyed in a rising number of homes.
It's called artisan bread; a crusty European-style bread, sometimes sourdough, sometimes not; weighed, rounded, shaped and slashed by hand. In the process, every set of ingredients comes together. It's as if every bread is — at least for a while — alive.
Artisan bread is all about the fundamentals, minimalism and simplicity. Aside from the occasional herbs, ingredient lists are kept to a minimum.
Potato Peasant Bread is inspired by the centuries-old peasant breads. Reminiscent of the flavorful Hungarian potato breads, this version has been tested and perfected for the home kitchen.
Potato Peasant Bread
3 to 3½ cups all-purpose flour
1 cup whole wheat flour
¼ cup sugar
2 envelopes rapid rise yeast
2 teaspoons salt
1½ cups potato water or tap water
3 tablespoons butter or margarine
¾ cup mashed boiled potato*
1 tablespoon all-purpose flour
In a large bowl, combine 1 cup all-purpose flour, whole wheat flour, sugar, undissolved yeast, and salt. Heat water, butter and mashed potato until very warm — 120° to 130°F.
Gradually add to flour mixture. Beat 2 minutes at medium speed of electric mixer, scraping bowl occasionally. Stir in enough remaining flour to make a soft dough.
Knead on lightly floured surface until smooth and elastic, about 8 to 10 minutes. Cover; let rest 10 minutes.
Divide dough in half. Roll each half to an 8-inch-by-12-inch oval. Beginning at short end, roll up tightly as for jelly roll.
Pinch seam and ends to seal. Place on large greased baking sheet; flatten loaf slightly. Cover; let rise in warm, draft-free place until doubled in size, about 30 minutes.
With sharp knife, cut 3 diagonal slits — ¼-inch deep — on top of each loaf.
Sprinkle with 1 tablespoon flour. Bake at 400°F for 15 to 20 minutes or until done. Remove from sheet; cool on wire rack.
* To use instant potatoes: Combine ½ cup water and 3 tablespoons milk in saucepan; bring to a boil. Remove from heat; stir in ½ cup potato flakes or buds.
Cool to room temperature.
Makes 2 loaves.