Hovey and Graves announce engagement, wedding plans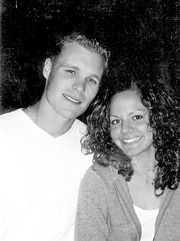 Brooke Hovey, daughter of Theo-dore and Diana Hovey of Wales, Maine, and Casey Graves, son of Jack and Peggy Graves of St. Louis, announce their engagement and forthcoming marriage.
Hovey is a 1998 graduate of Oak Hill High School in Wales and has completed two years toward a degree in equestrian science. She currently is employed by St. Anthony's Medical Center.
Her fiance, Graves, is a 1996 graduate of Lindbergh High School and is the owner/operator of AceSt. Louis. He currently is attending Webster Univer-sity and soon will complete his master's degree in business.
The couple plan a June 28 wedding.