Home for the Holidays Contest: Scintillating Side Dishes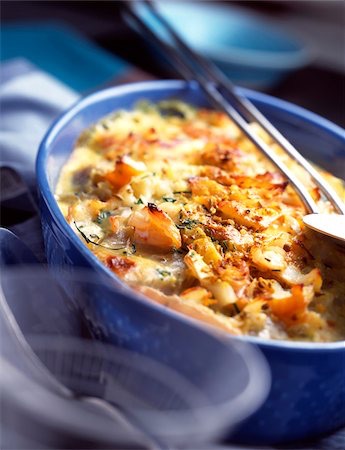 Antipasto Skewers with Pepperoni Breadsticks
10 skewers
20 cherry tomatoes
20 small mozzarella balls
10 sprigs mint
salami log, cut into squares
¼ cup balsamic or red wine vinegar
¼ cup olive oil
1 teaspoon oregano
Pillsbury breadsticks (optional)
1 package pepperoni (optional)
Take skewers and layer with a piece of salami, tomato, mozzarella and top with mint leaf. Repeat until all skewers are complete.
Mix olive oil, vinegar and oregano in a large plate and roll skewers to coat.
Serve with Pillsbury breadsticks. Unroll from package and put pepperoni in the middle and roll breadsticks, bake per directions. You can make a little extra olive oil and vinegar with oregano to dip breadsticks in.
Staci Laurino
Green Park 
Sweet Potato Gratin
1 cup chopped onion
1 garlic clove, minced
5 tablespoons unsalted butter
½ cup flour
Freshly ground pepper
2 cups milk
3 large sweet potatoes, peeled and shredded (about 4½ cups)
2 teaspoons prepared horseradish
2 cups (8 ounces) shredded sharp cheddar cheese
1 cup bread crumbs
In a large saucepan, saute onion and garlic in butter; cook until tender. Whisk in the flour, salt and pepper until blended. Gradually add the milk. Bring to a boil; cook and stir for two minutes or until thickened. Remove from the heat, stir in the sweet potatoes and horseradish.
Transfer half to a greased 9-inch-square baking dish. Combine cheese and bread crumbs; sprinkle half over the sweet potatoe mixture. Repeat layers. Bake uncovered at 400 degrees for 30 minutes or until bubbly.
Joe and Amy Puleo
Oakville