Home for the Holidays Contest: Holiday Hams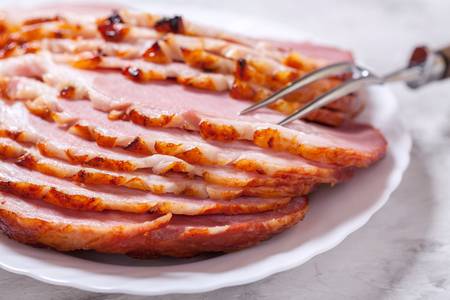 Sugar Spiced Holiday Ham
1 bone-in, pre-cooked ham
1 cup pinapple juice mixed with 1 cup water
2 cups white sugar
½ teaspoon ground ginger
½ teaspoon ground cloves
½ teaspoon paprika
1 teaspoon onion powder
1 teaspoon cinnamon
1 teaspoon ground nutmeg
2 to 4 tablespoons water
Score outside of ham with diamond cross-cuts. Place ham in large slow-cooker. Pour pineapple juice mixture in bottom of slow cooker. Use foil to tightly cover the cooker if the lid won't close completely. Cook on low for three to four hours, or on high for one to two hours. (Remember, you are not cooking the ham, you are just warming it.) Remove ham from cooker and place on a foil-covered cookie sheet. Combine the remaining ingredients in a saucepan and add the water a tablespoon at a time until you get a thick paste.
Cook over medium heat until it comes to a boil. Immediately remove from heat and spoon over the top of the ham and into the diamond cuts. Preheat broiler to 500 degrees. Broil ham one to three minutes until syrup starts to bubble.
Do not leave ham unattended in the broiler — it will burn quickly!
Beth Liming
Concord