Hoffmann honored at Sunset Hills gala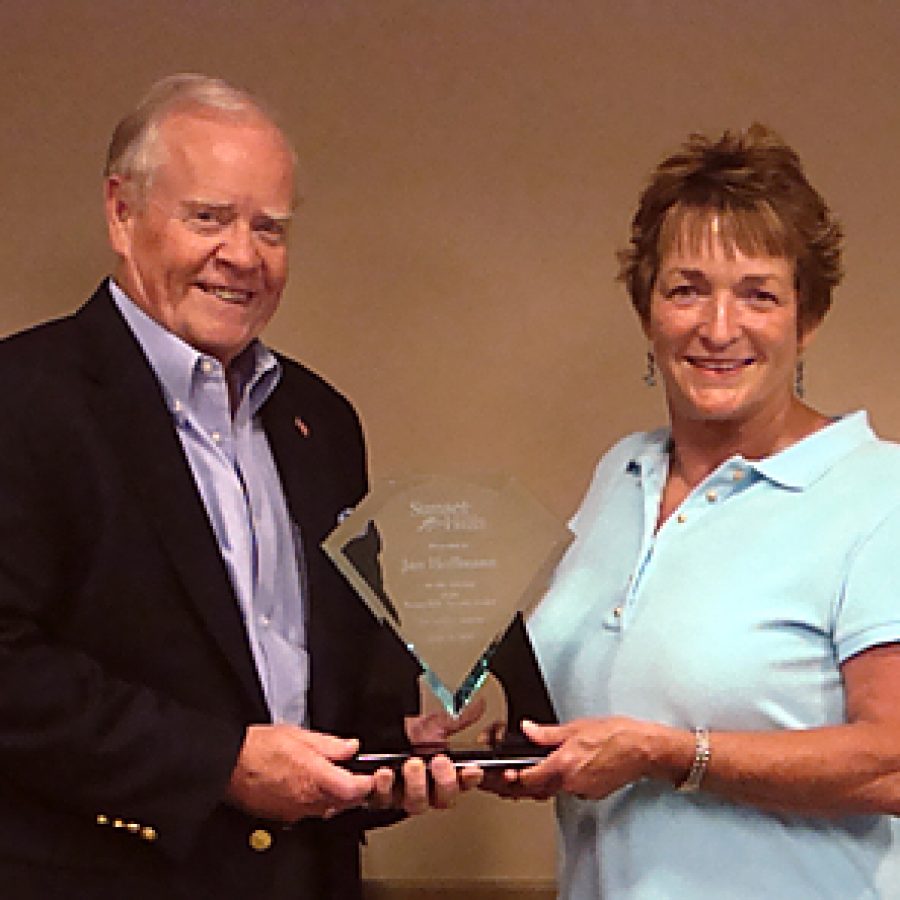 Sunset Hills Ward 3 Alderman Jan Hoffmann recently was honored for her efforts leading to the construction of the city's first swimming pool and the construction of the city's new Aquatic Center that replaces the original pool.
Hoffmann was recognized June 11 during a celebration of the city's new Aquatic Center, which opened on Memorial Day.
Those invited to the gala included members of the city's Park Board, Pool Advisory Committee and Swim and Dive Team dating back to the construction of the city's first pool in 1988.
"We invited everyone who had ever served on those committees that involved the swimming pool along with all the elected officials and the mayors that went back that far. We had a number of aldermen and people who used to be aldermen show up …," Mayor Bill Nolan said, noting the event drew roughly 80 people, including former Mayors Nancy Benson, Jim Hobbs and Mike Svoboda.
"The idea behind the gathering was to just recognize the people that have been involved in both the first pool and the second pool and the building of the second pool and just give them an opportunity to get together," he said.
In addition, contractors and consultants who worked on the new Aquatic Center were honored, Nolan said, adding that no city funds were used as the contractors pitched in to pay for the event.
The mayor recalled that he told those present, "The problem with recognizing individuals tonight who have worked on the pool over the years is I literally would have to recognize everybody there. So I suggested that everyone turn to the person on their left, pat them on the back and tell them what a great job they did …"
But Nolan said the "highlight" of the evening was honoring Hoffman, who first was elected to the Board of Aldermen in April 1991. She also serves as chair of the Pool Advisory Committee and as a member of the Park Board, the Parks Steering Committee and the Claire Gempp Davidson Memorial Conservative Commission.
Of Hoffmann, Nolan said, "… This is her 20th year as an alderman for the 3rd Ward in Sunset Hills. She was elected in 1991. She was first involved in the city going door to door with petitions to get a community pool built, saying: Kids need a place to swim. This was back in the mid-'80s. The pool replaced Murphy's junkyard in 1988 when they built the first pool and she's served on the Park Board and the Pool Advisory Committee ever since and then was elected in 1991 … She's carried the banner for the pool for 20-plus years and then led the effort to replace the pool. Therefore, we set out to recognize her."
Hoffmann had no idea she was going to be recognized for her service, the mayor said. The presentations she received included a letter of congratulations for her service from U.S. Sen. Claire McCaskill, a certificate of appreciation from the U.S. Congress submitted by U.S. Rep. Todd Akin, letters of commendation and appreciation from state Rep. Mike Leara and state Sen. Jim Lembke, a Missouri Senate resolution honoring her from state Sen. Eric Schmitt, a resolution honoring her years of civic service from Gov. Jay Nixon and a resolution from County Executive Charlie Dooley outlining her service and "naming June 11, 2010, as Alderman Jan Hoffmann Day in St. Louis County."
Noting Dooley's resolution "was really awesome," Nolan said, "… I said there was no way Sunset Hills could write a resolution to match County Executive Dooley's, so we presented her with a mantle award …"
The award, which included the city logo, noted it was being presented on the opening of the Sunset Hills Aquatic Center and stated, "You made it happen."
Hoffmann told the Call, "I was totally overwhelmed and totally surprised. I feel very honored and I was just astounded at the efforts that Mayor Nolan put forth on my behalf. It was just unbelievable … It was amazing."