Hanaway's Promise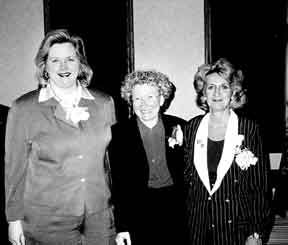 Hanaway's promise to fight tax hikes brings local Republicans to their feet
By CARL HENDRICKSON
For the Call
A promise to fight tax increases recently brought a crowd of more than 150 Repub-lican faithful to its feet during remarks by Missouri House Speaker Catherine Hana-way, R-Warson Woods, at the Tesson Ferry Republican Club's seventh annual St. Pat-rick's Day Fund-Raiser.
In January, Hanaway became the first woman ever to be named speaker of the Missouri House of Representatives and the first Republican speaker in 48 years.
"We cannot take more from you when you have less to give," Hanaway said during the March 9 event at the Royale Or-leans Banquet Center. "The governor sent the House a budget that is $700 million out of balance, which he wants to fix by raising taxes."
State workers are being threatened with the loss of their jobs if they cooperate with Republican efforts to cut unnecessary spending, the speaker said.
"These are the taxpayers' employees who can be fired for answering questions from the people's elected representatives," Hanaway said.
Hanaway criticized Gov. Bob Holden's Democratic administration for driving jobs out of the state.
"Missouri leads the nation in per capita job loss," she told the crowd. "During the past 19 months, 91,000 Missourians have lost their jobs."
Hanaway spoke of the record revenue shortages facing the state.
By June 30, Missouri will face a $350 million revenue shortfall, she said. Next year, she anticipates the Holden deficit to be as much as $1 billion.
To highlight the difference in spending philosophy, Hanaway told the crowd it cost $24,000 in private funds to pay for this year's inauguration of hundreds of new legislators.
Holden spent $1 million on his 2002 inauguration, of which $100,000 was paid for from general revenues, she said.
Frivolous lawsuits and poor workers' compensation laws have had a serious negative effect on Missouri, according to Hanaway.
House Republicans have offered real solutions this session to deal with these serious issues, she said, noting workers' compensation and tort reforms that have been enacted in the House. The workers' compensation reforms should ensure that employees that are injured at work are provided for while ensuring employers are not liable for injuries that occurred to individuals not on the job.
Tort reform is absolutely necessary to keep doctors from leaving Missouri.
"Affordable health care will not be available if we cannot retain medical doctors," Hanaway said.
Among those Republicans present were several who announced their future political plans.
· State Sen. Anita Yeckel of Sunset Hills, who cannot seek re-election due to term limits, plans to run for state treasurer next year.
· Tom Klein, who owns Windows On Washington and Windows Off Washington in downtown St. Louis, also announced his intention to seek the office of state treasurer.
· Former state Rep. Catherine Enz of south county announced plans to seek Yeckel's 1st District senatorial seat.
Enz unsuccessfully challenged U.S. Rep. Richard Gephardt, D-south county, last No-vember.
· Supporters of Secretary of State Matt Blunt were in attendance distributing literature on his behalf. Blunt is contemplating a bid for governor in 2004.
· Bill Federer, who twice lost bids for the congressional seat held by Gephardt, said he plans to seek the Republican nomination for congress again next year.
· Michael Rohrbacker, a member of the St. Louis Community College Board of Trustees who ran unsuccessfully for the 100th District Missouri House seat last November, said that he again plans to run for the Missouri House.
Walter and Irene Treppler were honored for their lifetime achievements in GOP politics. Walter Treppler had served as the first committeeman in Tesson Ferry Township and provided the guidance and leadership that was needed by the new township. Irene Treppler spent 24 years in public service, 12 as a member of the Missouri House and another 12 in the state Senate.
The club named Linda Kunz, a Republican activist and former member of the Tesson Ferry Township Republican Club's Executive Board, as this year's recipient of the Carl Breihan Republican of the Year Award.