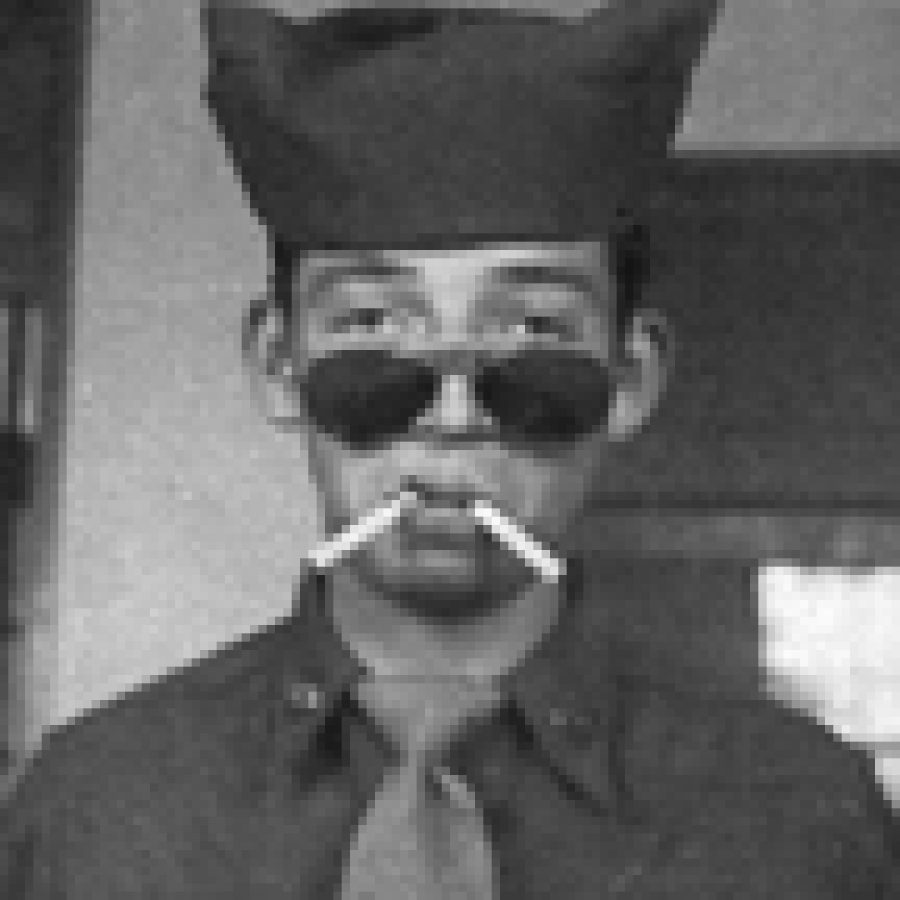 "Color blindness — it's the story of my life," says 81-year-old Harvey Meyer of Green Park.
His inability to distinguish color indirectly led to what he believes was the best vacation of his life.
World War II was nearing completion when Meyer graduated from McKinley High School in the spring of 1944. Meyer wanted to join the Navy, but they wouldn't accept color-blind seamen.
"When they found out I was color blind, they said no Navy for you," he recalled. "The engine rooms are color coded."
He spent some time in the merchant service, but soon found the job assignments going to men who were not color blind.
"When I began running out of money, I bought a ticket back to St. Louis to keep from starving to death," he said. "I got a job at Carradine Hat Co. The Merchant Marine turned my name over to the draft board and they drafted me. That's how my Army career got started."
Meyer said he had never been on a train before he was drafted.
"They sent us to Fort Leavenworth, Kan., where they told us draftees never knew when they would get out of the Army, but if we volunteered, we'd be out in two years. So, I joined the regular Army," he recalled.
More train rides and an ocean cruise were in store for the young man whose world previously revolved around the neighborhood at California and Lafayette streets and Immaculate Conception School.
After volunteering for the Army, Meyer enjoyed a train trip to basic training at Fort McClellan, Ala. After basic training, he was back on the train to Seattle, Wash., before taking an ocean cruise to Tokyo and service in the Army of Occupation.
"I began in an ungodly rifle company near Nagasaki, just outside the radiation zone," Meyer said. "We went through Hiroshima on the train to Nagasaki.
"I never gave radiation a thought. The train stopped right there in Hiroshima. It was the middle of the night. You couldn't see anything. Today, I would have been scared to death," he recalled.
Meyer said when they reached their base, the commander counted his replacement troops off in fours, every fourth man was named a squad leader and he was among them.
"This place was nasty and hot," he said. "Squad leaders sat in an air-conditioned office with the company clerk. We did errands. One day I was sitting there, the phone rang and the clerk said: 'Yeah, he's sitting right here.'
"I thought who's calling me in Japan? It was company headquarters in Kokura. That's where the division band was — not the company band, division band. We're talking big. They wanted me up there for an audition. That was the place where soldiers went for R&R, rest and relaxation," said Meyer, who played the clarinet.
"That was gravy. We played at dances. A few of us got into the dance band that played at the officers' club. The old man had two rail cars reserved for the traveling band and we traveled all over Japan. We got to see all the USO shows.
"Grandma made me take lessons when I was in grade school at Immaculate Conception. I hated it at first. It wound up being one of the best moves I ever made.
"When they were interviewing me in the Army, I put down that I played the clarinet. That's how they got ahold of me in Nagasaki."
During the time he was in Japan, Meyer was struck by the nature of the Japanese people.
"They were very honorable," he said. "They were very polite. You never saw any protesting, no sabotage, never heard of any violence, anywhere. Once in a while we'd see one of those Kamikaze pilots. They had their headbands on and they were heroes."
American soldiers weren't allowed to eat, drink or visit Japanese establishments. They weren't allowed to leave the base unless somebody was with them.
"Your money went a long ways," Meyer said. "We'd buy cigarettes for 80 cents a carton and then sell a pack for 800 yen. For 2 to 3 yen, you could buy a quart of Japanese beer."
Meyer's memory of Japan can be summed up by one of his last views of the country before shipping back to America.
"As we were coming into Tokyo, I saw Mount Fuji in a full moon, with the snow on top and the terraced hillsides. Boy, that's pretty country."
His first view upon returning to America was sailing under San Francisco's Golden Gate Bridge.
Shortly after returning to St. Louis, he was hired by a billboard company where he stayed until his retirement 43 years later.
"If you ever needed to know colors — that was it," he said. "They'd come up and check colors with me and I would always refer them to the ink man. I'd say: 'He mixed it. Let him tell you.' It worked out. I was a supervisor for the last 15 years."
A few years after retirement, Meyer began writing letters to the editor, opinion pieces and driving school buses.
"I drove a bus for 10 years," he said. "Every year we took a physical. Eye exams and the whole thing. Everybody took the eye exam in the same room. You had 40 people there. After you listen to everyone in front of you identify a big green swatch and big red swatch I knew which was green and which was red.
"The 10th year they took the test at MoDOT (Missouri Department of Transportation). They found out I was color blind and said I couldn't drive a school bus."
Since leaving the service, he's taken the inland cruise in Alaska, went to Jamaica, went through the Panama Canal and been on trips around the continental United States.
"Those trips cost a fortune," Meyer said. "They paid me $75 a month in the service."