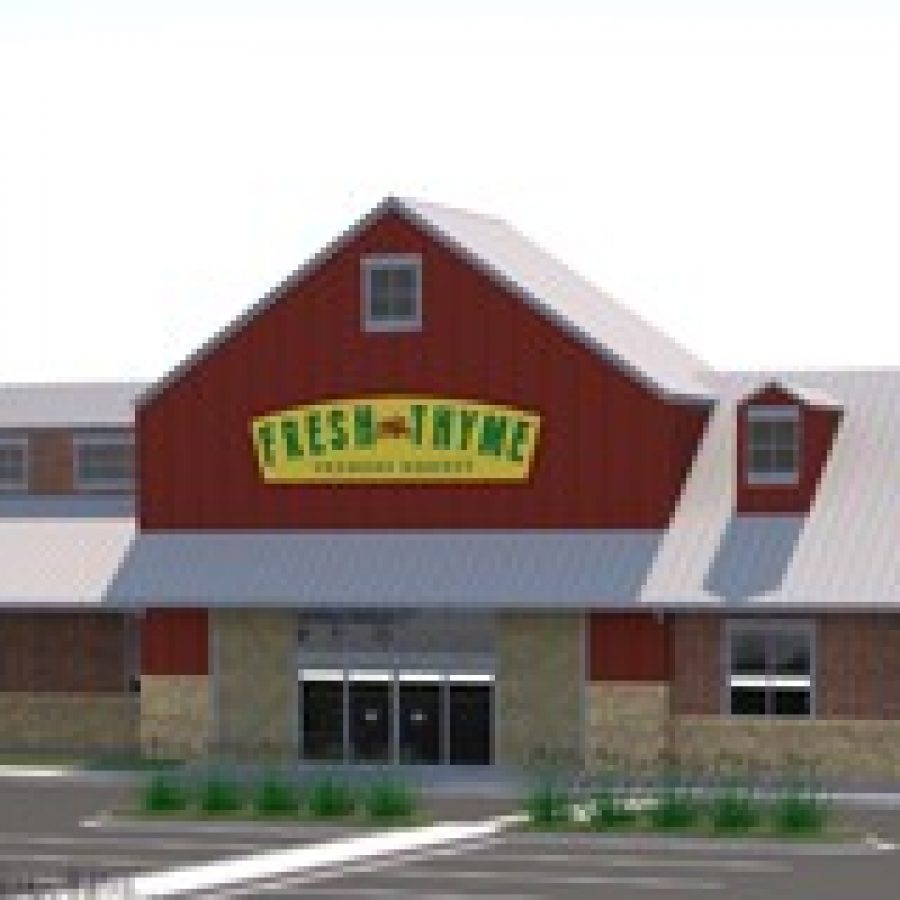 The Green Park Board of Aldermen recently voted for a second time to reject a preliminary site plan for a Fresh Thyme Farmers Market store proposed for the site of the now-closed Tesson Ferry Branch County Library.
Aldermen voted in October to reject Fresh Thyme's plan to construct a 28,900-square-foot store at 9920 Lin Ferry Drive.
Earlier that month, the city's Planning and Zoning Commission voted unanimously to recommend approval of Fresh Thyme's proposal. Commission member Jonathan Byrd recused himself from the discussion and vote at the panel's Oct. 7 meeting.
The board unanimously agreed to reconsider Fresh Thyme's proposal at its Nov. 16 meeting, but after a presentation and discussion again rejected the preliminary site plan.
The board's Nov. 16 vote was the same as its Oct. 19 vote. Ward 1 Aldermen Carol Hamilton and Michael Broughton, Ward 2 Alderman James Jones Jr. and Ward 3 Alderman Joe Monteleone were opposed to Fresh Thyme's proposal. Ward 2 Alderman Tim Thuston and board President Fred Baras of Ward 3 voted in favor.
Hamilton, who serves on the Planning and Zoning Commission, joined the rest of the panel on Oct. 7 in voting to recommend approval of the preliminary site plan.
The board's rejection of Fresh Thyme's proposal came over the objections of three Lin Ferry Drive property owners. Ron Emmenegger of the Lin Ferry Investment Group, Stan Erb of the Hilvin Investment Corp. and Carol Gapsch of Gapsch Bros. Inc. all spoke in favor of Fresh Thyme.
Gapsch also spoke in support of Fresh Thyme at the board's Oct. 19 meeting and at the Oct. 7 Planning and Zoning Commission meeting.
No one spoke against the Fresh Thyme proposal at the Nov. 16 meeting. Byrd, the Planning and Zoning Commission member who had recused himself from the discussion and vote on Fresh Thyme's proposal, told aldermen Oct. 19 that he opposed the store for several reasons, including setbacks, lack of parking, traffic concerns and "market saturation."
Byrd, who works as an organizer with Meatcutters' Local 88 of the United Food & Commercial Workers, was present at the Nov. 16 meeting, but did not speak.
In voting to reject Fresh Thyme's proposal in October, aldermen cited concerns about the size of the building on the lot, the variances Fresh Thyme requested for the building, additional traffic and the number of parking spaces.
Zoning attorney John King, representing Fresh Thyme, told the board that Fresh Thyme had reduced the size of its proposed store by 250 square feet.
The city's zoning code requires 188 parking spaces, and Fresh Thyme originally proposed 131 spaces. King noted Fresh Thyme's revised proposal called for 133 parking spaces.
"… I would point out that if we didn't have enough parking, I think it stands to reason that the people that run Fresh Thyme wouldn't be trying to locate here and spend the money they're going to spend on buying the property and building a store at this location if they think they didn't have enough parking …," he said. "I know that in Kirkwood, they're going to build a 28,000-square-foot store, and they're going to have 109 spaces …"
While Fresh Thyme was still requesting variances for building setbacks and parking setbacks, the revised proposal eliminated some of the other variances for wall signage and ground signage that were requested in its original statement of need, King said.
The zoning attorney noted that city officials have granted similar variances to other businesses on South Lindbergh Boulevard, including Mobil on the Run and Panda Express.
Sales at the proposed Fresh Thyme location in Green Park are estimated at $12 million annually, King said, noting the city would receive "at least 85 percent of that sales tax off of that $12 million in sales."
Lindbergh Schools also would receive a substantial amount of property tax from Fresh Thyme, he added.
Mayor Bob Reinagel later acknowledged variance requests city officials approved for other businesses along Lindbergh Boulevard and also discounted the concerns about traffic.
"… As these folks said, we've made a lot of concessions along Lindbergh Boulevard because of what we have. The lots are all irregular. They're all a weird size …," he said. "We've had to make a tremendous amount of concessions because of the terrain. The library itself generated a lot of traffic, a tremendous amount of traffic. It didn't seem to be an issue.
"As far as traffic is concerned, we have two entrances to Lin Ferry which could be used. So I can't see that we have any extenuating, terrible statements of need that are going to be creating a problem because it is surrounded by totally commercial properties …"
But other elected officials disagreed with the mayor.
Hamilton, who joined other Planning and Zoning Commission members in recommending approval of Fresh Thyme's proposal, said she later had second thoughts about the traffic issues and the size of the building.
"I actually think that Fresh Thyme's going to get more business than they anticipate," she said. "A friend of mine called me from Columbia, Ill. — they're going to be coming over the JB (Jefferson Barracks) Bridge. A lady called me after she read the article from Arnold. They're going to be coming up from Jefferson County.
"I actually would like to see you all be bigger, have a bigger store and buy a bigger hunk of land over there. I don't think that the parking is adequate because of that, and I think it's going to be a traffic jam because of that … We really have nothing like Fresh Thyme around here. It's such a great concept … I can't say anything bad about Fresh Thyme.
"It's just that I was inundated with calls from people in my ward, Ward 1, that think it's really too much traffic and there will be too many people coming there. They actually asked if you could be bigger," she said, adding that she believes Fresh Thyme representatives have underestimated the draw the store would be.
Hamilton later said she visited the Fresh Thyme store that recently opened on Manchester Road in Ballwin and said Fresh Thyme can't be compared to a Schnucks, Dierbergs or Shop 'n Save store.
"It's an exclusive store. It's for an educated shopper that wants to get some really particular items … I think it's something that people will appreciate and it will gather a very large crowd," she said.
Monteleone said, "I don't think anybody can actually forecast the numbers as far as customers. They can tell you how much they need as far as parking, but like Carol was saying, it's pretty unique to the area.
"It's not like Dierbergs or Schnucks."