Gravois-Musick intersection to be closed for six months for upgrades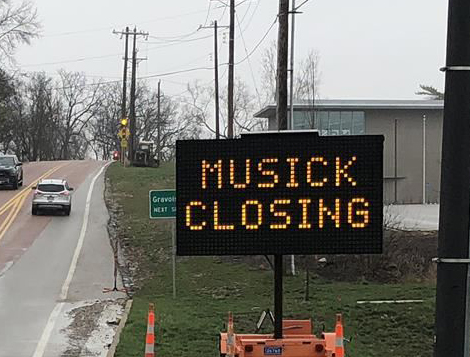 The Gravois-Musick intersection, with the Grant's View Library on the right.
By Gloria Lloyd
News Editor
news3@callnewspapers.com
The plans long in the works to improve the busy intersection at Gravois and Musick roads will get underway next week.
St. Louis County plans to close the intersection at Musick Road starting Monday, April 16, directly next to the Grant's View Branch County Library.
The road will remain closed for improvements until December.
The $1.1 million intersection project was approved by the County Council a few months ago, with a contract awarded to Pavement Solutions, LLC, the lowest responsive bidder.
But the project was budgeted at $1.5 million in the 2018 budget. Bids were taken in December.
Musick just reopened last week after a closure since October at Lavinia and Meath drives because the county was replacing a 70-year-old bridge over Sappington Creek.
The improvements at Musick and Gravois are spurred by the construction of the Grant's View Library, which replaced the Tesson Ferry Library on Lin Ferry Drive in Green Park.
It was razed and has been replaced with the new Fresh Thyme grocery store.
The new library opened in December 2015. County planners would not allow the library to have an entrance onto Musick without the road improvements.
Since the library opened, its customers have shared the entrance of the Grant's View Subdivision, creating what can be a confusing entryway for first-timers to the library.
Grant's View developer McBride Berra, which sold the property at Gravois and Musick to the library, and the library are each contributing approximately $250,000 to the repairs, with the county paying for the other $750,000, county officials said in 2014.
It was unclear at press time if they are still providing funds for the upgrades.
The intersection project was originally set to be finished in 2017. When the Musick and Gravois project is complete, improvements to the intersection will include:
• Increased visibility on Musick by lowering the hill approximately 7.5 feet
• Dedicated left and right turn lanes from Musick onto Gravois
• Dedicated left turn lane from westbound Gravois onto Musick
The closure will have an impact on families traveling to Dressel Elementary School, which is on Musick Road.
Parents and students have already dealt with the closure of Musick for most of this school year. The closure will affect some student bus routes, the district posted on its website. Families who are affected will be contacted.
Gravois is a state road. Plans from the Missouri Department of Transportation for $2 million in improvements to Gravois Road in front of the library were put on hold after the statewide transportation sales tax failed in August 2014.
MoDOT officials said at the time that the improvements are needed, but they do not have the money for them.