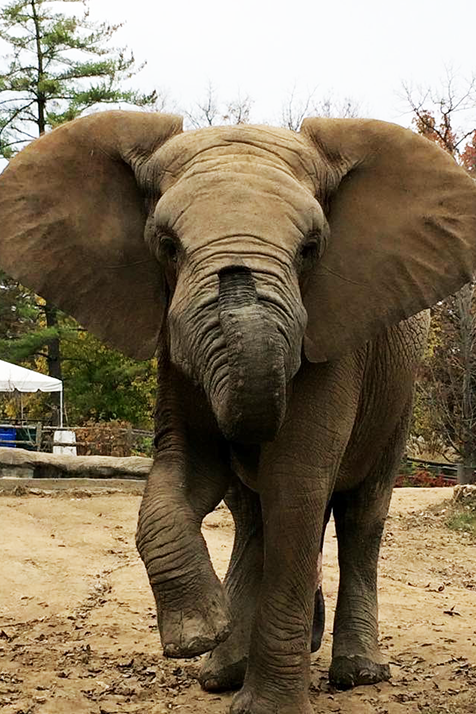 Max, the last remaining Grant's Farm elephant, died this month at the age of 14. Photo courtesy of Grant's Farm.
Grant's Farm says it is done keeping elephants "at this time" after all four elephants living at the south county attraction died this year, including the young and seemingly healthy last remaining elephant, who died of an as-yet-unknown cause last week.
African elephants Mickey, Toby and Max all died in the last month, following the sudden death of longtime Grant's Farm favorite Bud in March. Mickey was female and the other elephants were male.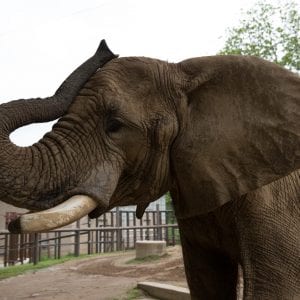 All the deaths were sudden except Mickey, who had been living with a brain tumor.
For now, Grant's Farm will not rebuild its group of elephants, an Anheuser-Busch spokesman said. Grant's Farm officials will also not get the pathology reports for any of the elephants for the next several weeks to fully determine what they died of.
The 270-acre family attraction in Grantwood Village first opened for admission in 1954 under ownership of the Busch family. The home once belonged to Ulysses S. Grant and was purchased by August A. Busch Sr. in 1903. The famous farm has had 30 million visitors to see the Budweiser Clydesdales and the other animals that populate the grounds. Anheuser-Busch operates the farm under lease from the Busch family.
Max, 14, died Dec. 12 and had been at Grant's Farm since 2013, when he arrived from what the farm called an elephant sanctuary in Arkansas. The farm said that the veterinary staff had been paying close attention to Max in recent months after Bud's death and saw no outward signs of concern.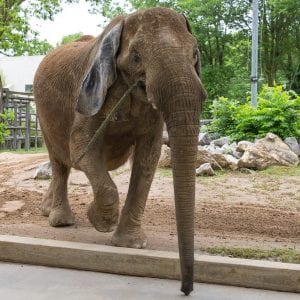 All the animals at the farm receive weekly checkups and routine testing. Max would have been expected to live at least another decade or two.
Despite that veterinary care, "we know that as a herd animal, he was greatly impacted by the recent deaths of Toby and Mickey," the farm said in a Facebook post mourning Max.
"The passing of our elephants has been heartbreaking for our Grant's Farm family," the post continued. "We appreciate the outpouring of love and support. As we cherish Max's memory, please share your favorite photos and stories of him."
Current best practice among zoos is not to house an elephant by itself, since they thrive on living with other elephants.
The wave of deaths at Grant's Farm had PETA — People for the Ethical Treatment of Animals — calling the farm a "bleak roadside zoo in frigid Missouri" that "imprisoned" the elephants in a "short, miserable life of captivity."
The animal-rights organization called for Grant's Farm to be transparent about the deaths by making the elephants' necropsies and veterinary records public.
The organization noted, "During his short life, Max never roamed the land like all elephants deserve to do."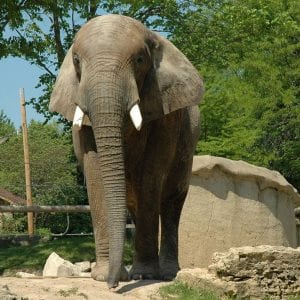 Although Grant's Farm said Max came from a sanctuary, PETA said he was born in captivity at a "notorious" facility called Riddle's Elephant and Wildlife Sanctuary owned by a man they accuse of cruel training methods that have killed elephants in the past. Max's parents, Lil' Felix and Willie, were brought from overseas as part of a shipment of elephants to zoos in the United States.
Locally, animal-welfare activists held a candlelight vigil outside Grant's Farm after Max's death.
Vigil attendee Catriona Docherty told reporters, "Large, massive sentient beings do not belong in captivity. They should release all of their wild animals back to nature if possible or to a sanctuary."
The animals were used in an Elephant Education Show at Grant's Farm.
At the time of Bud's death, the farm wrote, "Mickey continues to be a vibrant part of the Grant's Farm family, but we know she, along with fellow elephants Toby and Max, will greatly miss Bud."
But Mickey, 34, and Toby, 38, died within days of each other in early December, although the farm said the deaths do not appear to be related.
"The quality of care we provide all of the animals at Grant's Farm is of the utmost importance. Both elephants were closely monitored by our veterinary staff," the farm posted.
Toby was 14 years older than the median age for a male African elephant of 24.
Mickey had suffered from a brain tumor for several years.
The deaths began in March with the death of longtime Grant's Farm favorite Bud, who had lived at the farm since 1986.
Mickey had been at the farm with Bud for more than three decades, and they had been trained together as young elephants.
African elephant Bud died in March due to a respiratory infection, bacterial pneumonia, that veterinarians didn't know he had.
Bud was 10 feet, 9 inches and weighed 16,000 pounds, but was very friendly to visitors and once even featured in a marriage proposal, holding a sign that said "Will you marry me?"
Anheuser-Busch posted at the time of Bud's death, "At this time, our team of veterinarians and independent animal health experts do not have any concerns about the health of the other elephants, but will continue to monitor them closely and will be conducting additional tests to determine if antibiotics or other precautionary measures should be taken."
"Bud resided at Grant's Farm since 1986 and entertained hundreds of thousands of guests with a sharp intelligence and charming personality as great as his size," the farm posted on Facebook.
Dani Brewer wrote in a comment on the post, "This breaks my heart. My fiance proposed to me with Bud's help, and I will never forget him and how sweet he was. Rest in peace, Bud."
Toby had also participated in at least one marriage proposal.