Future of Cliff Cave Park trail in doubt if shelved this month
Trakas will meet this week with GRG, county officials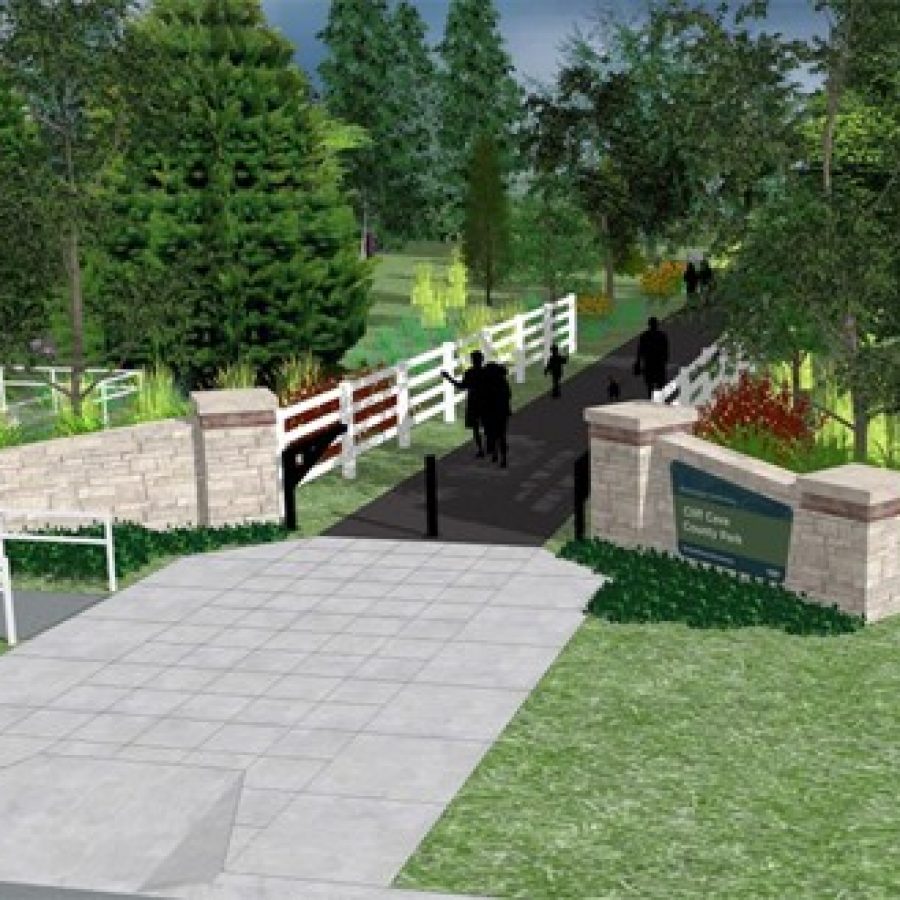 If a new trail in Cliff Cave Park is shelved this month due to objections from neighbors, it may never get built.
Great Rivers Greenway, or GRG, hopes to build a 2-mile paved loop, similar to Grant's Trail, in Oakville.
The path would wind up and down the bluffs from a trailhead on Cliff Cave Road and end at a pedestrian-only entrance at Telegraph and Erb roads.
The $5 million trail is on hold at the County Council due to concerns 6th District Councilman Ernie Trakas, R-Oakville, wants to convey to GRG from nearby residents who worry about traffic and safety.
"I believe that the trail could be a good thing if legitimate resident concerns are addressed," Trakas said. "I'm not opposed to the trail. What I am a proponent of is a trail that works for all people."
The new councilman plans to meet this week with GRG Executive Director Susan Trautman and the county Parks and Recreation Department to iron out whether the project can move forward this year.
"This is an extremely important project to the development of our trail system throughout the county, and it's a really neat project for the 6th District," county Parks Director Gary Bess said. "It's got a great trail system that will connect the on-street bike lanes on Telegraph to the lower section of the park, it provides for a great overlook where you can see the Mississippi River. It's just a great addition to the park and a great addition to the regional trail system."
That meeting is key to moving the project forward, Trautman said: It has a strict March 1 construction deadline due to the nesting season of endangered bats that live in the caves.
Trakas sent an email to officials last week that "it made sense to me to postpone the plan right now and revisit it after the bat thing is no longer an issue, which would probably mean next year sometime," he told the Call.
The project is in the final planning stages and shovel-ready at any minute, and if it is delayed, GRG could likely drop it due to rebidding and redesign costs, Trautman said.
"It would be extremely difficult for us to proceed with the project if we dropped it this year," she said. "We've made quite a significant investment already, and I would hate to lose that investment."
The regional trail district is comprised of St. Louis County and city and St. Charles County, and if the project is scuttled, south county residents could send a signal that new trails are unwanted, Bess said.
"If we don't do this, not only are we losing that recreational opportunity for residents, I think we're also jeopardizing future projects from a trails perspective in the 6th District," Bess said. "I hope we don't send the wrong signal to our partners at GRG that they should not expand trails in the 6th District."
Oakville-based landscaping company Ideal Landscape, the winning contractor on the project, stands to lose millions of dollars, company President Dave Buckel of Oakville told the Call.
"We are really hoping the project will go through," Buckel wrote in an email. "It is our largest project and will affect us greatly, and 25 union employees that will work on the project for close to a year."
As of Friday, Trakas said emails on the trail were evenly split, but residents responding to a weekend alert from the Missouri Bicycling and Pedestrian Federation reported that Trakas' voicemail at his council office was full.
GRG says most of the feedback from its open houses last year was positive, while 33 percent had at least one concern.
The overwhelming majority of residents at Trakas' own meeting Jan. 26 were against the trail, and he believes that is more representative than the open houses.
An unscientific poll in an Oakville group tallied 194 respondents in favor of the trail and eight against.
"I'm relatively new to Oakville, but this proposed trail was one of the things that made the community especially appealing to my family and me," a group member who lives off Erb Road said. "We would probably walk/ride much more often with a direct link to Cliff Cave Park, and I'm sure many other families would do the same."
GRG has modified the original design based on feedback, including downsizing the Telegraph entrance, downsizing the proposed new parking lot at Cliff Cave by half, moving it back from the road and surrounding it with a landscape buffer, Bess said.
But none of those concessions is enough to appease residents who oppose the trail.
"What I've been able to discern from the people I've heard as well as documents I've looked at is that in a very real and large way, resident concerns have been dismissed," Trakas said. "Those are the folks I represent, and I think I have an obligation to represent their interests."
In this week's meeting, Trakas said he planned to ask park and trail officials to address the following problems before the project can move forward:
• Safe access from Telegraph Road.
• Existing safety at Cliff Cave Park.
• The safety of the proposed 120-foot scenic overlook.
• The second parking lot at Cliff Cave.
Although GRG scaled back the Telegraph entrance gates, Trakas said that doesn't address the five lanes of traffic in front of those gates.
"Quite frankly, what I don't want is to have something happen to a young person, 12, 13, 14 years old, riding their bike across that traffic," Trakas said. "That's untenable for me."
Although residents outlined crime and noise issues they say they see every day at the park and along Cliff Cave Road, Bess disputes the idea that the park is unsafe, aside from one-time incidents like a murder-suicide last fall.
"The statistics do not back those accusations up — Cliff Cave Park is a low-crime area," Bess said. "As far as complaints from others about trash or unkempt conditions down there, we don't have any. It's certainly one of our most popular parks, and if it was a crime problem or it was poorly kept, I don't think as many people who use it would continue to use it."
As for the scenic overlook, Trakas said, "They don't call it 'suicide leap' for no reason."
But Trautman said the existing ungated bluff overlook is what's dangerous, rather than GRG's fenced one.
GRG has handled similar overlook areas and "they're always designed in a way that people are safe," Trautman said. "The walls are high enough, we limit access to the bluffs and it just creates a much more safe and welcoming environment and allows people views of the river that we wouldn't be able to have otherwise."
The second parking lot is needed because otherwise park visitors could park in nearby neighborhoods, which residents definitely would not want, Trautman added.