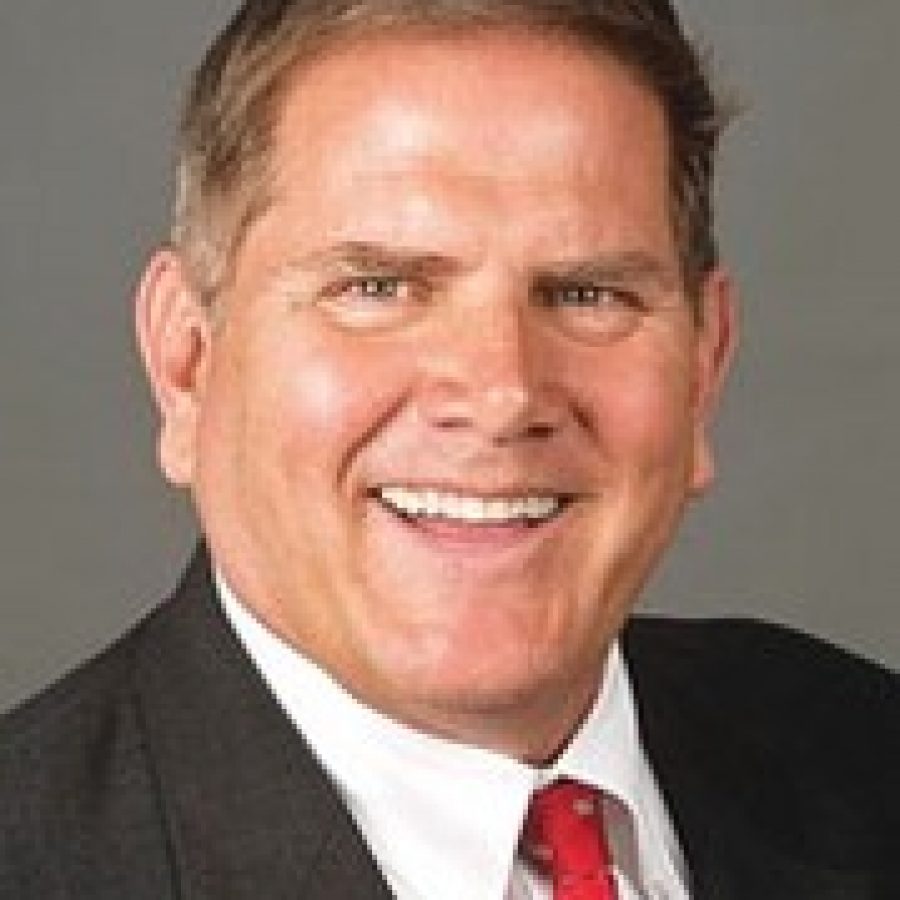 A St. Louis County jury next week could decide Sunset Hills Mayor Mark Furrer's innocence or guilt on two felony charges for allegedly hitting a bicyclist riding through the city last year.
At press time, Furrer's jury trial on charges of assault and property damage is set to begin at 9 a.m. Monday, Dec. 14, in Judge Thomas Prebil's courtroom on the fourth floor of the St. Louis County Courts Building, 105 S. Central Ave., Clayton.
A county grand jury indicted the mayor last December for allegedly swerving his car and intentionally hitting Fenton cyclist Randy Murdick on July 29, 2014. Furrer has maintained his innocence from the beginning and was not arrested at the scene. But a post from Murdick alleging that the mayor intentionally swerved into him and told him to "get off my roads" went viral the next day.
The Sunset Hills Police Department turned the investigation over to county detectives, who recommended the felony charges against Furrer.
County prosecutors declined to comment on their case, but Furrer reiterated to the Call this week that he is confident he will be acquitted when jurors hear his side of the story.
Still, Furrer acknowledged in October that juries can be unpredictable.
"You get before a jury, and you never know what can happen — O.J. (Simpson) was acquitted," he said. "And there's a lot of innocent people in prison, too."
From the time the charges were announced, Furrer said he would take the case to trial, and Ed Magee, a spokesman for Prosecuting Attorney Robert McCulloch, told the Call he was unaware of prosecutors offering any plea deal to Furrer.
An attempt by aldermen to impeach Furrer for the incident failed in February.
The charges carry up to 11 years in prison, but since Furrer has no prior criminal record, it is unlikely he would serve any jail time if found guilty. If convicted of either felony, however, he would be unable to hold public office under state law.
The mayor said he isn't sure if he will take the stand in the trial, since that decision is up to his attorneys, Thomas Magee and Daniel Bruntrager.
The case will be tried by Assistant Prosecuting Attorney Alan Key, who is one of the longest-serving county prosecutors and has tried many criminal cases over a decades-long career, Ed Magee said.
Murdick is one of 25 potential prosecution witnesses, along with three Sunset Hills residents who witnessed the incident, the Sunset Hills police officers who responded to the scene and the county detectives who investigated the run-in later.
Furrer offers a much different story of what happened than Murdick, whose version of events appears to be backed up by statements from the three witnesses quoted in the police report. Furrer and Murdick each point to the other as an instigator who went on a profanity-laced tirade as they passed each other in front of Delta Dental on Gravois Road — Furrer in his 1991 red Mercedes convertible and triathlete Murdick on his $12,000 bicycle, approaching the end of a 40-mile training ride.
Murdick said Furrer "comes up next to me screaming, 'Get off my roads, get off my roads.' After what seemed like 10 seconds of this he whips his car to the right, hitting me on the left side of my body, knocking the bike out from under me. My left arm hooked the back of the passenger door, and he gunned it, flinging me off onto the road."
The day after the incident, Furrer gave a much different version of events to the Call.
"I did not hit the bicycle guy," the mayor said. "… I drove by him and said, 'Hey man, you're supposed to stop at the stop signs.' And then he starts 'MF'-ing me and 'F you' and all this stuff. He was hanging onto my door, riding along next to me, and then all of a sudden he let go — or I assume he let go — and I saw him tumble off into the grass. There was no evidence on my car that there was any contact. There's no scratch, there's nothing to indicate I hit him with the car. He's saying I swerved into him."
The prosecution's initial list of witnesses included Crestwood Mayor Gregg Roby, who had lunch with Furrer the day of the incident at the opening of the now-defunct Gordo's Mexican Restaurant at the Sunset Hills Econo Lodge. The proprietors of Gordo's still appear on the list.
Potential witnesses include family members of an elderly Friendship Village resident, then 83, who — as first reported by the Call — was involved in a 2011 dustup with Furrer at Friendship Village in which each accused the other of a physical attack.
The elder man died earlier this year and his wife died in 2012, but she is listed as a witness along with the couple's son, who lives in Oakville.
The three eyewitnesses are on the witness list, but until they testify the Call is identifying them only by the order in which they appear in the police report.
As outlined in the report, Witness 2 said he was driving with his adult son, Witness 3, when he saw a man in a convertible driving "extremely close" to a bicycle, "holler" something at the bicyclist and make a "right jerk" into the cyclist.
"I saw the steering wheel turn right because his hands were on it, and I saw his hand go up," the man told police. "So he turned right into him. The car kind of dropped down off the road a little bit and came back on and that's when he accelerated away."
The witnesses called in a hit-and-run to 911 as they gave chase and caught up with Furrer nearly a mile away. When Furrer drove back to the scene, Witness 2 said the mayor said, "I didn't hit anybody."
The witness said he replied, "I sat right across the street; I watched you do it."
The witness said Furrer replied, "You were so close to me you pushed me into him."
Sunset Hills Police Chief William LaGrand turned the investigation over to the county Police Department July 31.
On Aug. 2, county detectives went to Furrer's farm in Millstadt, Ill., to examine the convertible and read him his Miranda rights, after which Furrer declined to make a statement to police.
Murdick did not go straight from the scene to a hospital, but he later went to St. Anthony's Medical Center for treatment for a torn Achilles tendon.
In a civil lawsuit filed against Furrer in October, Murdick alleged the mayor's "negligence and carelessness" caused injuries to the cyclist's back, head, shoulder and legs that have caused him pain, lost wages and high medical bills.
The suit seeks punitive damages greater than $25,000 because "Furrer's conduct was outrageous because of (his) intentional act and motive and/or reckless indifference to (Murdick's) rights."