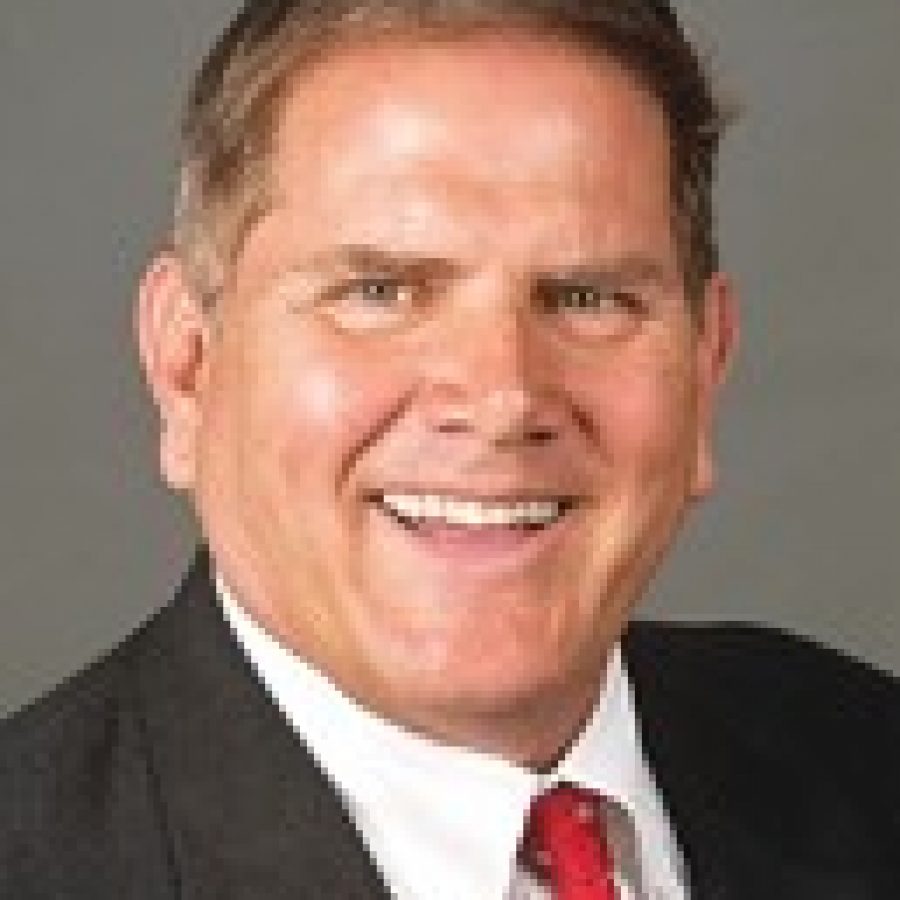 No one was more surprised about the outcome of last week's election in Sunset Hills than Mark Furrer, who called his write-in victory over incumbent Mayor Bill Nolan "stunning."
Furrer launched his write-in campaign for mayor roughly two weeks before the April 8 election, sparked by his opposition to a proposed QuikTrip development off Interstate 270.
"… It's a stunning, stunning situation …," Furrer told the Call. "This wasn't so much a win for me, it was more of a 'no' to Nolan. It was just an astounding defeat for him, not so much a great victory for me because I mean, I gave people a choice, and by God, they took it …"
For the mayoral race, Nolan received 955 votes — 46.02 percent — while 1,120 write-in votes — 53.98 percent — were cast, according to unofficial election results. While the election results do not detail how many write-in votes went to Furrer, he was the only person registered as a write-in candidate for the mayoral seat.
Asked about the election results, Nolan told the Call, "I would guess the first reaction would be that I was somewhat disappointed that I don't get to do two more years in a job I've probably loved as much as anything I've ever had to do, outside of my business and my family. On the other hand, the people spoke, and if the people want that to be what they want it to be — and the majority of them felt that way of those who voted — that's how it is."
Nolan, a former Ward 1 alderman, was elected mayor in 2010 and was seeking his third two-year term last week.
Furrer was not the only victorious write-in candidate. Donna Ernst, an aldermanic write-in candidate in Ward 4 — the site of the proposed QuikTrip — defeated incumbent Art Havener, who was seeking a second term. Havener received 224 votes — 31.64 percent — while 484 write-in votes — 68.36 percent — were cast.
In Ward 2, incumbent Tom Musich defeated write-in candidate Donald Placke Jr. Musich garnered 434 votes, while eight write-in ballots were cast.
In Ward 1, incumbent Rich Gau defeated former Alderman Douglas McGuire Jr. Gau received 215 votes — 57.64 percent — while McGuire garnered 155 votes — 41.55 percent.
Ward 3 Alderman Kurt Krueger, who was unopposed, received 402 votes. Twenty write-in ballots were cast.
Also unopposed was City Collector Mike Sawicki, who received 1,694 votes. Thirty-seven write-in ballots were cast.
Furrer is scheduled to be sworn in Tuesday. Asked about his plans, he said, "I'm trying to build a coalition. I've talked to some of the aldermen and they certainly, I think, see the winds of change …"
Citing Ernst's victory over Havener, he said, "That, to me, is a mandate from the people. I mean that Art's a sharp guy and he's very intelligent, but people did not like the stand he took on this situation or others, and they told him in no uncertain terms, 'We don't want to do what you want to do.'
"And ditto on mine. For a write-in to win such a stunning victory — with what everybody tells me is less than 1 percent (successful write-in campaigns) — those people voted at the ballot box, which is what they're supposed to do …"
Furrer lives near the QuikTrip proposed for the Missouri Department of Transportation, or MoDOT, east commuter lot at the intersection of Weber Hill and Kennerly roads.
Sansone Group is under contract to purchase two commuter lots at the intersection of Kennerly and Weber Hill from MoDOT, in exchange for $1.03 million and building MoDOT a new 9.5-acre lot at Rahning Road and Highway 30.
QuikTrip has submitted plans to the city to build a 5,773-square-foot convenience store with eight, single per island, dual-faced gasoline pumps on the east lot.
In July 2012, aldermen voted unanimously to adopt an ordinance approving a cooperation agreement between the city and the Sansone Group for public improvements and development rights of the easternmost commuter parking lot. The duration of the cooperation pact was 18 months. In December, aldermen voted unanimously to extend the agreement with Sansone until Jan. 10, 2015.
Furrer said, "… I'm going to look into this ordinance to see if it can be rescinded or overturned because the ordinance where they appointed — and I say appointed, it's like more anointed — Sansone to be the sole developer, under those ordinances it's got to be for the public good. And the public has spoken, and I don't think they think it's in their public good.
"So whether or not I can overturn that, I've got to look into that. I've got to look into what else is going on. I'm going to have to basically review the people and see if I need to make new appointments on all the committees and Planning and Zoning. I mean, a lot of those folks were firmly entrenched with Bill Nolan's philosophy, and if they want to continue to think that way, I don't need them in my administration … It's all really about what the people want."
Noting that his name was not on the ballot, Furrer said, "They had to click write-in. They had to go to a keyboard. They had to type my name in and they had to hit accept. So when these people voted for me, they voted for me three times. They voted for me when they clicked write-in candidate. They voted for me when they typed in my name. Then they voted for me when they hit accept.
"So they had four more steps to take versus Nolan … These people took the time for the extra three or four steps, which was very, very proactive and I think showed their real commitment to getting me in …"
Given that, Furrer said, "I think the 1,100 votes I got were more significant because of that, than the 900-something votes that Mayor Nolan got …"
Asked about his biggest accomplishments as mayor, Nolan cited the city's response to the Dec. 31, 2010, tornado that hit Sunset Hills.
"I would say the tornado — our ability to solve the problem," he said. "People look at me really funny when I say this, but I would swear of all the other tornadoes that have occurred in Sunset Hills, none of them were handled as well as ours was … And on top of that, we raised $254,000 for the people who lost most of their belongings. All in all, it was just a great opportunity to do something well for the city and to show what the city's capable of doing …
"I, of course, am pleased that the Bob Evans is gone. I would hope the two old foundations on Rott Road will become the center of the new assisted-living facility they want to build there because I think that solves another problem in our city."
For the future, Nolan said, "… I'd like to get involved with the Sunset Hills Conservation Foundation, and somewhere along the line, we've got to get the (Sunset Hills) Historical Society to do some work on the Paraclete (Fathers) property. So I think there's a couple things to work on for the next year that will keep us pretty busy, and that's what I'm hoping to do."