Friendship Village's 'Rosie the Riveters' are hard at work sewing masks
Over 600 masks have been sewn to date for healthcare workers and residents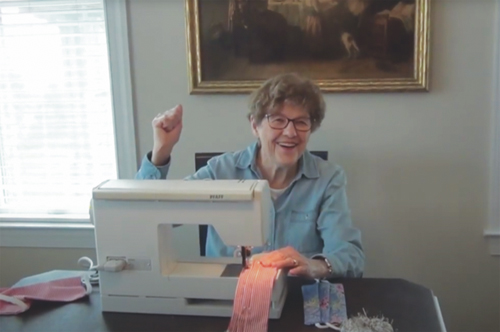 Senior-living facility Friendship Village has modern-day "Rosie the Riveters" who are are hard at work sewing masks to not only keep themselves and staff members safe but also the rest of the St. Louis community.
Although the Sunset Hills senior living community is currently following shelter-in-place orders to prevent the spread of the virus, some of its excellent seamstresses wanted to give back to the community in any way they could. These residents, which the facility is calling "Rosie the Riveters" in homage to the women who went to work in factories during World War II, have sewn more than 600 masks.
Due to the importance of not spreading germs, wearing masks of any type are required while practicing social distancing in public.
To watch the Riveters hard at work, while having fun click here.
"Friendship Village has many residents that are excellent seamstresses who are happy and willing to use their talents to give back and bring the St. Louis community together during this time in need," says Bobbie Liverar, Community Life Services Director. "We're so proud of how dedicated they are to help slow the spread of COVID-19."
To learn more about Friendship Village and how they are handling the COVID-19 pandemic at their Sunset Hills and Chesterfield locations visit their website FriendshipVillageSTL.com/Covid19. To see the senior living community's Rosie the Riveters making masks click here to watch the video.