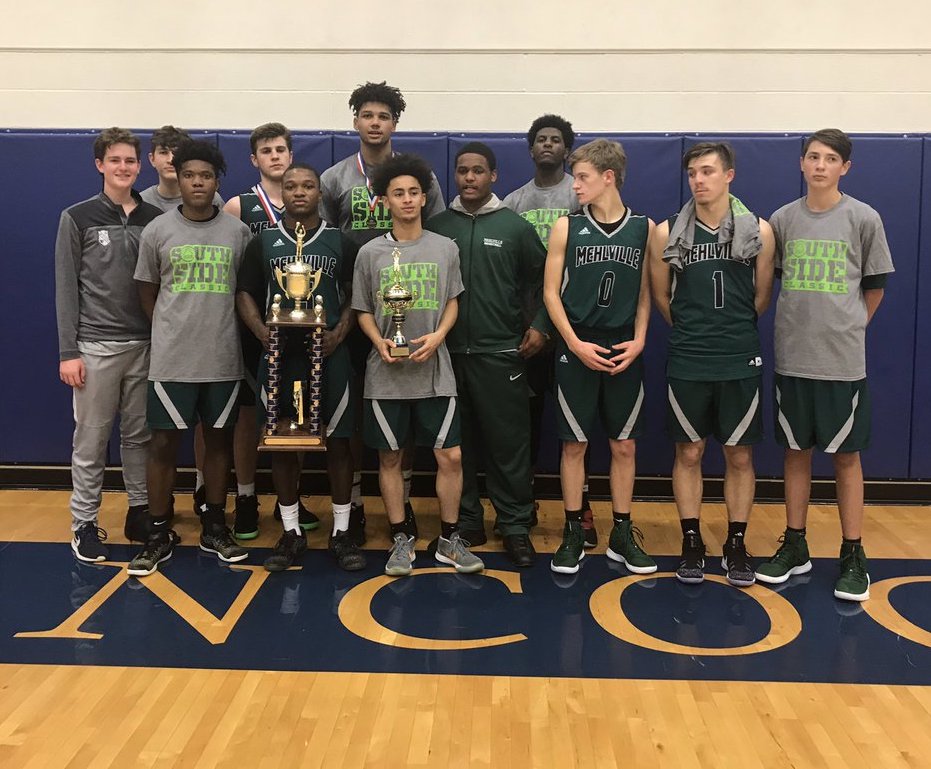 By Stephen Glover 
For the Call
With a record of 7-1, the Mehlville Senior High boys basketball team is off to one of its best starts in recent years. The Panthers are riding a four-game winning streak after a 68-59 win at Parkway North last week.
"I thought that we turned the ball over way too much, and we didn't execute the game right," Mehlville head coach Andy Guethle said. "We're excited about the win, but Parkway North's best player is out due to an anterior cruciate ligament injury, and I think we just need to get back to focusing on what we can control."
Mehlville's Davion Bradford led all scorers with a total 26 points and 16 rebounds. The junior 7-foot-tall center is a transfer from Hillcrest Prep in Phoenix, Arizona, and has been an important addition to the Panthers' starting lineup.
"Davion played AAU ball with Dylan Branson and some of the other guys on the team, so they all know each other," Guethle said. "He helps us on defense. So if someone actually beats us on the dribble, he has the ability to protect the rim for us."
Branson also scored in double digits for the Panthers with 15 points while leading the team with six assists and four steals. The junior guard is currently averaging 17.1 points per game this season.
"Dylan was a sophomore last year at Chaminade and is a very strong guard and very well may be the strongest on the team," Guethle said. "He's really stepped up and has been a leader on this year's team."
The Panthers' Lamontay Daughtery was the third and final Mehlville player to score in double figures with 13 points and six rebounds.
"Lamontay is an athletic off-guard that can shoot the ball and keeps getting better every day," Guethle said. "He's proving to be another offensive weapon for us this season."
Guethle is also expecting big things from senior guards Carson Ulrich and Jai'ryn Pruitt.
"Carson is a good defender that's been in the program his whole career," Guethle said.
"Jai'ryn is an athletic three-guard that we put on the opponent's best guard. He's probably one of the best athletes on the team and can score as well."
Mehlville is back in action this Friday, Dec. 14, as the Panthers travel to Windsor for a 7 p.m. meeting with the Owls. Both teams met earlier this season in the Southside Classic, in which Mehlville walked away with a convincing 67-30 win Nov. 26.
"Windsor plays hard, and we are going to go down there and they'll give us all that they've got," Guethle said. "We're going to need to be ready to play."