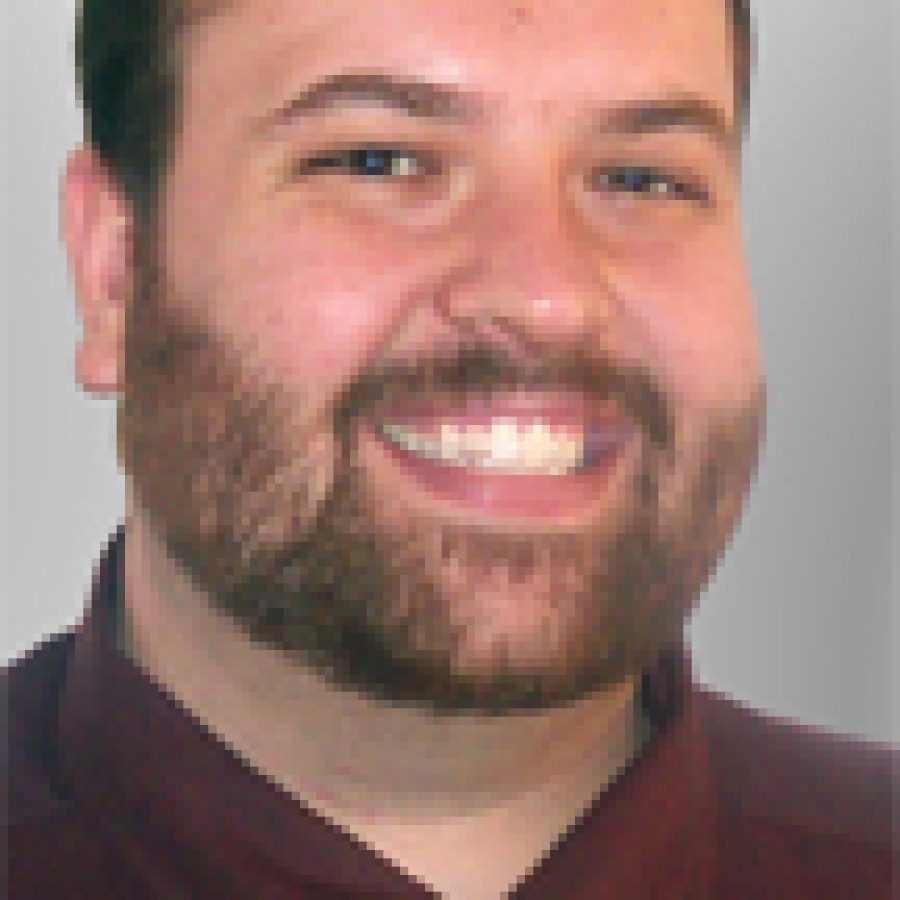 Mehlville Board of Education member Karl Frank Jr. announced Sunday he will resign from the board at next week's meeting.
Frank wrote in a letter to board Secretary Larry Felton on Sunday evening that he intends to step down at the Nov. 18 board meeting.
"It has been my pleasure to serve on the board for the last five-and-a-half years," Frank wrote. "However, I feel I have no choice but to step down, due mainly to some personal reasons, but also to the disheartening disconnect between the direction I believe the Mehlville School District should go and the direction the majority in this community wants us to go."
Frank, 34, ran unsuccessfully for the board in 2004 before being elected in April 2005.
He was re-elected in 2008. Frank's seat will be up for election again in April.
Frank of Oakville is a technology consultant and is the owner of Karl Frank Jr. Computers. He and his wife, Elaine, have three children who attend Mehlville schools.
He told the Call a need to focus on his family and business was what drove him to announce his resignation.
"I could put it off for a couple months, but waiting another five months was bad," Frank said. "The problem is some people can compartmentalize things and be focused on different things at different times of the day, and I'm not like that. When I'm doing something, I'm completely invested in whatever it is I'm passionate about.
"I'm very passionate about public education and the Mehlville School District, and it was just preventing me from doing the other things I needed to do to be a responsible father and a responsible citizen."
The decision, Frank said, was not tied to the defeat of Proposition C, the district's proposed 88-cent tax-rate increase that voters rejected Nov. 2. Frank, who was a fervent Prop C supporter, said he told board President Tom Diehl and Superintendent Terry Noble nearly two months ago he was considering resigning, regardless of how the measure fared at the polls.
However, Frank wrote in his resignation letter Sunday, "It was painful to look in to the eyes of so many children on the morning of Nov. 3 and know what would have been possible for them with just a small investment from their community."
Frank wrote that "much of the blame" for Prop C's defeat rests with him for making decisions that were politically difficult but "I believed were the right thing to do for our children and our community."
"Given a second chance, all things being the same, I would make the same decisions again. Winning isn't everything. Some things and people in life are worth losing over," wrote Frank, who named Noble, "our fantastic superintendent and wonderful human being," as one of those people.
Noble declined to comment Monday on Frank's resignation announcement.
Frank ran for the school board in 2004 and 2005 seeking more accountability from the district, and he frequently was at odds with a majority of his colleagues during his first term. Discussions during meetings on such issues as oversight of the Proposition P districtwide building improvement program and Proposition A — a failed 2006, 97-cent tax-rate increase proposal — often became contentious. Frank supported the former and opposed the latter.
While he still doesn't agree with many of his fellow former board members' actions, Frank wrote in his resignation letter that he owes "most of them a personal apology."
"Rita Diekemper, Cindy Christopher, Tom Correnti, Bill Schornheuser and Marea Kluth-Hoppe were well-meaning and intelligent people who were victims of an untenable political environment and I said many things to them and about them I regret," Frank wrote. "They did nothing to me to deserve the kind of treatment they received from me. I hope they will accept my apology and just chalk it up to the arrogance of a 28-year-old hothead who thought he had the world figured out."
Frank told the Call many of the reasons why he first ran for the board were "'surface issues,' issues that are out on the surface that people can see but don't have any real depth to them."
"And what I have gotten into over the last five years is the depth of serving on the board and being in public education," he said. "So when you get into that depth of what it means to educate a child and prepare them for the future … you start to take things personally. Not necessarily because of you but because you know what kind of effect an environment has on a person or a child's life.
"… But at some point when you get caught up in all the political stuff — and this is where it becomes all-encompassing for me and what makes it hard for me to work — if you don't stay on top of that game, you end up getting run over at some point …"
In August, Frank urged his fellow board members to place Prop C on the ballot, contending "many things are different now than they were" when Prop A was proposed in 2005. But he said Monday that, in terms of the "climate of public education," things largely are the same.
"The last five years, I can't say that a lot has changed," Frank said. "I mean, we made a lot of efforts to make big changes, and we did definitely get rid of the old board. If you want to say that's changed, then yeah, that's changed. But other than that, other than some internal things that I know we can feel good about, nothing has really changed in the climate of public education, and that is frustrating for me."
Board policy states the board must vote to accept a member's letter of resignation for the seat to be considered vacant. Diehl told the Call Monday he and other board members planned to ask Frank between now and next Thursday to reconsider his decision.
"Right now is not a good time to have that vacancy," Diehl said, adding, "I think Karl sent that letter while he was kind of in an emotional state without consulting some of us, and so we want to give him a chance to see the other side of the coin, rather than him just looking at it from what he feels he has to do."
Frank, however, said he almost certainly will step down next week.
"They've made a compelling case, but because it's not about the election — it's about some other things that have to do with my life, my business and my family — it's probably not going to change," he said. "I'm 98 percent sure that they're not going to be able to change my mind on that."