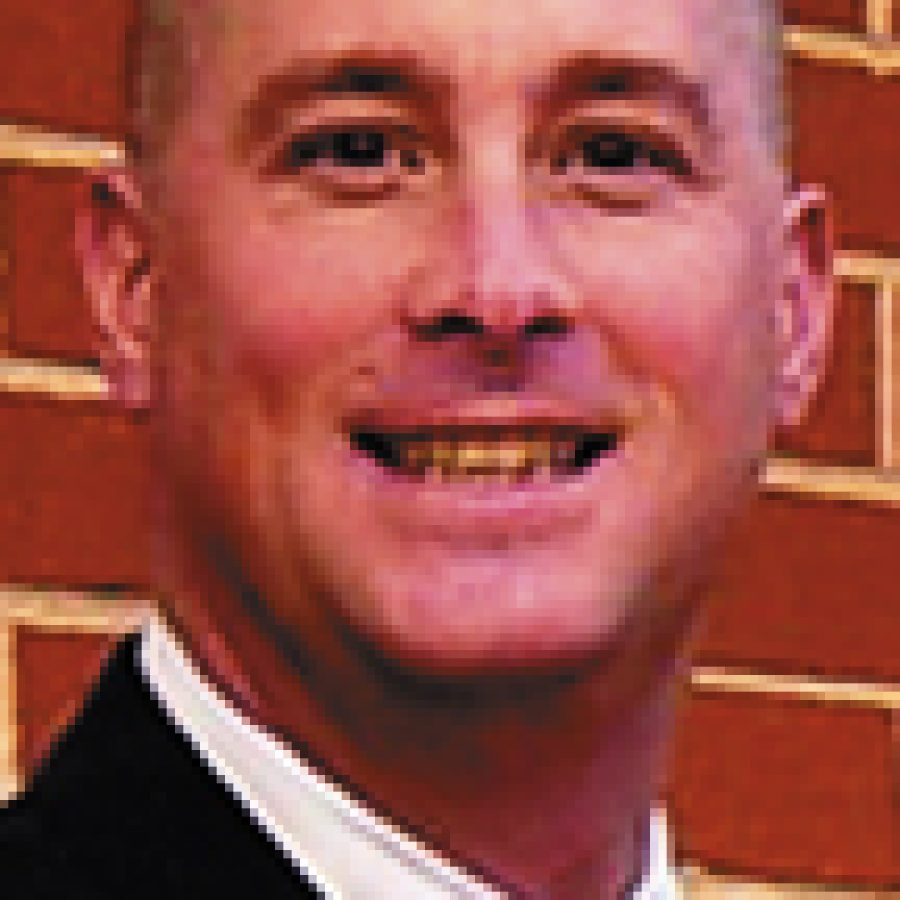 While a tax-rate hike to help retire Crestwood's debt was approved in the April 4 election, voters also elected four new aldermen to help lead the city's new direction.
Four new aldermen — Richard Bland in Ward 1, Chris Pickel in Ward 2, Gregg Roby in Ward 3 and Steve Nieder in Ward 4 — will be sworn in Tuesday, April 25, during a Board of Aldermen meeting at City Hall.
In the city's closest race, Bland defeated fellow Ward 1 challenger Darryl Wallach by a mere 28 votes with a 338-310 victory, or 52.16 percent to 47.84 percent.
Bland will replace longtime Ward 1 Alder-man Richard LaBore, who had exceeded the city's consecutive term limit of three three-year terms.
One former city Planning and Zoning Commission member defeated a current member of the same commission in Ward 2, as Chris Pickel was the ward's choice over Tom Ford by a vote of 460-267, or 63.27 percent to 36.73 percent. Pickel will take the place of outgoing Ward 2 Alderman Tim Trueblood, the current board president whose consecutive term limit also expires.
Roby's Ward 3 victory came the easiest of any new alderman, as he was unopposed and received 823 votes. He will replace outgoing Ward 3 Alderman Don Maddox, who chose not to run for a third term.
In Ward 4, Steve Nieder beat fellow candidate Charles Berry by a vote of 647-380, or 63 percent to 37 percent. Nieder will take the place of outgoing Ward 4 Alderman Joseph O'Keefe, who chose not to run.
With a slew of proposals waiting to be considered by the Board of Aldermen at a transitional point of the city's history, Bland said he is anxious to take his board seat and desires to meet with his fellow aldermen before his first meeting.
"In the long term, I think we need to continue what other boards have started," Bland said. "I mean it's not like we're rebuilding a city. I think there's a lot of good things that are in place and I think what we need to do is take those ideas and run with them and maybe kind of put our own stamp on what's going on here in Crestwood as well. I think progress is good, but I want to make sure that our citizens come first so that whatever progress we do have during my tenure, we're not negatively impacting our citizens."
While he expected a closer competition with Ford in the Ward 2 race, Pickel said he is grateful for the people's votes and can now focus his attention on getting the city's financial status back in shape.
"Certainly, economic development is going to be a critical focus as we go forward," Pickel said. "That's going to involve business coming into Crestwood both in (the Westfield Shoppingtown Crestwood) and along Watson Road. Obviously, (the Planning and Zoning Commission) will be involved in helping those organizations go through the process. I think it's something we need to be aggressive with. We need to reestablish that retail tax base. That's one challenge I'm really looking forward to."
Besides improving Crestwood'a financial structure, Bland said he is trying as much as he can to focus on not so much his own agenda, but what citizens want for the city.
As far as the current Board of Aldermen's on-again, off-again proposal for a citizen review panel to monitor the city's capital improvement sales tax fund, Bland said he has mixed feelings. While he said he cannot form an opinion on the exact panel as proposed to the current board because he has not seen its documentation, Bland said in a general sense that he would have a hard time opposing any form of additional citizen input.
"I do take a look at a review board like that and I think there are some benefits to it," Bland said. "If it does nothing else, it gets additional citizens involved. Having said that, that is if we have folks that do want to step forward and be involved. Apparently, I know the mayor has made comments in the past that sometimes that's difficult because we've got sometimes more positions than we have volunteers. But I would not have a problem with some sort of a review board looking at things like that. I think it kind of opens doors and — if nothing else — sends a strong message that we're not trying to hide anything. We are here for the citizens, and I think that's the message that should be delivered. So, without getting into specifics, I would not oppose some sort of citizen review."
Mayor Roy Robinson said he welcomes each new alderman and has "no likes or dislikes" with any of the aldermanic outcomes. At this point, the mayor said he simply wants to unite the new board, similarly to the current board's unanimous approval of Proposition S.
And with the voters' 2,099-1,340 support — 61.04 percent to 38.96 percent — of Prop S, Pickel believes aldermen have no choice other than to make the seven-year tax increase work toward paying off Crestwood's debt and credit expenses of $3.5 million.
"That passed pretty handily," Pickel said. "I think the residents indicated that they're willing to support efforts to bring the city back to financial health. I think we'll have our work cut out going forward in hopes that we won't have to go back in the near future and have to ask for more money. I know that was alluded to by the mayor prior to the election. But they've placed a lot of trust in us, and with managing finances going forward, we'll do our best in doing that."
Besides managing city finances, Bland said he also has interest in getting five proposed amendments to Crestwood's City Charter in the hands of the voters.
After the Board of Aldermen approved the charter proposals to be placed on the city's April 4 ballot, a petitioners' committee responsible for polling residents on the changes formed and removed the items from the ballot. If the group had garnered signatures from 12 percent — or roughly 1,125 people — of the city of Crestwood's registered voting population, the five charter amendments would have gone back to the Board of Aldermen for further review.
However, the committee did not report any signatures within its 45-day deadline, and some of its members told the Call that they opposed one of the changes — eliminating term limits for aldermen.
Because the deadline had already passed for referendums on the city's April 4 general election ballot, the soonest the charter commission's proposals could be voted on would be Nov. 7 — the city's following general election date.
Under Section 13.8 of the City Charter, "The Board of Aldermen shall by ordinance submit such proposed amend-ments to the voters at the next general election."
Bland, who served on the Crestwood Charter Commission, said as an alderman, he would not oppose any measures that would keep the proposed changes out of the voters' hands.
"Those things are still pertinent," Bland said. "I think the charter is an excellent charter. It is our city's constitution. The proposals that were made were made in an effort to give the citizens of Crestwood an opportunity to take a look at their charter and make some decisions. Whether or not any of them or all of them pass is irrelevant. I think what is relevant is letting the citizens have an opportunity to vote. I think the citizens are intelligent … .and I think they deserve a chance to have a hand in molding the next 10 years here in the city. I think it's still relevant to have that on the ballot."
As for the aldermen who each of the newcomers are replacing, Pickel said their services would not be forgotten and he hopes citizens will appreciate them for their years of service.
"I appreciate the service of the outgoing aldermen," Pickel said. "Not just Tim Trueblood, who's been on the board for 13 years, but Dr. LaBore and Joe O'Keefe and Mr. Maddox. I think anybody that steps forward to volunteer for their city in any kind of capacity needs to be thanked because it is a large task. Those four were willing to do that, and I hope that we can carry on in their tradition."
Nieder did not return telephone calls seeking an interview.