Four candidates seek three seats on Mehlville Board of Education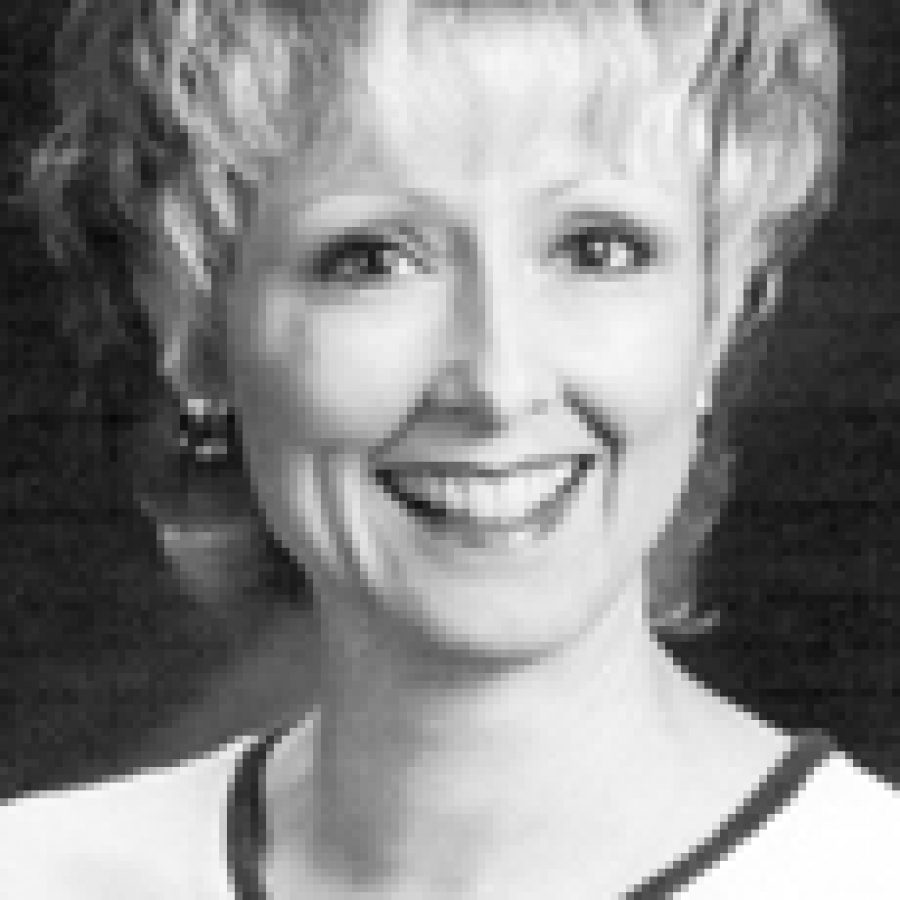 By MIKE ANTHONY
Executive Editor
The views of two incumbents contrast sharply with two other candidates as the four vie for three seats on the Mehlville Board of Education in the April 5 election.
Board of Education President Cindy Christopher, Karl Frank Jr., board Secre-tary Marea Kluth-Hoppe and Ken Leach are seeking election. Christopher is seeking a third three-year term, while Kluth-Hoppe is seeking a second three-year term. Board Vice President Matthew Chellis de-cided not to seek a third term.
Asked to identify the most important issue in the race, the candidates gave these written responses to a Call questionnaire:
• "Finding adequate funding for our students and teachers is the most important issue of this campaign. The school funding formula for the state has frozen our yearly funding at $771 per student since 1993. While costs including testing mandates have risen dramatically since then, our fund-ing has remained the same. I am working with the Families for a Fair Formula Com-mittee as well as our state legislators to change the state formula," Christopher said.
• "I believe Mehlville's weakness lies in the poor oversight of the operations of the district by the Mehlville Board of Educa-tion. The board is plagued by a condition known as groupthink which occurs when like-minded individuals prize and value consensus over good decision making. … symptoms of which include low test scores, low teacher morale, poor fiduciary management of tax initiatives and unpropitious public relations nightmares," Frank said.
• Funding is an extremely important issue in this race. Our district is 'hold harmless' and the funding formula has been frozen for over 11 years. Our district only receives $771 per student from the state. The balance comes from the community. This makes it very difficult to offer the best education for all the children in our district," Kluth-Hoppe said.
• "… I believe we need to come together in our community. Right now I see the me-dia fighting with individuals of the school board and administration. I hear about the school board and administration that chooses not to communicate with the media. I feel some hint of resentment between the teachers and the administration due to a large difference in relative pay as it relates to county averages … We have policies that are paralyzing our actions and sometimes the very spirit of the school. Now I understand that all of these things have their own reasons, but none of them should be greater than the mission of optimizing the complete experience of the student body and its relationship with the community. We all need to come together for the sake of the students and the growth of our school system. I be-lieve we can accomplish much more in a cooperative effort rather than a competitive one," Leach said.
Christopher, 42, 2411 Christopher Winds Place, describes herself as a mother, homemaker and community/school volunteer. She and her husband, Michael, have three children who attend Mehlville schools.
Christopher is seeking re-election be-cause "it is my belief that parents of district children can best guide our administration in seeking correct policies and procedures for the Mehlville schools."
Frank, 29, 5682 Winter Garden Court, is a personal technology consultant and president of Emoticon Computers. He and his wife, Elaine, have three children, two of whom attend Mehlville schools.
Frank, who unsuccessfully sought a board seat last year, said he is running because "as a citizen of the district, I wish to have a di-rect influence on how the majority of my personal property taxes are spent. As a father of two children currently in the district and another to come soon, I see it as my responsibility to do what I can to put myself in the one place where I can make the quickest and most effective difference, and that is on the Mehlville school board. As a possible school board member, I want to stop the 'positive illusions' created by the administration and to end the groupthink of the like-minded administrators."
Kluth-Hoppe, 52, 5315 Oaklawn Drive, describes herself as a community volunteer. She and her husband, Ray Hoppe, have a daughter who attends college.
Kluth-Hoppe is seeking re-election be-cause "I am committed to offering a quality education to the children in the Mehl-ville School District. I believe that a quality education is the most important tool needed in life. My experience on the Board of Edu-cation has shown me that the Mehlville School District is working and striving to offer that quality education to all children. I feel that I have been a positive influence on that process and made decisions that continue to work toward that goal."
Leach, 47, 7100 Becker Road, is the owner of AccuList Inc. He and his wife, Di-ana, have two children who attend Mehl-ville Schools.
Leach, who is making his first bid for elective office, said he is seeking election because "I was asked to run and I believe everyone in their own capacity should volunteer time to his or her community."
The candidates gave these written re-sponses to a Call questionnaire:
The Mehlville School District received 73 points on its 2004 Annual Performance Report, a drop of 27 points from the perfect score of 100 it earned the past two years. Who or what is responsible for the 27-point drop? What do you propose to raise academic achievement?
Christopher said, "The Mehlville School District received notice that test scores had not increased 3 percent in every area. Weak-nesses in reading and writing were identified based on the results received in the fall. More assignments in these areas have been included throughout the curriculum at all grade levels."
Frank said, "The self-preservation of the members of the administration and Board of Education prevents an honest evaluation of the issue at hand. Secondly, a blue-ribbon panel of independent experts should be formed to help achieve five goals that I believe will fix the low test results … I believe that ultimately the responsibility lies in the hands of what I think is the least effective and most hands-off Board of Ed-ucation that I have ever seen. As Mehl-ville's board policy BBA says, 'The board shall be the final authority."'
Kluth-Hoppe said, "The MAP test results did not reach the mandated levels for this year. Our students' results were still high. The state just reduced some of the mandated levels for next year's results. I believe that the action plan set forth by the administration will ensure better results. Con-stant monitoring of the alignment of the curriculum to the test is important. Each classroom is working intently on constructive response questions, which appear on the MAP tests. The disaggregated data shows that some of the subgroups did not do as well, so there is more emphasis to reach those students. Each year a different group of children is tested and each group may have different abilities. If every grade level is working on student achievement then the test results should reach the appropriate level. Additionally, our building principals and teachers are doing more to inform the parents of the importance of the MAP test. The new implementation of the Tungsten Program will also be a benefit and tool for students' future successes on tests."
Leach said, "I am not yet in a position to be able to tell who or what was responsible for the drop. I would like to see a more custom approach to helping each individual with their weaknesses. It would be more complex, but it would also be more effective to target specific weaknesses of each individual rather than just classify the scores into basic groups such as math, science, etc. We need to diagnose whether an individual is having difficulty with fractions, algebra, geometry, integrals or what — specifically. Only then can we properly address those specific weaknesses and help the individual overcome their shortcomings."
With regard to Proposition P, at least one Mehlville ad-ministrator has stated: "The voters approved a 49-cent levy. They didn't approve a $68 million project." Do you agree or disagree with that statement?
Christopher said, "The ballot language the voters approved stated '… shall the Board of Education of the Mehlville R-9 School district, St. Louis County, Missouri, be authorized to increase the operating tax levy by 49 cents per one hundred dollars of assessed valuation …' "… If this proposition is approved, the adjusted operating levy of the school district is estimated to be $3.72 per one hundred dollars of assessed valuation."'
Frank said, "It is not a statement that can be agreed with and is factually wrong. Proposition P was marketed as a $68.4 million project in the district's very own publication — the Mehlville Messenger. To call it anything else is a diversion tactic and is another breach of public trust. What that statement would effectively mean to the public is that a citizen should not take the district literally, but to make sure to read between the lines. Or in other words, do not believe what the district tells you, just what you can figure out on your own. The Citizens Advisory Committee for Facilities sent to the board a $70.2 million proposal. The Board of Education then knocked off a little bit of the ex-pense and finally approved what would become a $68.4 million bond issue. When it was determined that 49 cents is what was needed to raise $68.4 million dollars, that is what was put on the ballot. Five years and $90 million later, the administration and board is trying to do some very obvious damage control."
Kluth-Hoppe said, "The ballot read '… shall the Board of Education of Mehlville R-9 School District, St. Louis County, Missouri, be authorized to increase the operating tax levy by 49 cents per one hundred dollars of assessed valuation…' This meets the public School Law of Missouri 164.031 law for wording a tax levy."
Leach said, "I voted for a 49-cent levy, but I also believed that it would equate to the $68 million projection given."
If the superintendent instructed the Board of Educa-tion members to channel media inquiries through the district's School/Community Relations office, would you comply with such a directive? If so, why? If not, why not?
Christopher said, "The superintendent has no authority over the Board of Education. Rather the Board of Educa-tion employs the superintendent to oversee the operations of the school district."
Frank said, "Absolutely — positively not. The public did not elect the School/Community Relations Office to represent them. They elected the directors of the board to do so. I would never allow a public relations official(s) of a school district speak for me whether I agreed with him or not. It is ethically and morally wrong in this people's democracy."
Kluth-Hoppe said, "The superintendent is the employee of the Board of Education and cannot instruct the Board of Education. The Board of Education may choose to have media requests come through a centralized department. Again, MSBA makes similar recommendations for handling the media in training for board members."
Leach said, "The superintendent may suggest an action, but the superintendent may not 'instruct' the board. I tend to like to answer my own questions. Exceptions might be if there was some legal issue that prevented me from talking about specifics that pertain to litigation. I would simply follow the law in that case. Also, I would rather yield a question to someone if they happened to have more knowledge on the subject than I, but I would still like to field that question myself and make my own decision. I am certainly not in favor of channeling media inquiries through alternative means to be used as a deterrent."
Do you believe in the First Amendment? If the superintendent or his designee prohibited district employees or contractors from speaking with a specific medic outlet, would you support such an action? Why or why not?
Christopher said, "All citizens are granted First Amend-ment rights under the Constitution of the United States."
Frank said, "There are very few things that I feel more strongly about than the freedoms afforded to us by the founding fathers of this county than the First Amendment. There would never be a day or a reason that I would support such an action from a superintendent and I would request his/her immediate resignation for doing so. There is no place in this people's democracy for such tyrannical directives."
Kluth-Hoppe said, "I believe that the First Amendment protects the rights of all people."
Leach said, "Yes. No. I would not single out any media groups, yet legalities may be an exception — gag order, etc. I am not familiar with the specifics of the legal issues that pertain to current litigation taking place with the MSD and the Call. Otherwise — treat everyone the same."
Should the district charge more than its actual costs for copies of records requested under the Sunshine Law?
Christopher said, "Per the Sunshine Law, public entities can charge 10 cents a copy for all requested materials. This is a standard charge for most governmental entities."
Frank said, "No. The Sunshine Law is not meant to be a profit generator for the public school system. The Sunshine Law is meant to ensure that the public has full access to the records and processes that they pay for with their tax dollars. Not only do I believe that Mehlville should not charge for district documents, but I believe that they should pro-actively make digital records of all district documentation and provide them to the public free of charge on the Web site that district residents currently also fund via their property tax dollars in a fashion that is user-friendly, searchable and orderly. If a special request is made of information that is not digitally available, the district would charge no more than what it cost the district for the copying of that information. Mehlville would then make that documentation digital and place it on the web for public review. All current Sunshine Law request would be made public on the district's Web site under a section named, 'Recent Sunshine Law Requests."'
Kluth-Hoppe said, "The Mehlville School District follows the Sunshine Law as set forth in 610.026 — Fees for copying public record …"
Leach said, "It should not be a profit center nor should it be used as a deterrent for someone to obtain information, yet one should also consider personnel time involved. If there is a request for 1,000 pages, that could take a couple of hours to organize."
If elected or re-elected, will you consent to face-to-face Christopher said, "It is best that there is a funneling of information through a spokes-person. This allows for information to be disseminated to each journalistic entity both accurately and fairly. Also with an in-terview, the district spokesperson should know what information will be requested so they can have all the information readily available."
Frank said, "I would be honored and ob-liged to speak face to face or over the telephone by any media representative who would like to do so. I would have nothing to hide and no one to protect. Any publicly elected official who refuses to do so should resign or be forced out of their position as director of the Mehlville Board of Education for failure to participate in the people's democracy of this county, state and country."
Kluth-Hoppe said, "Training from Mis-souri School Board Association recommends that the Board of Education have a spokesperson and to know about the information requested in an interview. It is further recommended to have all media re-quests come through a centralized department. I would follow these recommended guidelines."
Leach said, "Yes."