Formerly Grateful are now just Dead and coming to St. Louis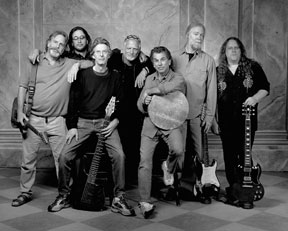 By Alan Sculley
Last summer, when the four surviving members of the Grateful Dead – guitarist/singer Bob Weir, bassist Phil Lesh and drummers Mickey Hart and Bill Kreutzmann – performed together for the first time since the 1995 death of Jerry Garcia brought an end to the Grateful Dead, it was cause of celebration for fans of the legendary jam band.
Now the celebration continues. The four Grateful Dead alumni return to the road this summer and Weir hints their collaboration may soon extend beyond the concert stage.
"The challenge for that band now is going to be writing," Weir said. "Mickey, Phil and I have been getting together on a fairly regular basis working on new stuff, and you'll be seeing that when we get out there.
"None of us is ready for that stroll down memory lane," he said, noting there would be no purpose for the Dead to continue if the group didn't start creating new material.
For several years, it was uncertain at best if all four remaining members of the Grateful Dead would ever perform together again, much less begin making plans to write and record new music.
In the late 1990s, Lesh had begun feuding with the other members over plans to use venture capital to underwrite the massive project of digitizing the original tapes of more than 2,000 Grateful Dead concerts for eventual release to the public.
Lesh had seen this move as being at odds with the group's do-it-yourself, non-corporate history of handling its business affairs within its own self-built operation.
"I have to wonder what all that furor was about. I didn't really understand it at the time or understand the need for it, and I still don't," Weir said, noting that Grateful Dead concerts are now being released, albeit on a scaled down level than had originally been discussed.
In fact, a love of music and the shared history the musicians has seemed to overcome any business disputes, and in 2001 the wheels began to go in motion toward today's full-fledged reunion of the Dead.
That summer, Phil Lesh and Friends and Ratdog booked several amphitheater dates together and performed a few songs together each evening.
"I mean, if our bands had been playing on the same show together and we hadn't actually played music together, it would have been weird," Lesh said in that interview.
The shows went so well, that the group – supplemented by Ratdog keyboardist Jeff Chimenti and two members of Lesh's band, guitarist Jimmy Herring and keyboardist/singer Rob Barraco – followed those shows with a 17-date tour that convinced all involved that the Dead had a future.
This summer, singer Joan Osborne (known for her 1995 Grammy-winning CD "Relish") will also be part of the Dead lineup. The presence of Chimenti, Herring, Barraco and now Osborne, obviously, brings a different mix of influences and musical talents into the Dead. And Weir is certain this group will have a musical personality that is different from the Grateful Dead.
"It's almost necessarily going to go there, especially now that, I think, as it stands now, (there are) the eight of us if you include Joan Osborne. At that point it's half and half with the old ensemble and the other half new guys," Weir said. "And at that point when you get it all on stage it's going to start to drift in, almost necessarily, in new directions. And it will be good. We will find our own thing."
The Dead will be different from the Grateful Dead because of the absence of Jerry Garcia, but Weir said he still feels the presence of his long-time bandleader.
"You know, it just doesn't feel like he's gone. And I don't expect it will soon," Weir said of Garcia.
The Dead headline a July 2 show at UMB Bank Pavilion. Tickets for the 5 p.m. show, which also features Willie Nelson, are $52.50 and $37.50.