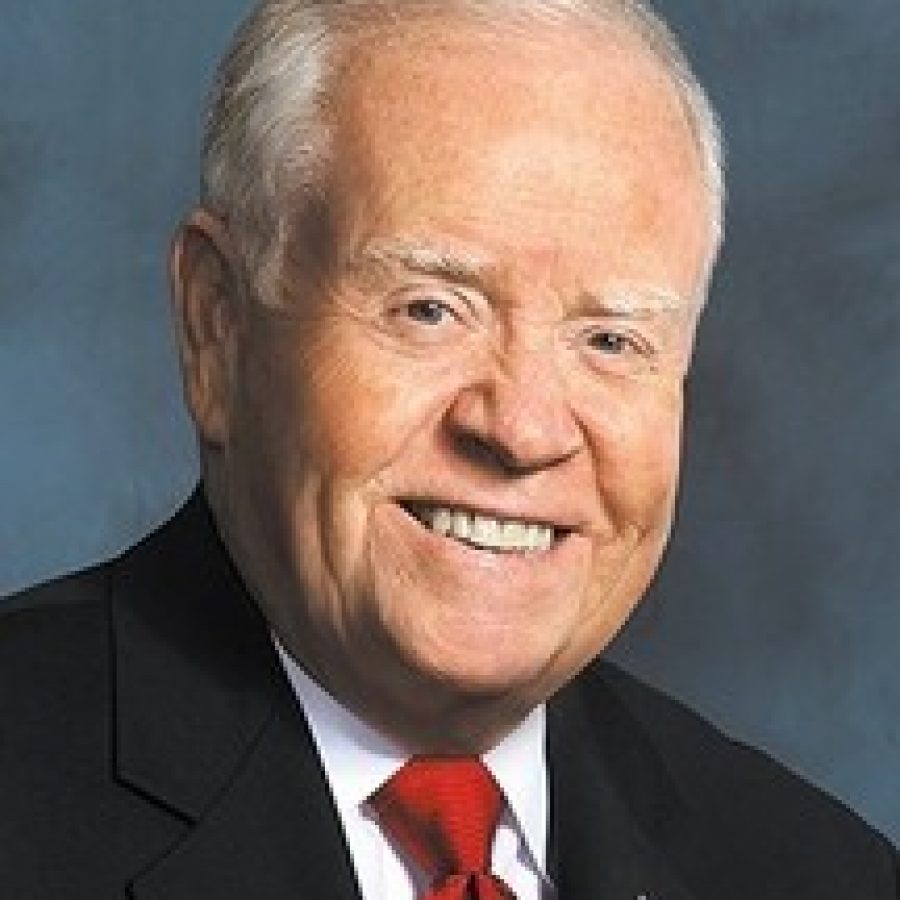 Bill" Nolan Jr., 73, died Sunday, Sept. 4, leaving a lasting legacy of community service.
Mayor Pat Fribis was set to commemorate Mr. Nolan with a moment of silence at Tuesday's Board of Aldermen meeting — which took place after the Call went to press.
"He was just a true friend, very generous of his time, and a true public servant," she told the Call. "He's going to be greatly missed by everyone. He was a true giver."
Appointed by former Mayor Mike Svoboda, Fribis served as an alderman under Mr. Nolan. They did not agree on everything, Fribis said, but Mr. Nolan was approachable and respectful of differing opinions because he knew the importance of listening to the concerns of residents.
One of Mr. Nolan's lasting legacies in Sunset Hills is his effort to build the Kitun Dog Park using a county grant, with the city's match coming from private donations.
"There was a lot of criticism about the dog park at the time, but it didn't cost the city of Sunset Hills any money," Fribis said.
The Foundation for Sunset Hills was set to present a final $65,000 check to the city for the dog park Tuesday.
A former Ward 1 alderman, Mr. Nolan first was elected mayor in 2010 and re-elected in 2012.
During his first term as mayor, a category EF3 tornado with winds near 150 mph ripped through Sunset Hills on Dec. 31, 2010. The tornado tore a path of destruction from just east of the Fox Bridge subdivision along West Watson Road through the South Lindbergh Boulevard intersection, but resulted in less than a handful of minor injuries and no fatalities.
Reacting to a citizen's suggestion, Mr. Nolan organized efforts to aid those im-pacted by the tornado. The city's Tornado Assistance Fund raised $254,000 to assist citizens in recovering the loss of their be-longings and personal property.
Mr. Nolan served as vice chair of the Sun-set Hills Revenue Study Committee in 1993 and as chair of the Say Yes for Sunset Hills campaign in 1994. More recently, he was elected to the board of the St. Louis County Municipal League in June 2012 by Mayors of Other Cities in St. Louis County.
He was the beloved husband of Mary Nolan (nee Thackrey); dear father of Elizabeth (Deborah Purvis) Nolan, William J. Bill (Elizabeth Libby) Nolan III and Bridget (Jason) Rumler; dear grandfather of Jacqulyn (Amie Needham), Kaitlyn, Zackariah, William IV, Allyson, Grace, Landyn and Eleanor; dear great-grandfather of Brantley and Elliott; dear brother of Patricia (Jerry) Schmidt, Tim (Ann) and Tom (Linda) Nolan; and friend to all.
Mr. Nolan's community service included the SSM St. Clare Hospital Community Advisory Committee; founder and board member of The Foundation for Sunset Hills; Board of Directors of the Down Syn-drome Association of Greater St. Louis; president, Peaceful Valley Property Owners Association, Owensville; and member, Gasconade County Court House Study, Hermann.
One of his most rewarding nominations was that of U.S. Council for the country of Sri Lanka, but the final paperwork was held up by the U.S. State Department and his passing preceded its approval.
Visitation took place at Kutis Affton Chapel.
Services were at St. Catherine Laboure Catholic Church. Interment was in Park Lawn Cemetery.
Donations can be made to The Foundation for Sunset Hills, 12262 Hadley Hill Road, Sunset Hills, Mo. 63127.