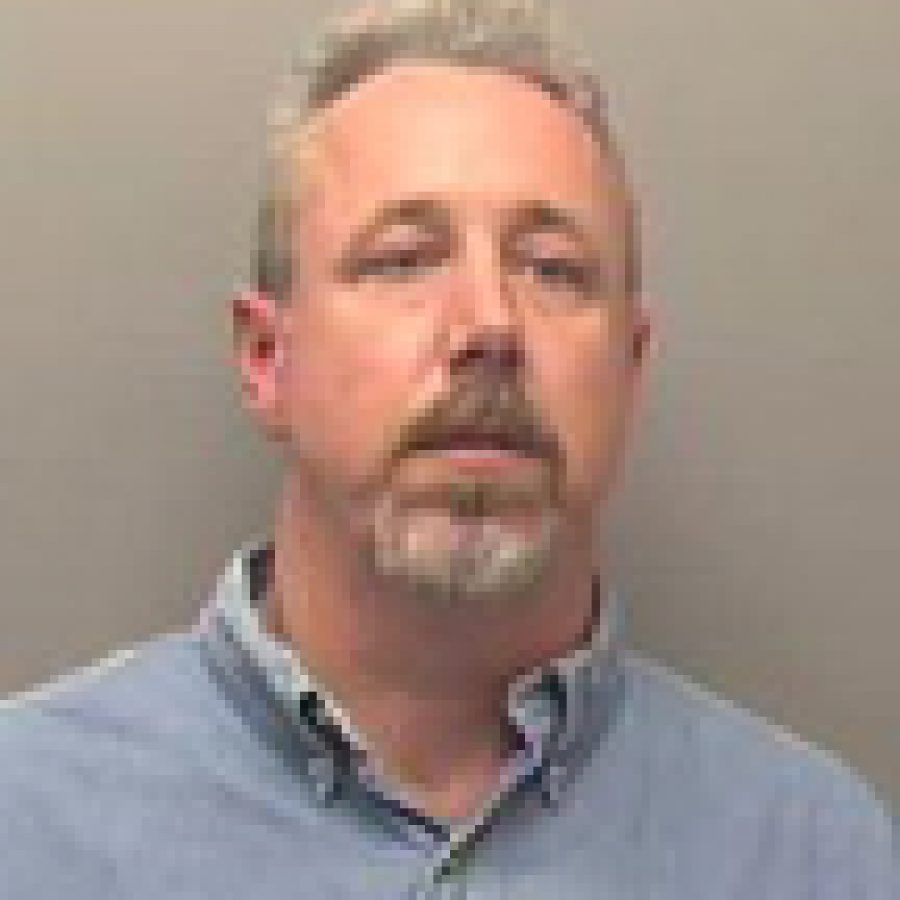 Almost two months after St. Louis County Police began an investigation into alleged illegal use of Mehlville School District computers, a former district employee has been arrested and charged on five counts of promoting child pornography.
Barnhart resident Thomas R. Mantle, 43, was charged April 17 with three counts of first-degree promotion of child pornography and two counts of second-degree promotion of child pornography.
First-degree promotion of child pornography is a Class B felony in Missouri, and a conviction on the charge carries a prison sentence of five to 15 years. Second-degree promotion of child pornography is a Class A misdemeanor, which would carry a jail sentence of one year if convicted.
Mantle faces his first hearing on the charges at 9 a.m. Monday, May 15, in Division 32 of the St. Louis County Courthouse in Clayton.
County Prosecuting Attorney's Office representatives said Mantle would be read his charges at that time and be notified of his next court date. After his April 17 arrest, Mantle was released last week on $50,000 bond.
Besides the felony and misdemeanor charges Mantle faces in connection with the pornographic images allegedly found on a Mehlville School District computer, St. Louis County Police spokeswoman Tracy Panus said federal investigators are conducting their own investigation and possibly could file additional charges against Mantle.
County Police scoured through pornographic images that Mantle allegedly placed on a Mehlville School District computer after a New Hampshire police officer posing as a 14-year-old child notified county police that Mantle had e-mailed more than 1,300 images to who he believed was the child.
Mantle had no unsupervised contact with any students or teachers, according to Mehlville School District Director of School/Community Relations Patrick Wallace. He said the computer use was in the district's Information Technology Depart-ment in an annex of the Central Office Administration Building.
"At no time did any of our students have any unsupervised contact with (Mantle)," Wallace said. "Our kids are supervised in the classroom at all times, and I want to make sure that that's reiterated."
Wallace also said Mantle was fired from his position as an information technology employee of the district during the Board of Education's Feb. 28 meeting.
While the St. Louis County Police investigation was still far from over at that time, Wallace said Mantle was fired on the grounds that he allegedly violated the district's acceptable use of computer equipment.
Under the Mehlville School District's board policy of Technology Usage/Acceptable Use, "Authorized employees may use the district's technology resources for reasonable, incidental personal purposes as long as the use does not violate any provision of district policies, regulations or procedures, hinder the use of the district's technology for the benefit of its students or waste district resources. Any use that jeopardizes the safety, security or usefulness of the district's technology is considered unreasonable. Any use that interferes with the effective and professional performance of the employee's job is unreasonable."
The district's policy also goes on to say under the section of Violations of Technology Usage Policies and Procedures, "The administration may use disciplinary measures to enforce district policies, regulations and procedures. Employees may be disciplined or terminated, and students suspended or expelled, for violating the district's policies, regulations and procedures."
Both police and school district representatives confirmed that officers visited the district's information technology department some time during the school week of Feb. 13 to Feb. 17 to begin the investigation.
Mehlville School District officials publicly acknowledged the police investigation Feb. 23.
As to whether such an incident could ever occur again on Mehlville School District computer equipment, Wallace said the district does have a filtering protection system on its computers so that students or teachers will not come into contact with any illegal content. He also added that all students and employees of the district must sign an accepted-use agreement of computer equipment before they are given permission to use such technology.
He did say, however, that because Mantle was an information technology employee with the district, he likely would be more adept at maneuvering around such filters.
Nevertheless, the district was notified of Mantle's alleged illegal use of Mehlville computers after the New Hampshire police officer who claims Mantle e-mailed illegal images contacted St. Louis County Police.
Mehlville Board of Education President Ken Leach said while he is discouraged that Mantle's alleged illegal use of district computers could occur in the first place, he also is pleased that he has been used as an example for other employees and the community to remember.
"It sent out a clear message," Leach said. "What it did was show people that we will follow through if anything like this ever happens. While in one sense it was a very unfortunate situation, we were also fortunate that we were able to know."