Football Panthers fall 26-8 to Lafayette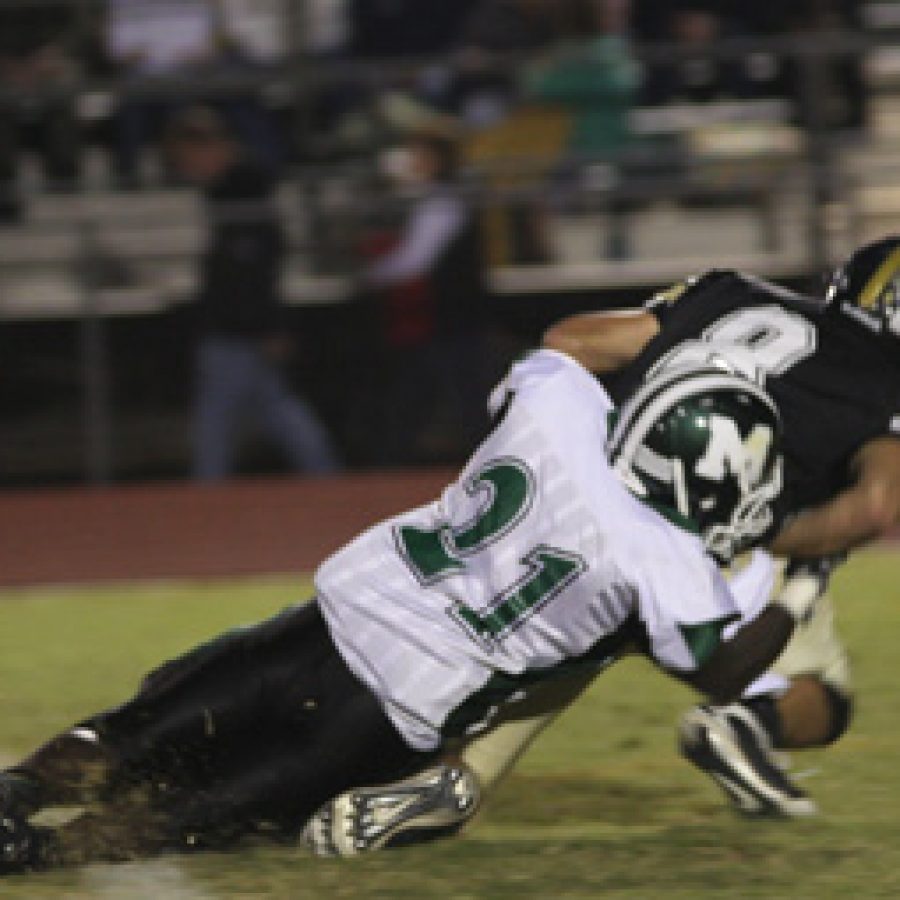 What was touted as a matchup between two football heavyweights in the Suburban West Conference was more like a one-sided affair Friday night when the Lafayette Lancers dropped Mehlville like a bad habit in a 26-8 loss for the Panthers.
Mehlville (4-2, 4-1 Suburban West) struggled throughout most of the game at Lafayette, generating 48 yards passing and 125 yards rushing against Lafayette (5-1, 4-0 Suburban West).
The Panthers currently are averaging 235.5 yards per game this season.
"Lafayette did a couple of things to frustrate us," Mehlville head coach Eric Meyer said. "But you've got to give them credit because they played really good defense."
Meyer believes his team definitely needs to improve its passing game.
"I think we should throw the ball better than we did against Lafayette," Meyer said. "We need to work on those plays as much as possible."
The Lancers jumped out to a 7-0 lead when quarterback Tyler Rigman scored on a 52-yard touchdown run with 6:29 left in the first quarter. Rigman carried the ball seven times for 32 yards and two touchdowns. He also completed 10 of 17 passes for 109 yards, one touchdown and two interceptions.
Rigman scored again when he scooted past the Mehlville defense on a one-yard run with 4:46 left in the second quarter.
Lafayette was not done scoring in the first half as Rigman hit Zach Blocker for an 11-yard pass with :01 left in the second quarter.
But the Panthers came out on fire in the third quarter when Phil Blair reeled off a 95-yard touchdown run with 11:47 left in the quarter to trim Lafayette's lead to 21-6.
"Phil got some good blocks in front and he did the rest," Meyer said. "He's definitely an exciting player to watch."
Mehlville then received an extra two points on a botched punt by the Lancers with 5:18 remaining in the third quarter to bring the score to 21-8.
Lafayette scored a safety of its own with :01 left in the third quarter to extend its lead to 23-8. The Lancers nailed down their win with a 36-yard field goal by Nick Aussieker with 2:34 left in the fourth quarter to bring the score to 26-8.
The Panthers return to action at 7 p.m. Friday when they travel to Marquette (2-4, 1-3 Suburban West) for a showdown with the Mustangs, who dropped a 34-12 decision to Lindbergh last week. The Mustangs' Matt Warrick carried the ball 19 times for 77 yards rushing and one touchdown.
"Warrick plays a lot of different positions for them and is a really good player," Meyer said. "He's been successful against nearly every team his year and we're going to need to find a way to shut him down."