Foo Fighters armed, ready for the future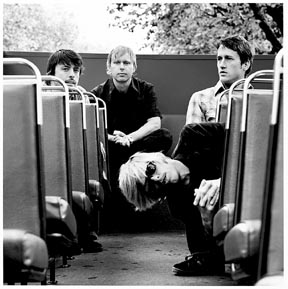 By ALAN SCULLEY
For the Call
After four months in the studio recording tracks for a new CD, the Foo Fighters in early 2002 faced something the band had never experienced before — failure.
"We had never failed at anything. So it was kind of disappointing," said Foo Fighters guitarist/singer Dave Grohl, surely understating the mood of his band.
"We were happy with the songs and the sound quality was great," Grohl said. "But there was something about the energy of the music that I think it all comes down to the energy of the musician as he performs his instrument in the studio.
"So after spending about four months, you become so concerned with perfection, you become meticulous with production and you start focusing on everything but the spontaneous energy of making rock music. And that's what it was lacking. You could hear it. It was too clinical," he explained.
So the Foo Fighters — Grohl, drummer Taylor Hawkins, guitarist Chris Shiflett and bassist Nate Mendel — put the CD on the shelf and took a break, with each band member going his separate way.
It was during this time that Grohl, who, of course, first came to prominence as the drummer in Nirvana, surfaced in a new setting — playing the drums on all but one song on the current Queens of the Stone Age CD, "Songs for the Deaf" and then going on tour with the band. The fact that during this time Grohl voiced his extreme enthusiasm for playing in Queens of the Stone Age only intensified speculation that the Foo Fighters were done as a band.
Of course, as it turned out, Grohl returned to the Foo Fighters, the group he founded in 1995, and the band finished its fourth CD, "One By One," which was released last fall. Ironically, Grohl's time in Queens of the Stone Age, during which he said he rediscovered his love and passion for playing rock'n'roll, may well have set the tone for the short recording session that produced the "One By One" CD.
During a 10-day break in the Queens of the Stone Age schedule, Grohl and the other Foo Fighters convened in a recording studio last May intending simply to work on some new songs Grohl had written.
"We decided to meet in Virginia for eight or nine days," Grohl said. "And we got there, recorded 'Low,' 'Times Like These,' recorded 'Disenchanted Lullaby,' (three newly written songs) all in the first day.
"We thought: 'Wow, this is happening.' And we just started re-recording the things from the first version, changing arrangements, putting in things that were a little more raucous or crazy, and the album was finished in about 10 days. And the fact that we did it so quickly and we were focused on the spirit of the music rather than anything else made it happen.
"We didn't go into the studio that week thinking we were going to re-make the record. We went in there just to make music," he said. "That load of responsibility off of your back made everything sweeter."
The energy of those sessions translated to "One By One," which made many critics' year-end top 10 CD lists. The band sounds positively live-wired throughout the CD. Of course, the songs are strong as well, as the Foo Fighters have sharpened their signature blend of edgy modern rock and catchy power pop.
High points include "Low," which immediately commands attention with its tense guitar line; "Lonely As You," which blends a particularly tuneful vocal melody with an ominous monster guitar riff; "Times Like These," a kinetic rocker that hits a crescendo as Grohl's singing builds from edgy control to a boisterous shout; and "Tired of You," which goes from a simmer to a boil and features some tasty guitar from Queen's Brian May.
Having moved beyond the failed initial recording session and created a CD in "One By One" with which he particularly is pleased, Grohl now openly expresses his pride for the Foo Fighters and his enthusiasm for the group's future. "The good thing about the Foo Fighters is that it's definitely family. It's my baby. It's my brainchild. It's my vocal expression rather than just primal drumming," he said. "… The Foo Fighters is like starting a family and staying with it," he said, drawing one more allusion to his time with Queens of the Stone Age. "You might run off with your mistress for a little while, but you always come back because you love your kids, you know."
The Foo Fighters play June 1 at the Pageant. The show is sold out.