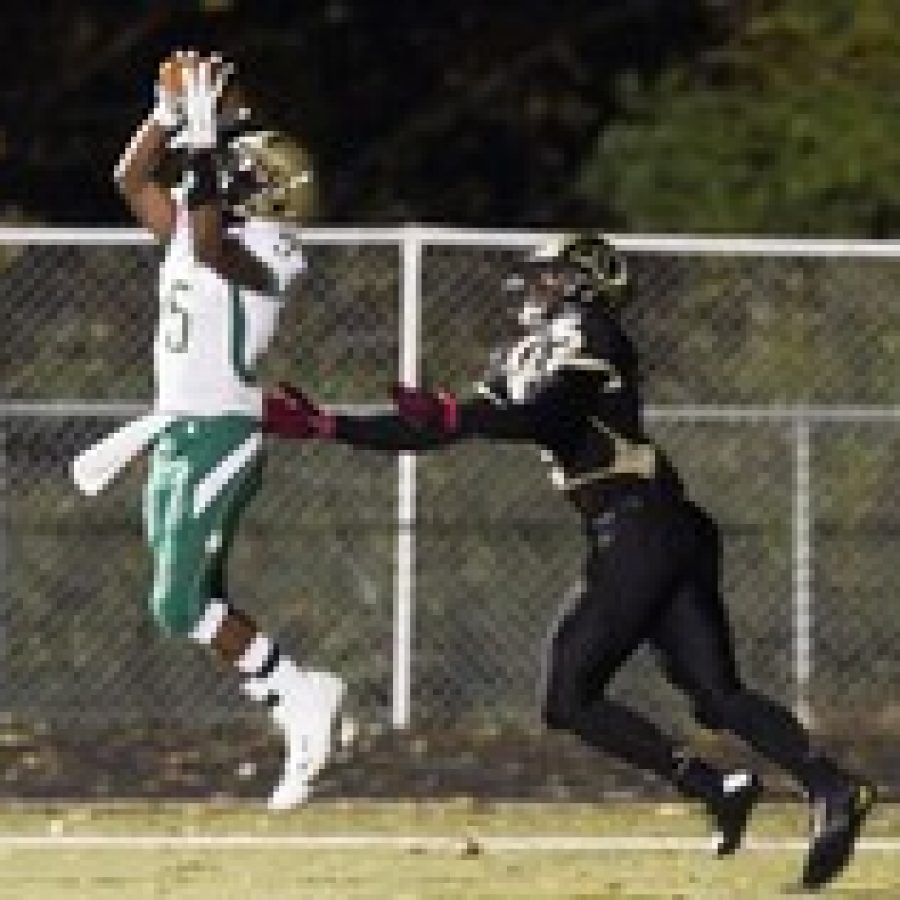 Megan LeFaivre-Zimmerman
Trailing by a point after the first half, the Lindbergh High School varsity football team staged a 27-point rally and blanked Oakville in the second half, running away with a 40-14 victory Friday night.
Lindbergh, 3-6, and Oakville, 4-5, clashed for the first time in each of their final regular-season games.
Oakville's Connor Bartow scored the first touchdown of the game late in the first quarter with 4:44 remaining on the clock.
Lindbergh's Logan Offner answered, though, with just 0:09 seconds remaining in the first. He also added two field goals in the second quarter, but not before Oakville receiver Kobe Allen caught a 24-yard pass from quarterback Carvon Robinson.
Oakville led the game 14-13 at the half, but when the Flyers returned they were in the best form they've been in all season long, according to head coach Tom Beauchamp.
"We played fairly solid the first half. We were in the game, but the second half we came out and started putting things together we've been working on all year," he said. "… Things started clicking and sometimes when that happens, the ball bounced our way a few times, where other games it bounced the other way
"So it was kind of nice having it bounce our way for a change."
The Flyers coach also said his team made some adjustments from the previous week that led to its success over the Tigers.
"We shifted some personnel around and did some things different, and we just game planned like we've been doing," Beauchamp said. "It's just this time our kids executed it almost flawlessly. They worked their tails off and the ball bounced our way a few times …
"They really came to play and I think like in other games, we were very very close and I, as a coach, keep seeing this team have that kind of talent and that kind of ability … It's nice when a few things go our way and it all comes together for them."
The Tigers have been hot throughout the middle part of the season, winning four of their last six games despite a slow start. But they simply didn't do the job they set out to do Friday night, according to head coach Arlee Conners.
"They made more plays than we did. That's the bottom line and I thought we kind of went backward a little bit. We were doing some good things and doing some good executing, but I thought we had too many mistakes, as far as turnovers and penalties that really cost us," Conners said.
Oakville will try and get back on a roll when single-game elimination playoffs begin Friday. The Tigers will be hoping they don't end their season the same way it began — losing to 4-5 Parkway South in a 10-6 game.
"We played them first game of the season, so we are familiar with them, but they'll have a couple guys that didn't play the first time …," Conners said. "We'll have a couple guys that didn't play the first time … They are solid at what they do and I would say … we are pretty evenly matched.
The Flyers, on the other hand, are coming off their third win of the season and they also will have a rematch as they face Marquette. In that contest, the Flyers fell just short of victory.
"It should be a good game. Last time it was a very good game, 22-16. And we've just got to make fewer mistakes and make a few things happen the right way," Beauchamp said.