Flyers defeat Mehlville 70-49 in battle of first-year coaches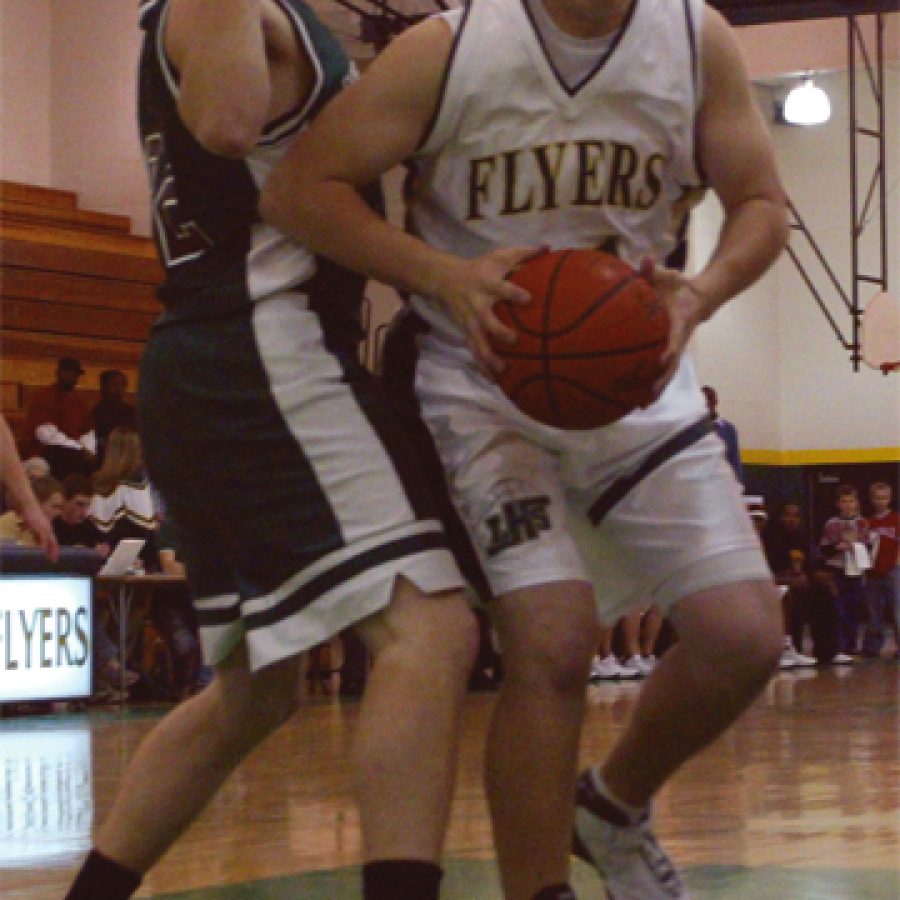 By STEPHEN GLOVER
For the Call
A Suburban West Conference showdown between the Lindbergh High and Mehlville Senior High boys' basketball teams last Friday had a simple story line.
The game featured two first-year head coaches who were not only trying to get their teams above the .500 mark but also garner their first conference win of the season. Lind-bergh (3-3, 1-0 Suburban West) came away with a 70-49 bombing of the Panthers in which the Flyers had four players score in double figures.
"Friday night was very much a team win for us," Lind-bergh head coach Jason Wolfard told the Call. "We had four guys scoring in double figures and it's nice to go into the break on such a positive note."
The loss for the Panthers (3-3, 0-2 Suburban West) was their second consecutive loss of the 2004-2005 season, which includes a 61-27 thrashing by Oakville on Tuesday of last week.
"We had a rough time against Oakville because they're a really good team," Mehlville head coach Andy Guethle told the Call. "Lindbergh hit a couple of three's at the start of the game, which really dug us into a hole."
The Panthers' Nick DuBuque led all scorers with 16 points and one rebound. The senior guard is averaging 14.3 points per game this season.
"Nick had another good game for us," Guethle said. "He had a tough assignment in guarding Richard Williams and I think that he did a nice job."
Williams, a senior guard with the Flyers, finished the evening with 14 points, four steals and four assists.
"Richard is such a team player and really wants the team to win," Wolfard said. "He was so pumped up that John
(Wuennenberg) and Tyler (Kiel) stepped up the way that they did."
Kiel led the Flyers with 15 points and 12 rebounds while racking up four steals and three assists. The sophomore forward is averaging 10.7 points per game this season.
"I told Tyler before the game that I wanted him to come out with some fire and play the way I know he can play," Wolfard said. "He really took things over during the game."
Wuennenberg also scored in double figures with 14 points, two rebounds and two assists. The junior guard has been averaging 5.3 points per game this season.
"We've known since the summer what John's capable of doing," Wolfard said. "That's what we need from him night in and night out."
Also scoring in double figures for the Flyers was sophomore guard Ben Harmon, who had 10 points, two rebounds and one steal.
"We brought Ben in off the bench and he came in with a real spark," Wolfard said. "He hit his first two shots from the outside which really built up his confidence."
The Flyers are back in action Monday afternoon when they face Hazelwood Central in the first round of the Meramec Invitational at St. Louis Community College-Meramec. Mehlville also is scheduled to play Monday when the Panthers take on Windsor in the first round of the Seckman Holiday Invitational.
Lindbergh's contest against Hazelwood Central is scheduled for 2 p.m., while Mehlville's match against Windsor is scheduled for 4:15 p.m.