Five Mehlville School District students named National Merit finalists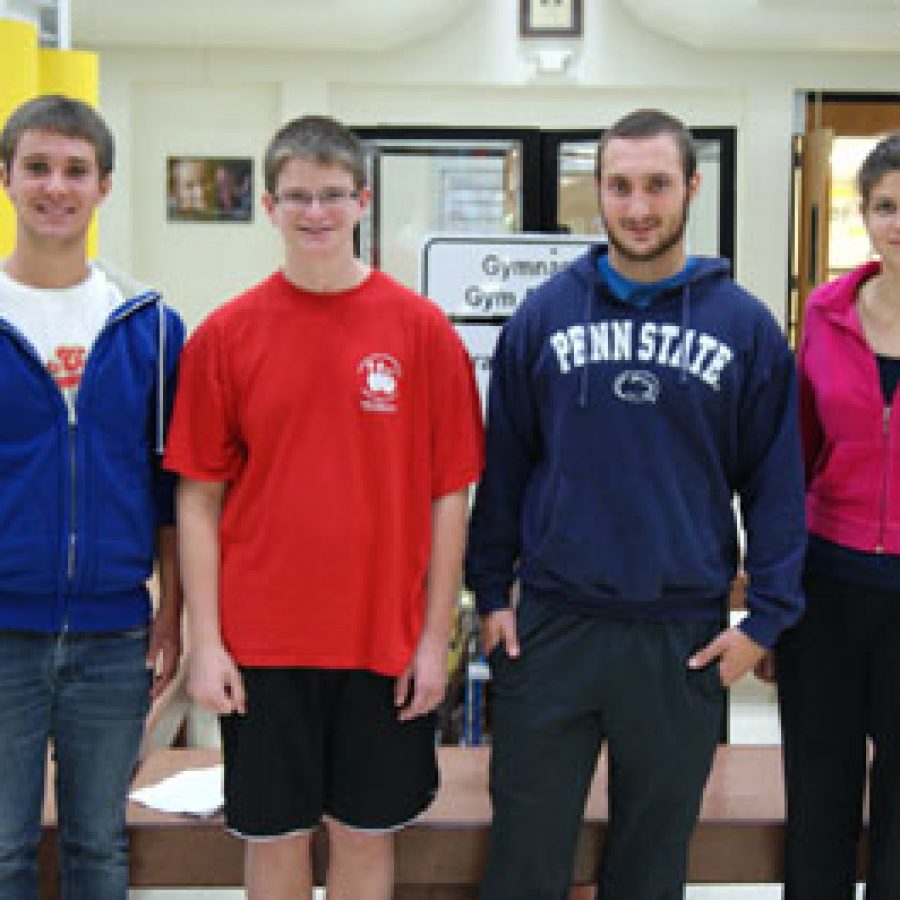 Five Mehlville School District seniors have been selected to join an elite group of high school students from across the country — finalists of the National Merit Scholarship Program.
Mehlville Senior High student Nathan Quinn and Oakville Senior High students Clarisse Caliman, Alexander Mathews, Charles Meyer and Stephen Ream are among only 15,000 students from across the country to earn this year's Finalist designation.
"Mehlville High School is thrilled that Nathan Quinn has been named a finalist for the National Merit Scholarship Program," MHS Principal Denise Swanger stated in a district news release. "Nathan possesses phenomenal test scores and a top GPA while participating in many activities at MHS. Nathan runs cross country and track and is a member of the choir and solo ensemble; he gives piano and voice lessons outside of school. Nathan coordinated a trip to Joplin this summer to help after the tornado and volunteers at Feed My People.
"He has applied to Yale, Princeton, Harvard and Duke and hopes to obtain a degree in prelaw. Nathan is very deserving of this award, and we are very proud to have him represent Mehlville High School in this competition."
As juniors in 2010, Caliman, Mathews, Meyer, Quinn and Ream joined 1.5 million of their peers from 22,000 schools across the country in taking the Preliminary SAT/National Merit Scholarship Qualifying Test, which served as an initial screen of National Merit Program entrants. The highest scoring students from each state then became the program's semifinalists, representing less than 1 percent of all high school seniors in the country.
"Oakville High School is very proud of these four students," OHS Principal Jan Kellerman stated in the release. "Their outstanding academic achievements are only part of the many accomplishments these students have achieved. Each student is unique in their extracurricular lives. Charles is a tutor, a hospital volunteer and an athlete participating in tennis and bowling. Stephen is a defensive captain on the football team, a soup kitchen volunteer and a youth leader in his church.
"Alex is a musician in the marching and jazz bands, an athlete in the tennis program and a youth leader in his church as well. Clarisse has participated in numerous summer programs at various universities including the University of Geneva, Switzerland. She has also been a member of the tennis team and president of Oakville's Mu Alpha Theta Chapter. This only scratches the surface of the lives of these four students. We congratulate each one of them for this accomplishment and are proud of the citizens they have become."
From the pool of semifinalists, Caliman, Mathews, Meyer, Quinn and Ream earned spots as finalists based on their outstanding academic records, high SAT scores, letters of recommendation and detailed applications.
For more information about the National Merit Scholarship Program, visit
.