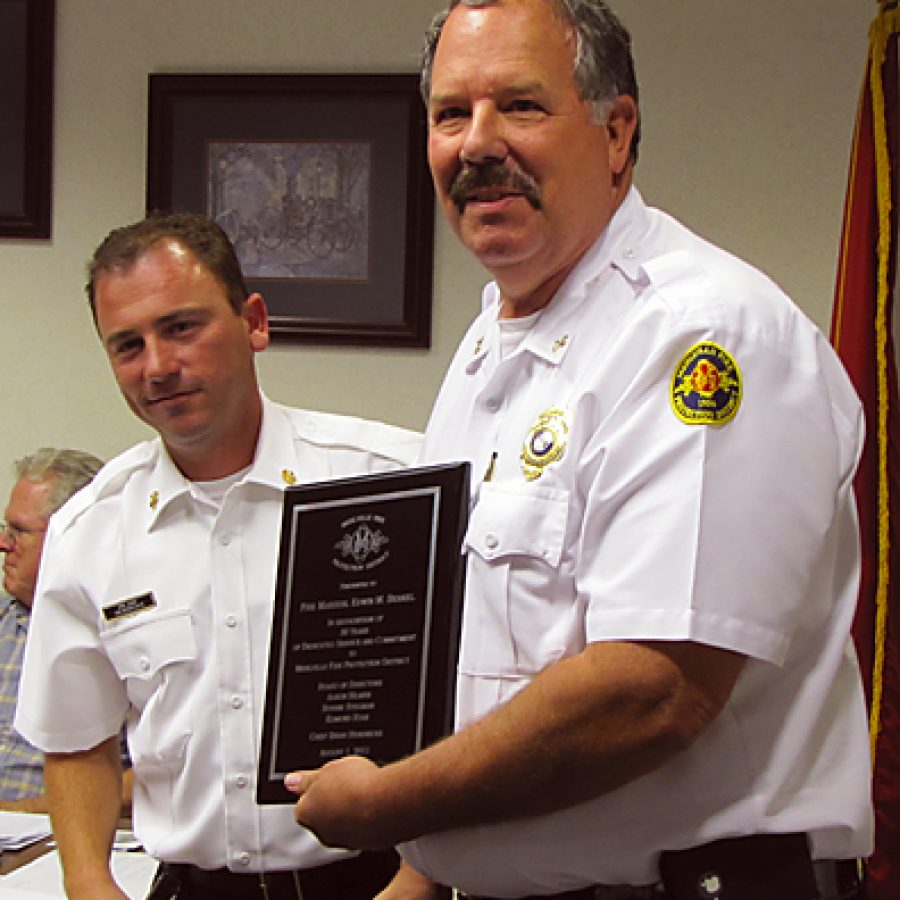 Staff Report
Mehlville Fire Protection District Fire Marshal Edwin M. "Ed" Berkel was honored last week for 30 years of service with the district by the Board of Directors and interim Chief Brian Hendricks.
Berkel has served as the district's fire marshal since 1985. As fire marshal, he oversees the work of fire inspectors and conducts plan reviews and inspections on major construction projects in the district.
Berkel joined the fire district as a fire inspector with the Fire Prevention Bureau in 1981 and was promoted to chief fire inspector in 1983. He was one of the first individuals certified as a fire inspector by the state of Missouri.
Berkel is a member of the International Fire Marshals Association and the International Association of Fire Chiefs. He also is a member and past president of the Fire Marshals Association of Missouri.
In 2007, Berkel was presented the Edwin M. Vineyard Award by the Fire Marshals Association of Missouri. The annual award recognizes an individual or department that has furthered the cause of fire prevention.
From 2002 to 2007, he served as an elected member of the Board of Directors for the International Code Council, the largest building safety and fire prevention organization in the world, Hendricks said at the Aug. 8 meeting of the Board of Directors.
"Later the ICC named Ed an honorary member for his outstanding service to the ICC," the interim chief said. "… I'd like to say that we are very lucky to have Chief Berkel as our fire marshal. He is truly one of the best …"