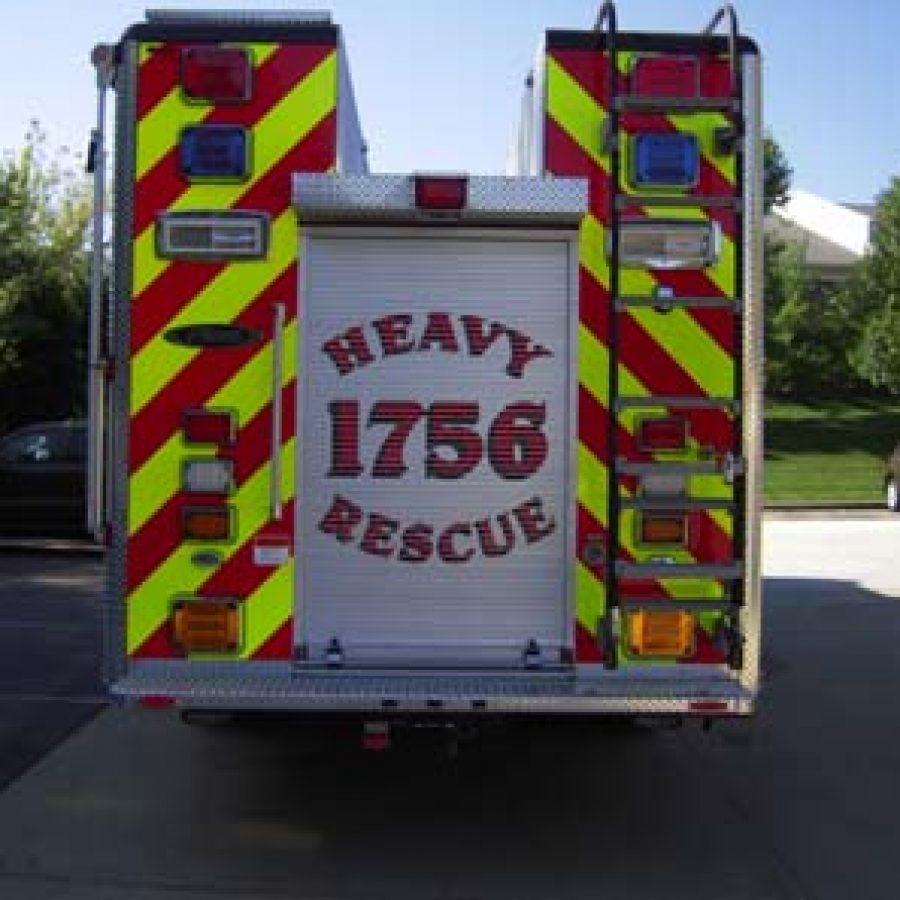 The Mehlville Fire Protection District will have a new heavy rescue squad in service within the next few weeks, according to interim Chief Brian Hendricks.
The district took delivery last week of the 2011 Pierce rescue truck, Hendricks told the Board of Directors Sept. 28. The Board of Directors had authorized $509,000 for the purchase of the heavy rescue squad, which came in under budget.
"I'm happy to report that we were able to bring the truck in $6,510 under budget," he said. "I just want to comment that that wouldn't have been possible without the hard work and dedication of the staff as well as the Apparatus Committee. They really did go above and beyond, and that's what made the project go as well as it did."
He also told the board, "… I anticipate the truck will be in service and on the street within three to three-and-half weeks. The truck will go next week to get plumbed for some hydraulic lines. Hydraulic reels will be spooled. The electric lines will be put on. The chains for the winter will be added.
"The siren will be put on. Then we will begin the process of mounting equipment. I have everything pretty much lined out to where there's not going to be a delay …"
The new heavy rescue squad is the third in the district's history and replaces the current truck, a 1997 Pierce Saber. The first heavy rescue squad, a 1981 GMC, was put into service in September 1989.
Mehlville is one of the few fire protection districts in St. Louis County that operates a full-time heavy rescue squad, according to Hendricks.
The heavy rescue squad has more than 500 pieces of equipment, including specialized tools and equipment used for specific rescue situations. It contains its own electric power plant, air compressors and light tower.
"It's basically a big, rolling toolbox," the interim chief told the Call last week. "Its design and its purpose is to deliver heavy equipment, rescue equipment to the scene of not only fires but vehicle accidents with rescue. It's basically our mobile technical rescue truck. It carries everything from a wide variety of hydraulic rescue equipment, hydraulic rams, our shoring for trench rescue. It's got our confined space tripod. It's got our confined space air source. It's got all of our rope-rescue equipment …"
The rescue truck, based at the district's No. 5 Firehouse on Mueller Road in Green Park, is dispatched on all first alarms.
"… It's dispatched on all vehicle accidents on the highway. It's dispatched on all check the buildings — anything where there is a strong likelihood that there's a fire or there's a rescue or there's something that's going to require more equipment," he said.
For example, Hendricks said, "The squad has more air monitoring equipment. So for a check the building, if we're checking gas levels, if we're checking hydrogen sulfide levels, if we're checking sewers for strange smells or odors or hazmat calls, this squad has more advanced air monitoring equipment. So they bring that to that type of scene.
"They also carry heavier equipment for forcible entry. It has four standard chain saws. It's got K-12 saws — saws that would be used to cut steel, cut rebar, cut concrete. All of those saws are on the squad. So in essence, we can penetrate a building. We can get in a building. We can get out of a building. So if we had a firefighter that would be down, say, in a commercial structure, the nice thing about the squad is it brings tools and equipment to where sometimes the easiest path for us would be to go through a wall," Hendricks said.
"Instead of going through the front door and making a right-hand turn, sometimes it's easier to just go right through a wall and the squad brings the equipment that makes that possible. We can cut a hole in a wall, go in and snatch one of our guys that's in trouble and come right out that wall …"
Whether it's steel roll-up doors or bars on windows, the rescue squad has the equipment to remove those obstacles.
"… The pumpers don't carry heavy-enough equipment, just because it's expensive. So we have it all localized on that truck so when we know we've got a problem … the squad's on the way, we dispatch that crew. We tell the crew: OK, your assignment's going to be get me through that steel door. They bring the tools necessary to make that happen," he said.
As for staffing, Hendricks said, "Typically, how we have it staffed is we have it staffed with a minimum of one, if not two rescue technicians, who are certified to technician level for rope rescue, confined space, trench, building collapse and swift water. So at minimum we will have one technician, but we're striving for two and I anticipate we'll have two by the time the truck's operational."
Interim Assistant Chief Dan LaFata said, "… The personnel that are on the truck receive specialized training through various resources from the Strike Team resources to where we're getting ready to do structural collapse training here in the district … The guys take a lot of pride in their abilities and they practice all the time to keep their skills sharp."
The new heavy rescue squad also includes a command cab with a command desk, wiring for computers and a monitor on the rear wall and cabinets for reference materials.
"… We have our mobile command post, which is our deputy's vehicle," Hendricks said. "But for operations in inclement weather, for long-term operations we felt it was necessary to have a command post that would give us more room, that would get us out of the weather and would also give us the ability to run two incidents at one time. So in essence, we can have our command vehicle, our deputy chief, at one location and we can have the squad at another location."
While the new rescue truck came in under budget and was paid for with cash, it also represents a savings of $135,000 to taxpayers, Hendricks said, because Mehlville tagged onto a U.S. Navy bid.
"When we were looking at keeping the rescue squad and keeping the rescue squad concept alive in Mehlville, I started making inquiries to see what was available and what was out there. And when I made contact with one of the manufacturers, they informed me that the United States Navy had produced 10 of these rescue trucks," he said. "So I requested the print and after reviewing the print realized that, in essence, we could make that truck work for us. The engineering cost is the expensive (part) and that's when it really gets expensive.
"If you want to build a truck from the ground up, you have to tell them what you want, tell them the purpose, tell them how you're going to run the truck and then you pick the chassis and you pick whether you want it to be a walk around or a walk-in, and then they can give you ideas. But then they have to engineer the truck and that's where a lot of the cost comes in. When you tag onto an order, all the engineering costs have already been done. They've already built the truck. It's a matter of making that truck work for us.
"And we were lucky because the United States Navy truck as it stood, we didn't have to make too terribly many changes. The changes we made were in shelving. We did increase the size of the cab. The Navy truck was a 70-inch cab. We went to an 84. Chassis was the same. Everything was the same, so it was a matter of shelving, moving hydraulic reels, basically just moving stuff around inside their current unit to fit our needs. And then we obviously added a wide variety of items to it …," Hendricks said.
District officials believe the new heavy rescue squad, which they hope to keep in service for 20 years, provides a level of service that many districts don't offer.
"… When an opportunity comes along like this, you take advantage of it," Hendricks said. "And the good thing is that the board believes in the rescue squad concept … A lot of fire districts don't run rescue squads. Our board (and) we as a command staff believe in it, and it's terrific that the board believes in the concept and has now allowed us to keep that alive in the district. And it truly does serve the taxpayers the best … If we get a vehicle accident with rescue on the highway, pretty much all fire trucks in St. Louis County — I can't speak for everybody — but I know that our surrounding districts, they all have jaws of life. They have a cutter. They have a spreader. They might have a couple of airbags.
"We literally bring a piece of equipment to the scene that can dismantle anything that needs to be dismantled. I mean we have the air equipment to take apart heavy machinery. We have airbags that are capable of lifting an 18-wheeler. We have high-pressure cutting tools that can literally cut a car in half if we had to. We have concrete-cutting equipment that we can cut concrete if we have to. I mean we literally bring everything to the table.
"And the good thing is if you're in an unfortunate situation where you're in a vehicle accident where you're trapped, we can get you out of that car faster because we have more tools to work with. Where before if somebody was underneath a car, it was a big deal to lift the car. Now we throw a couple of airbags underneath it, we lift the car up and we pull you out and you're out in half the time, which is a benefit to everybody," the interim chief said.