FAST wraps up successful season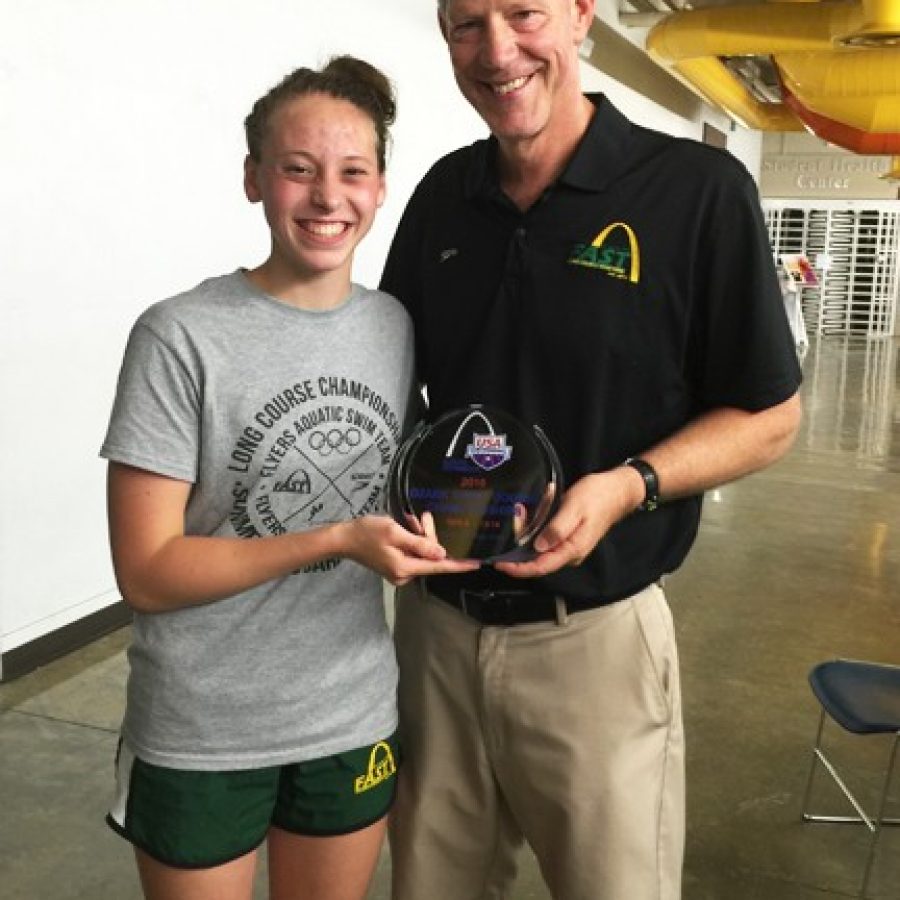 After finishing in first place at the Ozark Long Course Championship in Carbondale, Ill., the Flyers Aquatic Swim Team, or FAST, officially completed its season.
FAST took 110 qualified swimmers to Carbondale to win the meet for the third year in a row, underscoring the tradition of swimming excellence the FAST coaching staff has established under head coach Jim Halliburton.
In Carbondale, FAST had five swimmers finishing out the top three of their age group: Cole Junker, who scored first in the 15-and-older boys' group; Carter Nelson, who scored first in the 13- and 14-year-old boys' group; Bayley Helfrich and Sophia Burwitz, who tied each other for second place in the 13- and 14-year-old girls' group, and Jonas Hosteler, who finished in third place in the 11- and 12-year-old boys' group.
Reflecting on the season, FAST's head age-goup coach Derek Shipp stated in a news release, "While winning the Ozark Long Course Championships is a great end result for FAST, it was a combination of a lot of great efforts from individuals on our whole team. By winning the meet over a three-year span, the pattern is emerging that FAST is coaching swimmers to be successful in all ages, both genders and in all strokes and distances."  
The week after FAST's win in Carbondale, two additional postseason meets were held in Indianapolis, Ind. The regional Mega Zones meet showcased 14-and-younger swimmers who had at least an AAA qualifying time.
FAST had 14 swimmers qualified: Burwitz, Helfrich, Hostetler, Katie Kostecki, Eleni Kotzamanis, Nelson, Samantha Otten, Doug Poertner, Maddy Rey, Alex Rosenkranz, Aspen Shipp, Paden Shipp, Emily Traube and Abby Wampler. Nelson took home the second-place high-point award for 13- and 14-year-old boys.
At the Junior National Summer Championships in early August, three of FAST's finest swimmers, Jack Wever, Maddie Pearl and Burwitz swam against some of the best 18-and-under swimmers in the United States.
"I am really proud of the FAST swimmers who were able to move on to this higher level of competition. Their success is due to all of the hard work that they have put in every day at practice," Halliburton stated in the rlease.
The recent popularity and exposure the sport of swimming received from the summer Olympics in Rio will bring many new swimmers to the sport this fall. As the new 2016-2017 season begins, FAST is excited and eager to begin again with new faces on the team, including a new senior level coach, Raz Cuparencu.
"Raz is known for helping his swimmers swim in college and get college scholarships. He also wants his swimmers to grow as an athlete, but more important, he wants his swimmers to have the best technique instruction for long-term success," Halliburton stated in the release.
FAST is a silver-medal USA Swimming club, ranked in the top 100 swim teams in the nation and led by Halliburton, St. Louis University swim coach.