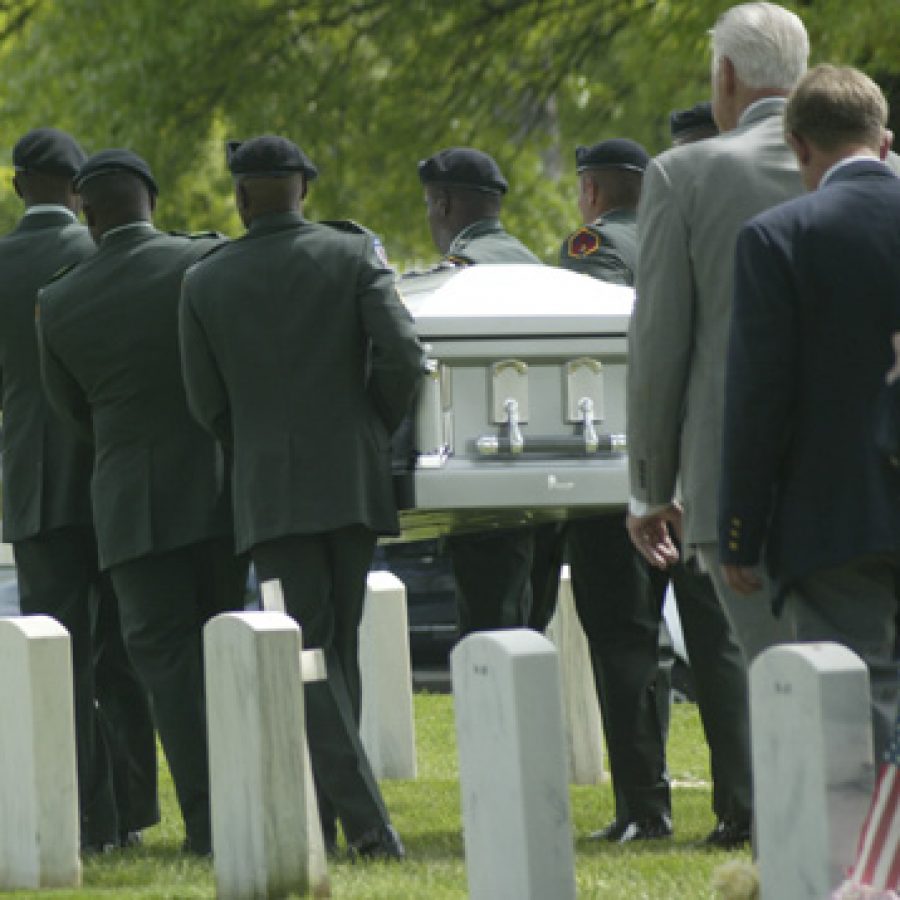 With heads hung low and their hearts weighed down by the loss of a loved one, more than 200 people said their goodbyes Friday to an Oakville soldier killed nearly two weeks earlier in Iraq.
Oakville native and U.S. Army Pfc. James "Jamie" F. Costello III, 27, was laid to rest Friday at Jefferson Barracks National Cemetery after being honored at a funeral service at St. Francis of Assisi Catholic Church.
He was killed April 11 under attack in Taji, Iraq, along with two other U.S. Army Cavalry soldiers in his infantry division.
With the American flag hung high on the ladders of trucks from local fire departments and displayed on the jackets and motorcycles of various U.S. veterans groups honoring the fallen Oakville soldier, patriotism abounded at the funeral for the man whom his mother called "a fighter for his country."
U.S. Army Brig. Gen. Todd Semonite reminded mourners gathered near a small pavilion at the veterans cemetery that the south county resident had lived and died as a hero and "warrior" and should be remembered as such.
"We feel so sorry for your loss," Semonite told Costello's family and friends. "On the other hand, we are so proud."
Examples of that pride in Costello's time served with the U.S. military were shown in full glory Friday with three military service honors given to the late Oakville native during his funeral — the Distinguished Service Medal, the Purple Heart and the Bronze Star.
Semonite recalled Costello's time served in Iraq since he was deployed in December and the influence he had on his fellow troops.
He said that after Costello's death, many of the Oakville man's fellow troops attended a service that took place in Iraq and spoke highly of him.
"Jamie joined the military after 9/11," Semonite said. "He wanted to protect the freedoms that we enjoy so much. When called to Iraq, he had the opportunity to leverage that skill to another country that didn't enjoy those freedoms and he tried to make the quality of life a little better for them."
The general said Costello was humbled by the tasks at hand, but also knew that he certainly was capable and willing to honor them for his country.
"He was a profound patriot and a quiet performer getting the job done every day not for the recognition, but because it was important to him," Semonite said.
Costello was a 1996 graduate of Oakville Senior High School, where he played on the school's hockey team for four years.
An explosive device was detonated near the Bradley Fighting Vehicle that Costello was riding, and he was forced off, according to Pentagon reports. He and two other soldiers in his infantry division then were attacked with small-arms fire and killed.
The two soldiers killed with Costello were assigned with him to the 7th Squadron, 10th Cavalry Regiment, 1st Brigade Combat Team, 4th Infantry Division at Ford Hood, Texas. Those two soldiers were identified as U.S. Army Cpl. Joseph A. Blanco, 25, of Bloomington, Calif., and U.S. Army Pfc. George R. Roehl Jr., 21, of Manchester, N.H.
Marie Costello said her son originally enlisted in the U.S. Army in 2004 after working six years for the U.S. Postal Service's south county branch.
Costello had told his family that he had been working with a group of soldiers to protect an Iraqi town called Saba al Bor and had been fairly bored with his time there until he was promoted to be a gunner on the Bradley Fighting Vehicle.
He also had been scheduled for a mid-tour leave in July.
Jamie Costello leaves behind his parents, James F. and Marie R. Costello, and siblings Catharine and Robert Costello.
The Costello family is asking that anyone who wishes can donate funds in Jamie's memory to Iraqi Freedom Disabled Veterans, P.O. Box 14301, Cincinnati, Ohio 45250.
Donations also can be made to the Jamie Costello Memorial Fund for the Oakville Senior High School Hockey Team, c/o Mick O'Hallaron, 3048 Becker Crossing, St. Louis, Mo. 63129.