'Fairytale Trio' of teachers visits Europe
'Fairytale Trio' from Beasley visits both Germany, France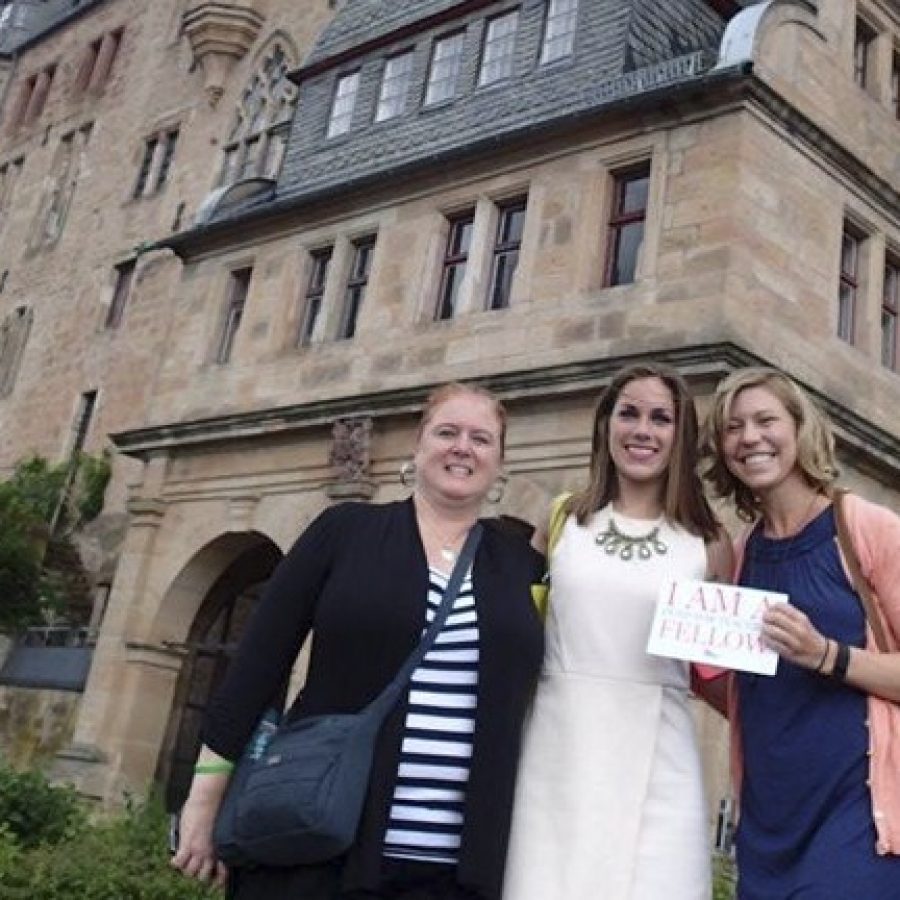 Three Beasley Elementary School teachers are sharing their world travels and love of traditional literature with students and teachers across the Mehlville School Dis-trict after winning a grant that paid their way to Germany and France to study the origins of fairytales and folk tales.
Third-grade Beasley teachers Jennifer Bayer, Jenna Krueger and Shannon Weber traveled in Europe for 11 days last summer on a grant they won from the Fund for Teachers. Among the many places the "Fairytale Trio" visited were Sleeping Beauty's Castle and Cinderella's Castle in both countries and, in Germany, the mining towns that inspired the story of Snow White.
"We do look forward to integrating many of the artifacts, experience and knowledge we gained through our travels to bring this to life not only to our students but also to third-grade teachers across the district," Weber said during Beasley's recognition night at a Board of Education meeting last fall.
In Bayer's grant description, she wrote that the teachers hoped the project would "awaken student interest in stories and in-crease enthusiasm for comparing traditional literature."
In the presentation to the Board of Educa-tion about the trip, Beasley Principal Andrea Deane said, "Beasley is also focused on high academic achievement, and we're always looking for ways that our teachers can bring their real-life experiences into the classroom."
Students love to learn about the travels of their teachers, and teachers across the district are working on similar ways and grants to bring those experiences back to Mehlville at no cost to the taxpayer, Superintendent Chris Gaines told the Call.
"I just think it's neat that we've got such a large group of teachers that do things like that and are out there getting those outside grant sources to help them do those things — and then they take those experiences and bring that back into the classroom," Gaines said. "I mean, that's just so cool."
For the Beasley teachers, the competitive grant application process involved many late nights and weekends at school planning the trip, but Bayer said it was worth it for the ability to bring such real-world lessons back to Beasley.
They were three of the 483 teachers who were funded, out of 2,380 educators who applied nationwide.
Before the three left, they created a blog at
to send to past and current students so students could follow their progress in real time.
The Beasley team chose to visit Germany and France so it could focus on French author Charles Perrault, who created the tales of Cinderella, Little Red Riding Hood and Sleeping Beauty, and the Brothers Grimm, the German siblings who popularized many of those same stories.
Besides the castles, the trio visited the newly renovated Brothers Grimm Museum and gathered enough resources along the way to help students learn in other school subjects.
"Although we intended to grow in our knowledge of traditional literature, along our travels we found many accidental curriculum connections that we already have and plan to use in our lessons across the content areas," Weber said. "For example, pictures we took while driving through Germany will support our social-studies unit on types of communities. Videos of various storytellers will be shown at our school's Fine Arts Day later this year. We are a stronger team from this experience. In addition to bonding over our shared love of gelato, we were able to use our shared experiences in our mentor texts in our recent personal narrative unit in writing."
The trip was especially helpful because the district's new reading curriculum does not include a unit on traditional literature, but it is still part of Missouri and Mehlville standards, Weber noted.
The Fund for Teachers awards grants to teachers for self-designed professional development and has given out more than $26 million to thousands of teachers since its inception in 2001.