Experienced Lindbergh High softball team looking to compete for Suburban West title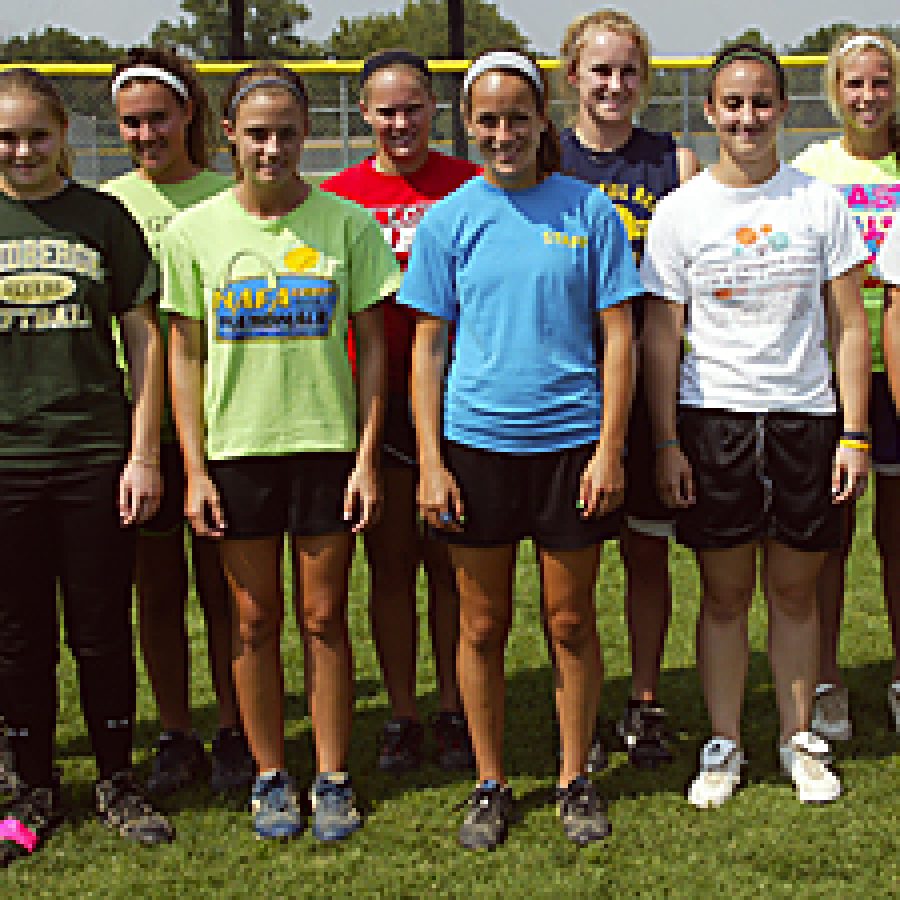 With eight starters returning from last year's squad that went 14-13, the Lindbergh High School softball team is looking to compete for a Suburban West Conference championship.
"We've got a lot of experience coming back and we only lost one starter from last year," head coach Darin Scott said. "It's time for these juniors and seniors to step it up and get the job done."
The top returning hitter from last season is third baseman/pitcher Kristin Humme, who batted .423 with nine RBIs and 12 stolen bases.
On the mound, Humme was 5-6 overall with a 3.00 ERA.
"Kristin comes back as an All-Conference third baseman and also a force in the circle pitching-wise," Scott said. "She's going to have to shoulder a majority of the load pitching-wise at the start of the season."
Another solid hitter for the Flyers is senior infielder/outfielder Jessica Stevens, who batted .378 with 11 RBIs and 11 stolen bases last year.
"Jessica's very versatile and can play multiple positions," Scott said. "She may float around from position to position, but she's definitely someone that's going to be in our starting lineup."
Junior pitcher/infielder Andrea Klipsch was the team's No. 1 pitcher last season as well as a force at the plate.
Klipsch was 9-7 overall with a 2.28 ERA and a .333 batting average with a team-leading 21 RBIs.
"Andrea's coming back from an injury and is going to be out at the start of the season," Scott said. "But she was our No. 1 starter last year and put in a ton of valuable innings for us."
Senior infielder/outfielder Sarah Eisenreich is another solid presence at the plate with a .293 batting average that included eight stolen bases and 17 RBIs.
"As a junior, Sarah started at shortstop, but as a freshman and sophomore, she played in the outfield," Scott said. "She's athletic and talented enough to go wherever we need her to go."
Junior infielder Jessica Nieder will look to improve on her .284 batting average from last season. Nieder also racked up 15 RBIs and a team-leading two home runs.
"Jessica showed some real pop last year," Scott said. "She surprised a lot of teams and we're looking for big things from her as a junior."
The Flyers also will look to junior outfielder Molly McCune to stir up the base paths after leading Lindbergh with 13 stolen bases. McCune batted .260 with nine RBIs.
"Molly's extremely fast and had 13 stolen bases last year," Scott said. "She's another player that was really solid for us at the plate."
Scott also hopes to see big things from junior outfielder Jen Daeumler.
"Jen had a tough year because she played with a broken finger," Scott said. "She's a very talented athlete and hopefully she can come back to her freshman year form and battle for a starting job."
Two juniors who also will be battling for starting jobs are Alyssa Trimble and Natalie Watkins.
"We're hoping that Alyssa and Natalie really make an impact on this year's team," Scott said. "They're both going to be battling for starting jobs this season."
Lindbergh Varsity Softball
Sept. 1-3 Suburban Tournament A TBA
Sept. 4-5 Cor Jesu Tourney A TBA
Sept. 8 Lutheran South H 4:15 p.m.
Sept. 9 Lafayette H 4:15 p.m.
Sept. 10 Oakville A 4:15 p.m.
Sept. 14 Northwest H 4:15 p.m.
Sept. 15 Seckman H 4:15 p.m.
Sept. 17 Parkway West A 4:15 p.m.
Sept. 18 Mehlville H 4:15 p.m.
Sept. 21 Marquette A 4:15 p.m.
Sept. 23 Kirkwood H 4:15 p.m.
Sept. 25 Fox A 4:15 p.m.
Sept. 28 Parkway South A 4:15 p.m.
Sept. 29 Summit H 4:15 p.m.
Sept. 30 Parkway Central H 4 p.m.
Oct. 2 Affton A 4:15 p.m.