Ex-councilman exploited issue of children''s safety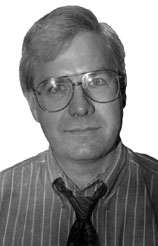 It's certainly no secret that we didn't agree very often with Oakville Democrat Jeff Wagener during the four years he "represented" south county on the County Council.
It's also no secret that Mr. Wagener didn't accomplish much during the four years he "served" south county residents.
Though Mr. Wagener had few new ideas, one that we believed just might have some merit was his proposal to restrict minors' access to sexually explicit or violent video games. As we wrote almost three years ago, it's very hard not to support something that on the surface appears to be designed to protect our children.
At the same time, however, we questioned Mr. Wagener's sincerity in proposing the legislation about a month before the November 2000 election in which Republican challenger John Campisi was giving Mr. Wagener a real run for his money.
Given his lack of accomplishments in office, we believed Mr. Wagener's intention was to exploit the issue of children's safety in an effort to drum up support for his sagging re-election campaign.
And that's precisely what he did as the legislation was ramrodded through two committee hearings in two weeks and given final approval a week later — less than two weeks before the election. Campaign literature mailed to south county households boldly proclaimed: "County Councilman Jeff Wagener knows there are some games that children just shouldn't play."
Noting that Mr. Wagener was sponsoring legislation that would restrict minors' access to sexually explicit or violent video games, the campaign mailer also proclaimed: "And Wagener is heeding the warnings of studies that show a link between violent video games and aggressive behavior in children."
In fact, a professor of psychology testified in support of Mr. Wagener's legislation during a hearing of the County Council's Justice, Health and Welfare Committee. Craig Anderson, chairman of the Department of Psychology at Iowa State University of Science and Technology, also spoke in support of Mr. Wagener's legislation during the public forum part of the County Council meeting that followed the committee hearing.
However, Mr. Wagener did not mention the fact that seven days after Professor Anderson's testimony, his campaign committee made a $2,100 donation to an Iowa State University research fund at the professor's request.
Two months after the November 2000 election in which Mr. Wagener was defeated by Mr. Campisi, this newspaper reported that for his trip to St. Louis, Professor Anderson agreed to waive the fee he usually charges for such requests.
"I asked them to make a donation to a research fund," the professor told the Call.
Professor Anderson also told us that he paid for his travel expenses to St. Louis, but was reimbursed for those expenses from the campaign committee's $2,100 contribution to the Psychology Department's research fund.
We believe Mr. Wagener should have been up front and revealed the financial arrangement that was made with Professor Anderson at the time of the testimony.
That wasn't done. This newspaper was able to uncover the arrangement only after examining campaign finance reports filed by Mr. Wagener's re-election committee.
We wrote before the November 2000 election that while Mr. Wagener's legislation to restrict minors' access to certain video games might have some merit, it also raised concerns about its constitutionality, especially in regard to the First Amendment.
Concerning the legislation, we wrote on Oct. 26, 2000: "If adopted, it almost certainly will be challenged in court — at the expense of St. Louis County taxpayers. We urge the County Council to reject Mr. Wagener's legislation as currently drafted. If Mr. Wagener and other councilmen are serious about pursuing this, we urge them to take the time that's needed to study the issue. But that would take them past the Nov. 7 election, which we believe is Mr. Wagener's overriding concern given his lack of accomplishments over the past four years."
In fact, a lawsuit challenging the constitutionality of the new ordinance was filed in December 2000 in federal court here.
While the constitutionality of the ordinance was upheld last year by U.S. District Court Judge Stephen Limbaugh, the U.S. Court of Appeals for the 8th District ruled last week that video games are a protected form of free speech and the county's measure violated the First Amendment rights of the video game industry.
In its ruling, the three-judge panel wrote, "The county's conclusion that there is a strong likelihood that minors who play violent video games will suffer a deleterious effect on their psychological health is simply unsupported on the record. It is true that a psychologist appearing on behalf of the county stated that a recent study he conducted indicates that playing violent video games 'does in fact lead to aggressive behavior in the immediate situation … that more aggressive thoughts are reported and there is frequently more aggressive behavior.'
"But this vague generality falls far short of showing that video games are psychologically deleterious," the ruling stated.
Though the video game ordinance was approved in October 2000, St. Louis County has stayed the enforcement of the measure pending the outcome of the legal challenge. Given last week's ruling and a previous ruling by another federal appellate court striking down a similar law that was approved in Indianapolis, Ind., we hope that St. Louis County does not pursue an appeal.
When Mr. Wagener first proposed this legislation nearly three years ago, we questioned whether his motive was to protect children or bolster his chances of being re-elected.
Given what's transpired since then, we believe the answer is obvious.