Eureka Wildcats bring an end to football Flyers' season
By Robert Chalupny
For the Call
Photos by Jessica Belle Kramer: Above, Lindbergh senior Thomas Floyd, No. 77, assists in preventing a Eureka player from grabbing the football.
Lindbergh High School varsity football fans experienced many emotions, ranging from disappointment to pride, as the Flyers' season came to an end Friday night in the district championship game.
Eureka, the only team to beat the Flyers during the regular season, ended the Flyers' postseason run with a 24-0 victory.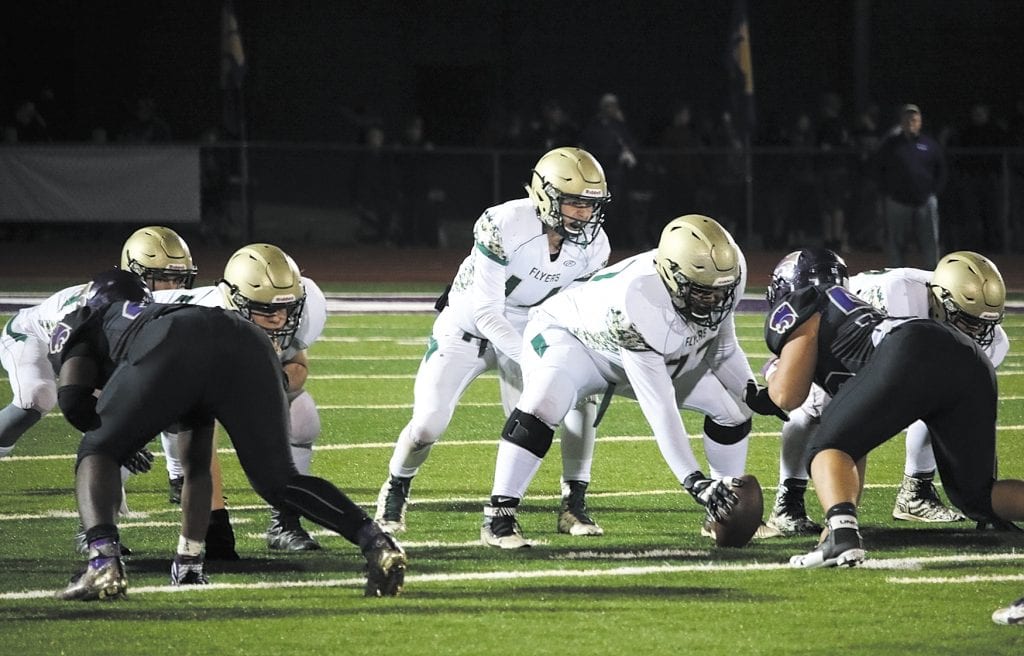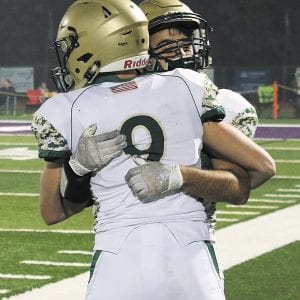 The Flyers' 10-2 record is one of the best the school has seen in recent years and certainly provided many thrills to fans all season long.
Lindbergh head coach Nathan Norman credited his coaching staff and the work ethic of his players for the success the Flyers enjoyed this season.
"(I) can't say enough about the way the kids and coaches prepared for this season, dating back to last November," he told the Call. "Their hard work and dedication definitely paid off."
The Wildcats struck twice in the first quarter and once in the second and held on, completely shutting down an extremely potent offensive squad. The Flyers' offensive squad put up some huge numbers this season and is one of the primary reasons for Lindbergh's success this year.
The Flyers' offensive trio of seniors Parker Powell, Rico Payton and David Grenia did some pretty big damage to opponents this year.
Powell completed 127 of 254 pass attempts for 2,395 yards. He threw 25 touchdowns and 14 interceptions and was ranked sixth among other quarterbacks.
Payton found the end zone 27 times this season, scoring 162 points, while Grenia scored 16 touchdowns for 96 points.
Norman said his Flyers enjoyed an impressive run this season, and he couldn't say enough about his group of seniors.
"The senior class paved the way in so many ways and will be greatly missed," the coach said.
Despite receiving a second opportunity to face Eureka, the Flyers fell short against a very worthy opponent, according to Norman.
"Congrats to Eureka," he said. "They are a very good football team and we want to wish them the best moving forward. We made improvements from the first Eureka game, just not enough to pull out the win."