Engineering firm hires PR specialist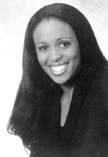 Horner & Shifrin, Inc., St. Louis, announces that Cassandre Beauboeuf has been promoted to public relations specialist for the firm.
Her additional responsibilities include handling all media relations for the firm, overseeing all advertising creation and design and providing ongoing support to various marketing tasks. Beauboeuf received a Bachelor of General Studies degree in Communications Studies from the University of Kansas and is a resident of St. Louis.