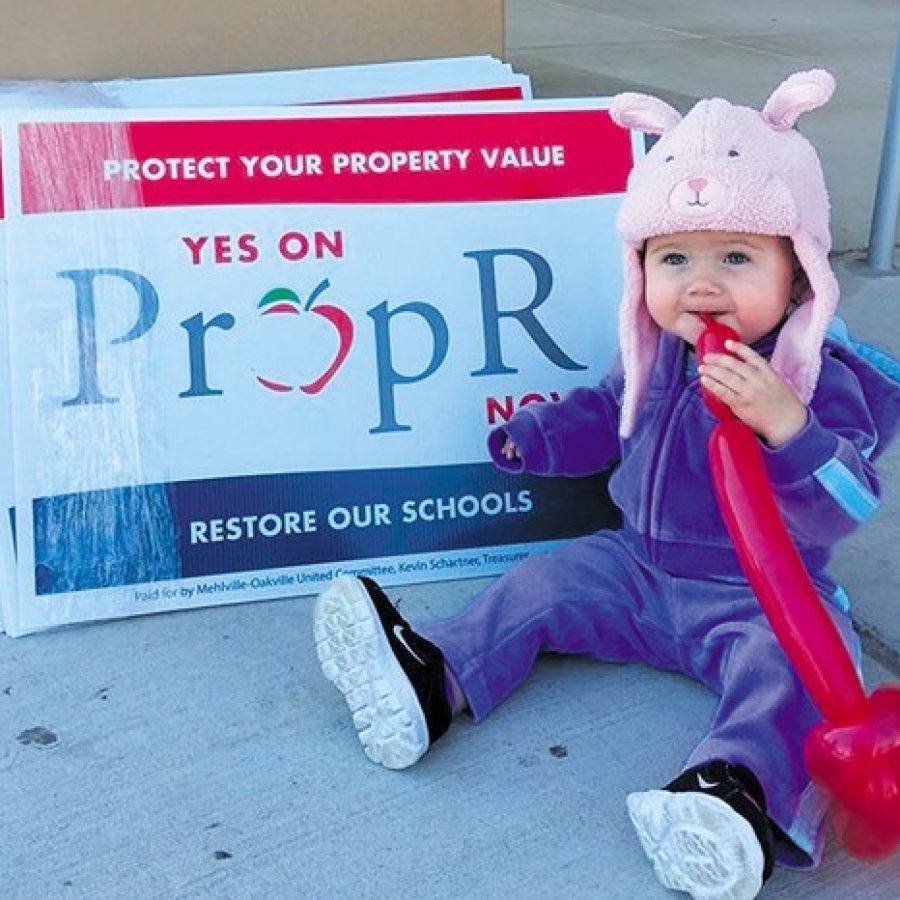 After months of campaigning, Mehlville School District voters decide Tuesday, Nov. 3, on Proposition R, a 49-cent tax-rate increase.
A
indicates Prop R will pass, and if voters approve the measure, which stands for "Restore," it would be Mehlville's first tax-rate increase in the 15 years since Prop P, a 49-cent tax-rate increase for facilities. Two-thirds of voters rejected the district's last two attempts at tax-rate increases, the 88-cent Prop C in 2010 and the 97-cent Prop A in 2006.
If Prop R passes, Mehlville's tax rate will remain the second lowest in St. Louis County. The owner of a $150,000 home would pay an extra $11.64 per month in property taxes — a total of nearly $140 more per year.
Call Executive Editor Mike Anthony "emphatically" endorses Prop R in his column this week, noting that unlike the last two ballot measures, Prop R is "reasonable."
Endorsement columns (click on the title):
Oct. 29 issue, on the impact to the community if Prop R fails:
Superintendent Chris Gaines' Oct. 29 column:
News coverage:
Beginning with the August
to
and nearly every meeting for or against in between, the Call has been there to cover it all. Board members have
,
in a rare move because of the impact they say it will have on area property values, and although most state and county officials are
, Sen. Scott Sifton, D-Affton, has led the charge among local officials who endorse Prop R.
Find out what the district plans to do with Prop R funds
and
. To read what the St. Louis Association of Realtors said when it endorsed Prop R and what Lindbergh Superintendent Jim Simpson thought of key aspects of the plan, click
.
Among those in the community opposed to Prop R, one of the most outspoken has been Jim Murphy, the father of board member Jamey Murphy, who was absent from the vote for Prop R. Jim Murphy gave a presentation on Prop R
. Also speaking out are former board members
, who served alongside each other on the Mehlville board but have taken strikingly different views for and against Prop R.
Among those in favor,
has said he can't think of a single reason not to vote for it, and Mehlville High School senior Danny Bitter took on some of the district's critics in a
that changed some minds about the district's auditorium and its return on investment. Danny is one of several students who have asked the board for more money for their schools, including
.
Superintendent Gaines
for the district's need for funds at the State of the District address, which he called the "
."
District critics, including board member Lori Trakas,
whether the district needs more money and
whether the district's strategic plan is a real strategic plan. They have also disputed whether the district should keep more money in its reserve fund
. 
Letters to the Editor:
The Call has featured letters to the editor from current and former school board members and Sifton urging voters to vote for Prop R, and from a current board member urging voters to vote no. Click the title below to read each letter. Find every letter sent to us on Prop R before our deadline
.