Elected officials enlist residents to fight move of Tesson Ferry Library
Librarian seeks Ryan's removal from outside of library branch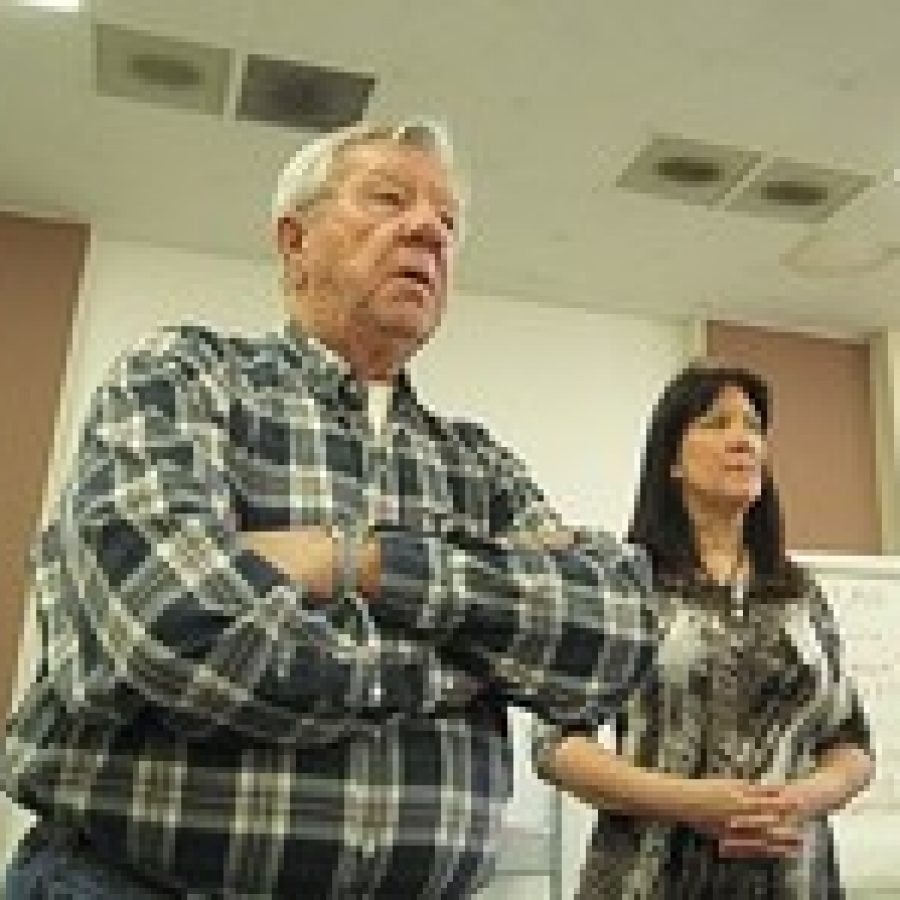 Although the St. Louis County Library already bought land for the new Tesson Ferry Branch Library, local elected officials allege that sinkholes given as the reason for moving the branch do not exist, and they are enlisting residents to help fight the library's move.
More than 100 Tesson Ferry Branch Library patrons packed the library's auditorium on Lin Ferry Drive Friday afternoon to learn what they could do to protest its planned move to a new site across from Grant's Farm in Affton.
Fliers that organizers passed out to promote the meeting dubbed the new $20 million, glass-walled library St. Louis County's "Crystal Palace."
"They haven't even started construction, and they duped us out of our money by not even looking at this location, saying there were sinkholes that were not even here," Green Park Ward 1 Alderman Carol Hamilton said. "It was fraudulent, and I feel like I've been ripped off."
South county officials speaking at the meeting, including Hamilton, Green Park Mayor Bob Reinagel, Green Park Ward 1 Alderman Tony Pousosa and Mehlville Fire Protection District Board of Directors Secretary Ed Ryan, contend that the library based its $11 million a year Proposition L tax-rate increase, approved by voters in 2012, on inaccurate information.
While library officials say the current Tesson Ferry site is littered with sinkholes, the Missouri Department of Natural Resources, or DNR, told local officials that Tesson Ferry does not have a single sinkhole.
Many of the library patrons present said they voted for the tax-rate increase, but would change their minds if voting today.
Instead of Gravois and Musick, they want a new building at the current location, which they prefer because of its access to major roads, walking traffic, proximity to bus routes and Lindbergh High School and lack of traffic problems.
Reinagel emphasized that library customers who oppose the new location are not against the library itself.
"We're for you, we're for the library," he said, recounting what he told library staff at Tesson Ferry. "We want to keep it here. We want to be positive, we love the library. Everybody in here wants to keep it. We're not your enemies."
The day before Friday's meeting, Ryan stood outside the library and passed out fliers advertising the event, alongside a woman gathering signatures for a petition on an unrelated matter. Ryan said Assistant Branch Manager Gina Sheridan came out to ask him what he was doing, then said he violated part of the library's code that states people cannot sell, solicit, panhandle or loiter on library property.
Although Ryan noted that the woman next to him was soliciting signatures for her own cause and that he was just passing out information, Sheridan told Ryan to leave and then called the police, alleging he was violating the library's code.
A county police officer responded to the library's complaint, but left without making Ryan leave after agreeing that he was not violating any law or the library's rules.
"I said I'm handing out literature, we have a meeting tomorrow," Ryan said. "Here's a woman right next to me soliciting signatures for a petition drive, so how can you keep one person off and have someone else? He said, 'OK, I hear what you're saying.'"
Tesson Ferry Branch Manager Anne Arthur deferred all questions about the incident to library Communications Manager Jennifer McBride, who declined to comment.
The current effort against the new library site is gaining traction based on new information from documents Ryan obtained through requests to the library under the Missouri Open Records Act, or Sunshine Law, after the library closed its $2.9 million purchase of the property from developer McBride Berra Feb. 7. Since the documents detail real-estate information, they were considered confidential until after the library closed on the property purchase.
In 2012, McBride Berra paid $6.25 million for 67 acres, in a foreclosure sale that included the library's corner lot. Nearby Cor Jesu Academy also recently expanded its campus by purchasing 16 acres for $2.2 million from the Busch family, which also once owned the current McBride and library lots.
Neither of those purchases were included in the library's real-estate appraisal, which was conducted after its Aug. 27 public hearing last year to rezone the McBride Berra property and obtained by Ryan after the closing.
"They show that they stumbled very badly in paying $2.9 million for this property," Ryan said, citing his own experience locating public properties for the construction of three new MFPD firehouses.
Residents at the meeting noted the profits McBride Berra is making from the new library, since with its 4.2-acre purchase, the library essentially paid for half of the entire 67 acres McBride Berra bought a year earlier. Ryan obtained another document that lists 25 sites the library considered for the new location, including their pros and cons. The current library site is not listed as an option.
Obtaining the documents from the library has not been an easy process, Ryan said, noting that he is on his fourth attempt trying to get information from his initial request to library Executive Director Kristen Sorth.
"Getting this information was like pulling teeth," he noted. "I get a response from Mrs. Sorth saying that it's confidential, and I write back, 'It's not confidential, what do your minutes show? I guess (the board) didn't talk that night.'"
In a response to one of Ryan's Sunshine Law requests last month, Sorth replied that the library did not have any documentation detailing its site requirements for the new library location, the names of the top 25 sites' owners, the asking price for each of the 25 properties or any "identification why the Gravois/Musick site was chosen over each of the other five top locations."
Sorth did not respond to requests for comment. McBride declined to answer direct questions from the Call, but instead issued a statement, noting that she would have no further comment.
"The existing branch on Lin Ferry is structurally, architecturally and operationally inadequate to meet the changing and growing needs of the community," the statement read. "The decision to replace this branch was discussed prior to the November 2012 ballot initiative … County residents participated in strategic planning focus groups during the development of the facilities plan and many more went to the polls to approve the plan and the tax increase.
"The site for our new south county branch has been selected and the property has been purchased … We look forward to engaging our patrons and county residents as we put the finishing touches on the design and get construction underway."