Eighteen-year-old charged in officer's death
Suspect's father says what his son did 'is inexcusable'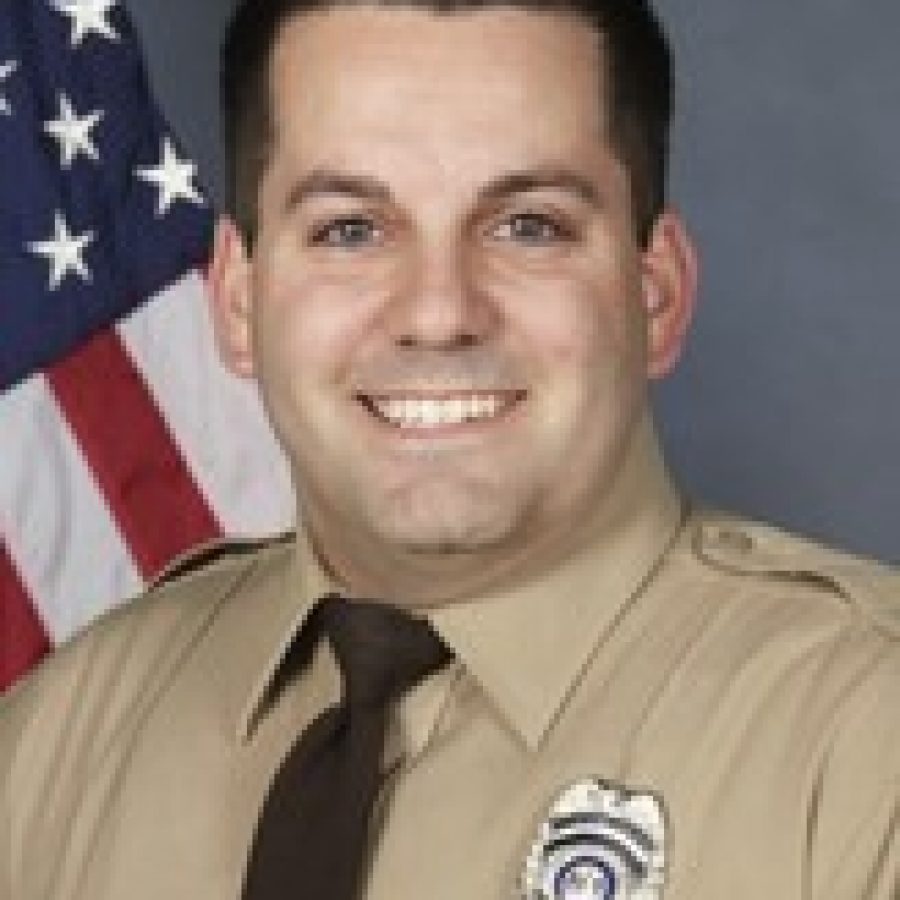 An 18-year-old from south county has been charged with first-degree murder and armed criminal action in connection with last week's killing of Officer Blake Snyder of the St. Louis County Police Department.
Snyder was shot and killed Oct. 6 on a quiet suburban street in Green Park, in what may have been an ambush, police said.
Trenton Forster, 18, of the 9500 block of Sequoia Court, Affton, is being held on a $1 million cash-only bond, according to county Prosecuting Attorney Robert McCulloch.
Snyder, 33, a four-year veteran of the St. Louis County Police Department's Affton Southwest Precinct, responded to a call for a domestic disturbance in the 10700 block of Arno Drive in Green Park at 5:04 a.m. Thursday and was shot almost immediately, Chief Jon Belmar said.
Snyder arrived two minutes after a resident called 911 to say Forster was "allegedly banging on the door and wanted in," Belmar added.
The house is in a quiet neighborhood off Mueller Road in the heart of the city, across the street from the house of former Rep. Vicki Englund, D-Green Park.
Sensing danger when he saw Forster in his car across the street, Snyder immediately demanded that the teenager put his hands up, Belmar said.
"The suspect produced a pistol and shot Officer Snyder point blank" once in the chin near the car door, Belmar said. "It was an immediately fatal wound."
Snyder's backup pulled up, saw the shooting and returned fire at Forster, who was shot between four and six times in the torso and was taken to a local hospital, where he is in custody in critical but stable condition and is expected to survive, McCulloch said. Investigators are still looking into whether Forster and the responding officer exchanged gunfire, police spokesman Sgt. Shawn McGuire said.
Although dash and body camera footage of the shooting does not exist, the shooting was seen by a witness who Belmar believes to be the 911 caller. The witness identified Forster as the shooter, according to court records. Police recovered a 9mm gun at the scene. Some of the bullets from the exchange of gunfire flew into a neighbor's house, with one narrowly missing a dog and another lodging in the attic, another neighbor told the Call.
The shooting happened just blocks away from the Mehlville Fire Protection District headquarters, and Belmar commended the firefighters who "diligently" tried to resuscitate Snyder, along with the emergency room staff at St. Anthony's Medical Center, who worked for an hour trying to save his life.
The immediate nature of the attack suggested to Belmar that it might have been a targeted ambush. In a separate case, Forster faces a felony charge for narcotics possession, and Snyder was the officer on that pending case, Belmar said.
"This would have been a few seconds, and he was shot," Belmar said.
When asked if Snyder and Forster had any previous relationship, however, McCulloch said they did not. The area has no streetlights and would have been completely dark at the time of the shootings.
Forster was the boyfriend of a girl who lives in the house with her grandmother and mother, who was the 911 caller, and he was often at the house, neighbors said.
Although Forster was unemployed and not in high school at the time of the killing, he was a junior at Lindbergh High School last spring but withdrew in May, Lindbergh Communications Director Beth Johnston said. He also attended Affton High School last fall for one semester before withdraw-ing, Affton Communications Director Erica Chandler said.
Forster's father, William Forster, lives in Affton near Green Park and told reporters that there are "no excuses" for his son's actions.
"I am a Christian man and I believe in the sanctity of life, and what my son did is inexcusable," William Forster said. "My heart bleeds for the family of Officer Snyder. I'm not looking to make excuses for my son. There are no excuses for what my son did … The reality is, I lost my son not two days ago, but a long time before that."
The family has not been able to visit Forster, his father said. After a head injury from a car crash when he was 14 years old, the teenager became a "lost soul" who struggled with drug addiction. His social media accounts are a chronicle of drug use and police negativity. On May 26, Forster tweeted, "I want (expletive) the police carved into my grave," and on May 28, he tweeted, "If anybody will kill me, it'd be greatly appreciated." His Facebook profile photo showed him with money and drugs.
Despite those online warning signs, on the streets of Green Park, Forster seemed like a mostly typical teen, although he was clearly a "bad boy," neighbors said.
As Green Park residents who had been woken up by gunshots watched the investigation over the yellow police line, they were in disbelief at what happened in their normally quiet city and neighborhood.
Some of them created a memorial next to the tree closest to where Snyder died.
Major crimes are rare in Green Park, and the last murders in the city came during a 2008 robbery at the Steak 'n' Shake, when two employees were killed. The last known gunfire in the city was roughly a year ago.
Crime is so unheard of in the city's 20-year existence that reporters waiting for Belmar's press conference struggled to figure out where the small city is: They had never covered a story there.
The city posted a picture of Snyder on its website and asked residents to donate to support Snyder's family and "express your appreciation to each of our police officers when you see them."
"Green Park is deeply saddened by the tragic loss of Officer Blake Snyder, killed in the line of duty serving the citizens of Green Park," city officials wrote. "We stand with and send our deepest condolences to his family, friends and all his fellow St. Louis County police officers. The St. Louis County Police Department and the outstanding officers of the Affton Precinct have been an integral part of the success of the City of Green Park from its beginning in 1995. On behalf of the citizens of Green Park, we offer our support to all of the officers and cannot express enough our grief and sympathy during this difficult time. In times like these, we are reminded of just how committed our officers are to serving and protecting us."
The city contracts with county police for police services, with dedicated Officer Matt Kappler stationed at City Hall during the day. At other times, officers from the Affton Southwest Precinct respond to calls.
Snyder is the first county police officer killed in the line of duty since Sgt. Richard Weinhold was killed on Halloween in 2000.