Eight returning starters a plus for Mehlville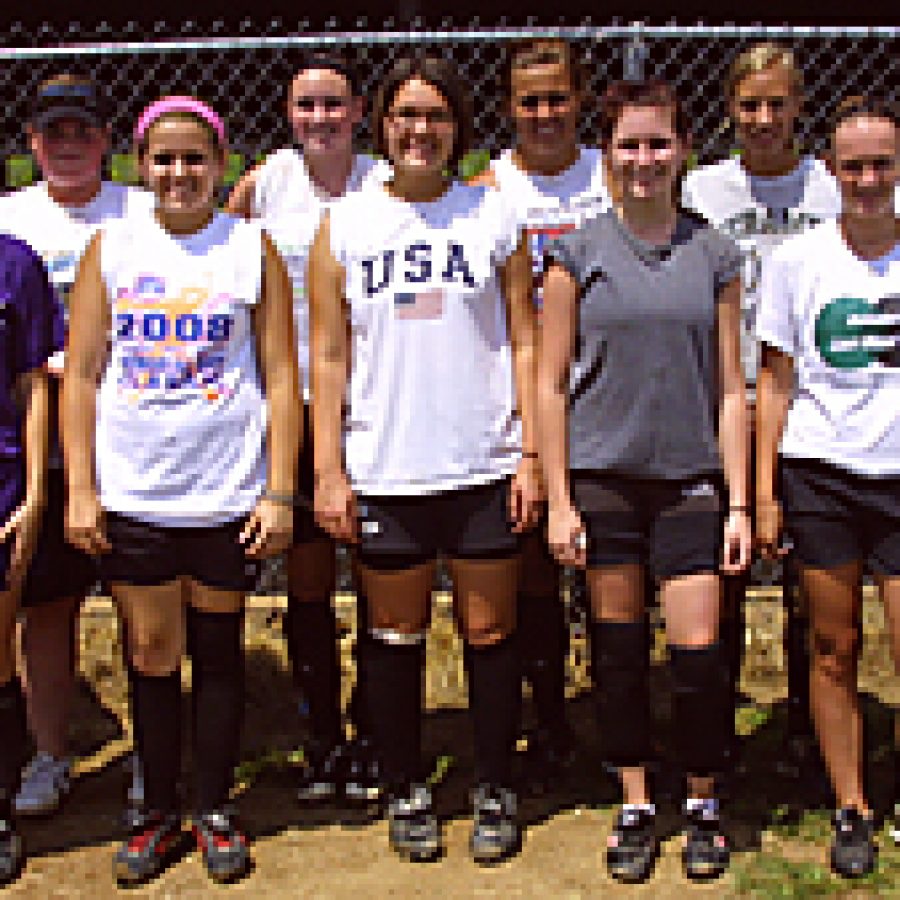 While the Mehlville Senior High School softball team struggled last season with a record of 4-19 overall with a 1-6 mark in Suburban West Conference play, head coach Bob Kern believes the Panthers may have a shot at being competitive with eight re-turning starters this year.
"It's going to be a strange combination of very experienced hitters and very inexperienced pitchers," Kern said. "All eight of our position starters will be back."
Senior third baseman Molly Roesch returns for the 2009 season after blasting op-posing pitchers with a .568 batting average that included a team-leading eight doubles, three triples, four home runs and 22 RBIs last year.
"Molly's by far the best offensive player in our lineup," Kern said. "She has the ability to drive in runs and can put herself into a position to be driven in."
Junior starting catcher Jessica Tod also had a solid 2008 campaign where she batted .386 with 10 RBIs.
"Jessica's another pretty good offensive player," Kern said. "She's got the ability to drive the ball and is a good complement hitting behind Molly."
Junior Meggin Werner will start in right field this season after hitting .313 last year with three doubles, one triple and 4 RBIs.
"Meggin's an excellent athlete who's continued to get better and better," Kern said. "She's a very good defensive outfielder."
Jessica Lewandowski possibly could take over the starting pitcher's role after appearing in four games last year, putting together a record of 0-3 with a 4.67 ERA.
"When Jessica's healthy, she's very good," Kern said. "She has as good of a shot of being our No. 1 pitcher as does anyone."
Sophomore Nikki Klaus will take on the left fielder's position and try to improve on last year's .250 batting average that was hampered by an elbow injury.
"Nikki led off for the majority of last year and started out hot, but cooled off considerably due to an elbow injury," Kern said. "We look for her to being a key offensive player in our lineup this year.
Junior Sheridan Thompson will roam center field despite struggling at the plate last season with a .196 batting average.
"Sheridan struggled at the plate at times last year," Kern said. "I think that she has the ability to be a productive player offensively this season."
Kern also is looking for big improvements from junior infielders Coral Hazel and Kirsten Rogles.
"Both struggled offensively, but played pretty good defense," Kern said. "They'll both be competing with a couple other girls for starting positions this season."
Mehlville Varsity Softball
Sept. 1-3 Conference Tournament A TBA
Sept. 4 Kirkwood A 4:15 p.m.
Sept. 8 Affton H 4:15 p.m.
Sept. 9 Fox H 4:15 p.m.
Sept. 10 Cor Jesu H 4:15 p.m.
Sept. 11 Marquette A 4:15 p.m.
Sept. 14 Lafayette A 4:15 p.m.
Sept. 16 Parkway South H 4:15 p.m.
Sept. 17 Parkway North A 4:15 p.m.
Sept. 21 Oakville H 4:15 p.m.
Sept. 24 Seckman A 4 p.m.
Sept. 25 Northwest H 4:15 p.m.
Sept. 29 Eureka A 4:15 p.m.
Sept. 30 Webster Groves A 4 p.m.
Oct. 1 Rockwood Summit A 4:15 p.m.
Oct. 6 Bishop DuBourg H 4:15 p.m.