Eight Lindbergh athletes commit to colleges on National Signing Day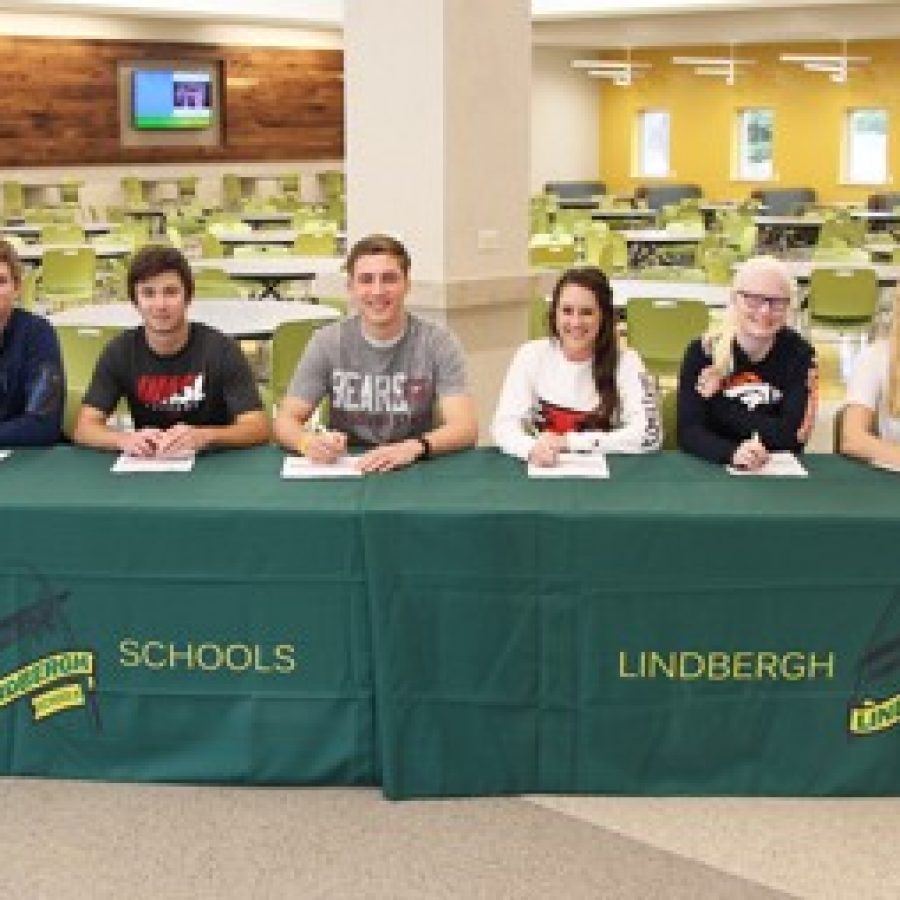 Eight Lindbergh High School athletes committed to college teams on National Signing Day, Wednesday.
Lindbergh High Athletics Director Scott Luczak congratulated the seniors, who will represent six sports, including baseball, golf, soccer, softball, swimming and volleyball at institutions across the Midwest and as far-reaching as Connecticut.
In a news release, Luczak stated that all of the Lindbergh athletes signing are great students as well, and applauded them on balancing high academic standards with excellent athletic achievements. Only about 7 percent of all high school athletes go on to play collegiate sports, and only 2 percent earn scholarships.
"This is a great honor and very impressive achievement, and we are proud of each of you," he stated. "It is amazing the amount of dedication that goes into playing sports and keeping up your GPA, and this is a great honor."
Here are what Lindbergh's coaches had to say about their athletes headed to college play next year:
• Caleb Newberry — Jefferson College — "Caleb's strong work ethic and potential have earned him this great opportunity at JeffCo. We are very proud of his determination to make himself into a college athlete. We see big things for Caleb's future in baseball," head coach Darin Scott stated.
• Sam Stephens — Quincy University — "Sam is a very talented lefty that will only continue to get better in college. We are looking for him to do great things for our team this year and are very excited for his future potential in baseball," Scott stated.
• Chris Ferris — University of Missouri-St. Louis — "Chris been the medalist in virtually everything he's played in. He's shattered nearly every statistic and benchmark LHS golfers set before him. His dedication to the sport and his teammates is unparalleled and his dream of becoming a PGA tour player is well within his grasp," head coach Mike Tyler stated.
• Michael Creek — Missouri State University — "Michael has been an exemplary leader of the Lindbergh Soccer Program for the last four years and in all ways represents the best character traits of the classic Lindbergh student-athlete," head coach Mark Giesing stated.
• Brooke Rheinecker — Southeast Missouri State University — "We are really excited for Brooke's opportunity to continue her tremendous softball career at SEMO. Her hard work, dedication and true love of softball will be a huge asset for SEMO and we can't wait to see her play at the Division I college level," Scott stated.
• Colleen Young — Fairfield — "Colleen has worked very hard to become the athlete she is and has the determination to get even better," head coach Eric Means stated.
• Brooke Harmon — Augustana College — "Brooke is a three-year varsity player, a great leader, and captain her junior and senior year. She was All-Conference and All-District both her junior and senior years. Brooke is the youngest of three girls playing through the Lindbergh program and the first to play college volleyball," head coach Johnna Wieter stated.
• Rachel Summers — Clarke University — "Rachel is a two year varsity outside hitter. She actually had to sit her sophomore year because of an ACL tear but worked her way back to a starting position her junior year. She is a great athlete and very hard worker that is still improving in this sport. She has a lot to offer any program," Wieter stated.