County officials can easily enhance 2018 transparency
Editorial: Our Call
No matter the outcome of Tuesday's election, St. Louis County officials new and old can immediately take a step toward transparency and accountability. And unlike most things in life, it's easy. And free.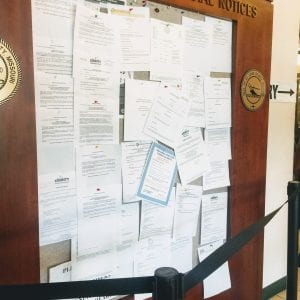 On July 27, the County Council called an emergency meeting with less than 24 hours' email notice to introduce bills for three Charter amendments on the November ballot.
The Sunshine Law requires, at a minimum, 24 hours' notice to the public for meetings. The notice was posted on the bulletin board on the first floor of the Government Center, nestled among dozens of other documents, with just 24.5 hours' notice.
An email notice to the media and public was sent out at 3 p.m. the day before the 1 p.m. meeting.
The meeting was so last-minute that none of the council members with day jobs could attend. We object to the idea of calling an emergency meeting like this at all, but if it has to be done, 24 hours of email notice should be provided at a minimum.
In a million-person county that covers 523 square miles, the idea that interested residents would happen to be standing in front of that bulletin board — which at the moment is roped off behind security barriers in the line for police inspections to enter the building — and happen to notice this single piece of paper among dozens of identical-looking documents is simply ludicrous.
It's the type of public-notice obscurity that both County Executive Steve Stenger and 6th District Councilman Ernie Trakas promised south countians they would fight against when they were first elected. But in this case, solving this problem is both easy and free. It only requires hitting "send" earlier.
The bulletin board alone counts as enough notice to County Counselor Peter Krane and County Clerk Genevieve Frank because that is the county's policy.
But then-Attorney General Jay Nixon wrote an opinion 25 years ago that bulletin boards are not enough, and that notifying the media 24 hours in advance is so important that if technology breaks, officials should hand-deliver notices.
A generation later, the problem predates Krane and Frank and should have been fixed decades ago.
But with the election behind them, now is as good a time as ever for St. Louis County to start complying at a bare minimum with the spirit of the Sunshine Law and email meeting notices at least 24 hours in advance.